EVO, or Evolution Championships Series, has seen considerable growth over the years. First started in 1996 as a Street Fighter tournament, EVO has morphed into one of the biggest fighting games esports tournaments in the world. 
This year's EVO event saw a 106% growth in hours watched from 2022, and a 972% increase from 2017. The event also hit its highest-ever peak viewership of over 399K viewers. This peak is also the highest peak viewership for the entire fighting games genre across live-streaming platforms in 2023 as a whole.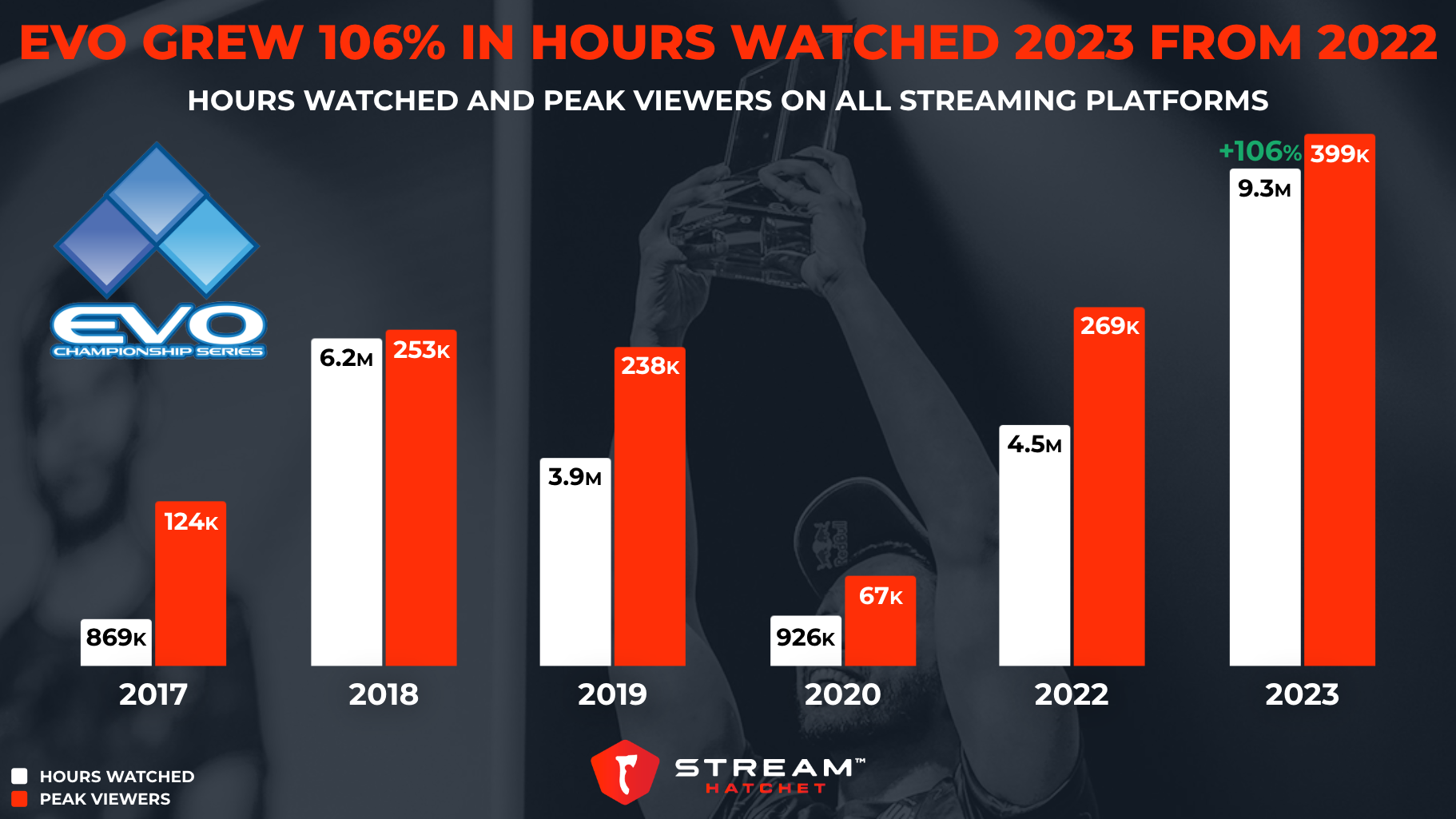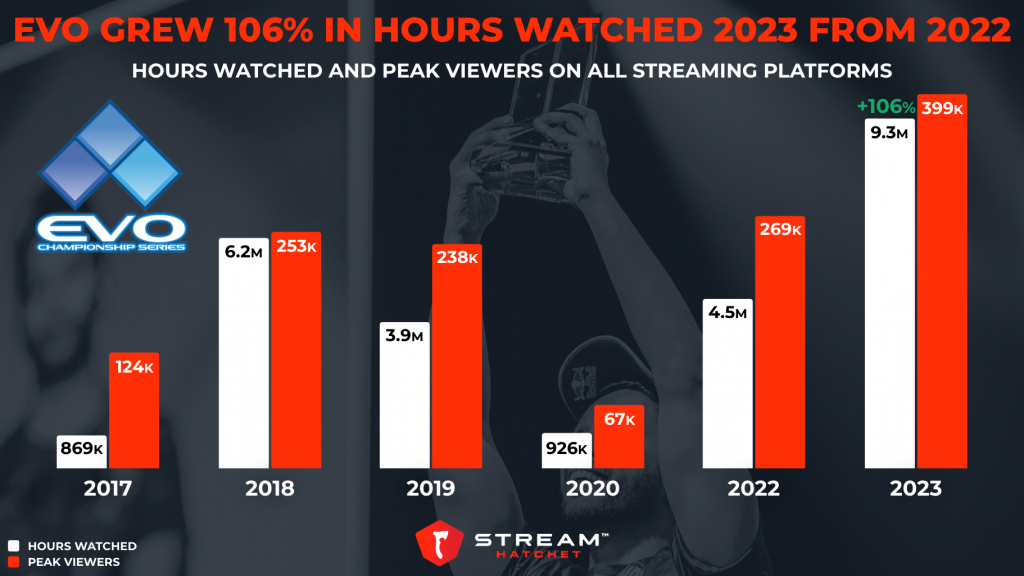 While the tournament featured competitions in popular games like Tekken 7 and Mortal Kombat 11, Street Fighter 6 stole the show. The SF6 tournament saw 3.8 million hours watched, or one-third of the whole of EVO 2023, and hit the tournament's 399K peak.
Street Fighter 6, released by Capcom in June of this year, has seen a meteoric rise in popularity across Twitch, YouTube, and other live-streaming platforms. The game accounted for almost half of all hours watched in the fighting game genre for Q2, despite the game only being released for less than one month of that quarter. 
This growth highlights the overall increase in viewership of fighting games across live streaming platforms as a whole over the last few years.
From Niche to Mainstream
Long considered a niche within the gaming community, fighting games are looking to break barriers and go mainstream. EVO 2023 broke its own records with over 9,000 players participating – an 81% increase from the previous year. This international gala had representatives from 71 countries, with a massive 7,021 players battling it out on Street Fighter 6 alone.
Fighting games viewership across live-streaming platforms shows a consistent growth in hours watched from 2019 to 2023. While not a staggering growth metric, this year has already seen more hours watched than 2019, despite being only 7.5 months into the year. The genre is just 50m hours watched away from 2022's viewership.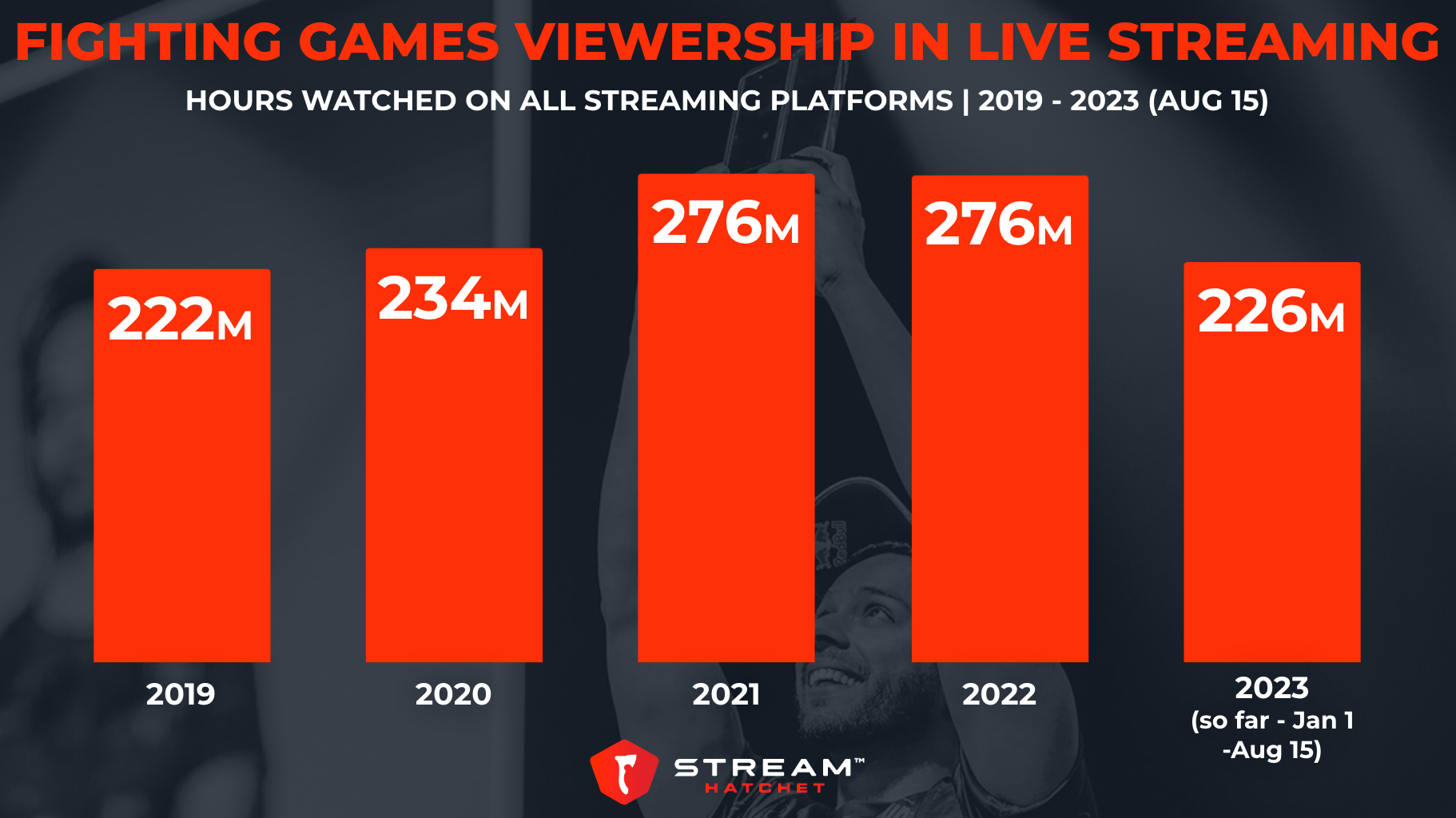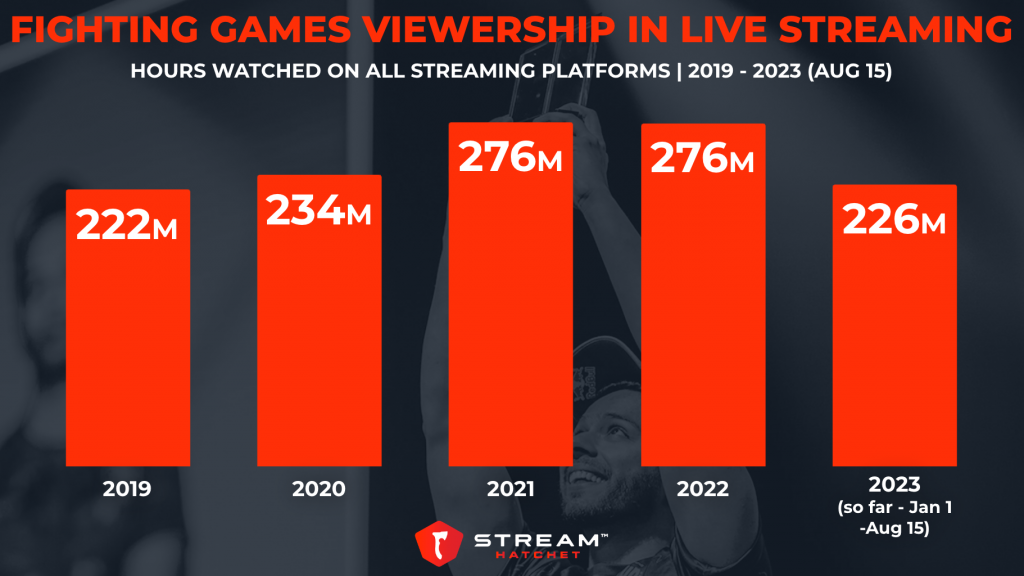 On the esports side of the coin, fighting games saw a huge downturn in 2020. With the onset of the pandemic, while live-streaming viewership saw a boon, cancellation of in-person events decimated esports viewership for a while.
However, the last few years have seen a resurgence. 2022 saw the most hours watched of fighting games esports events with 33.3M hours watched – 4M more than 2019. So far in 2023, that number is at 23.8M and could be on track to surpass 2022.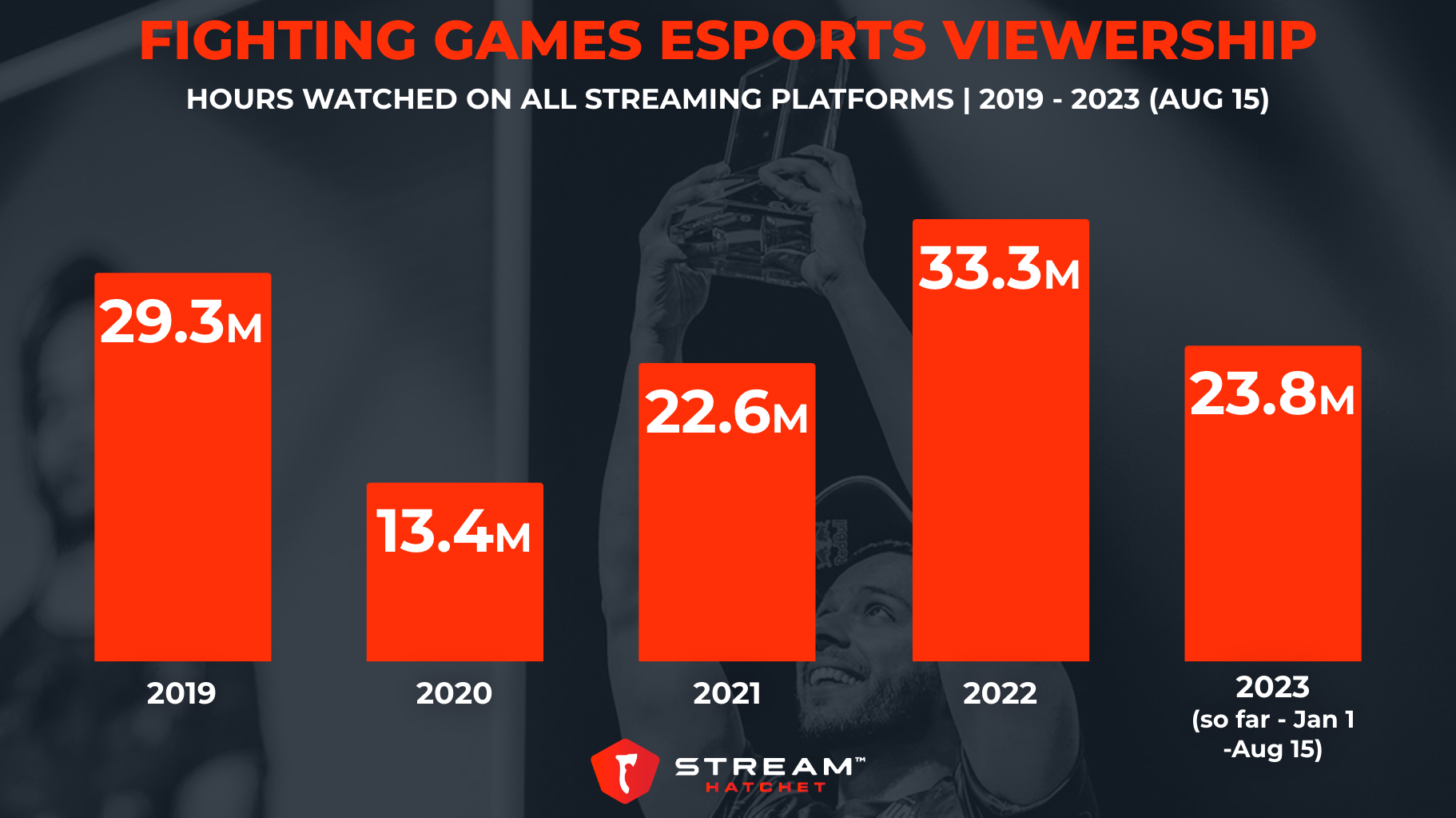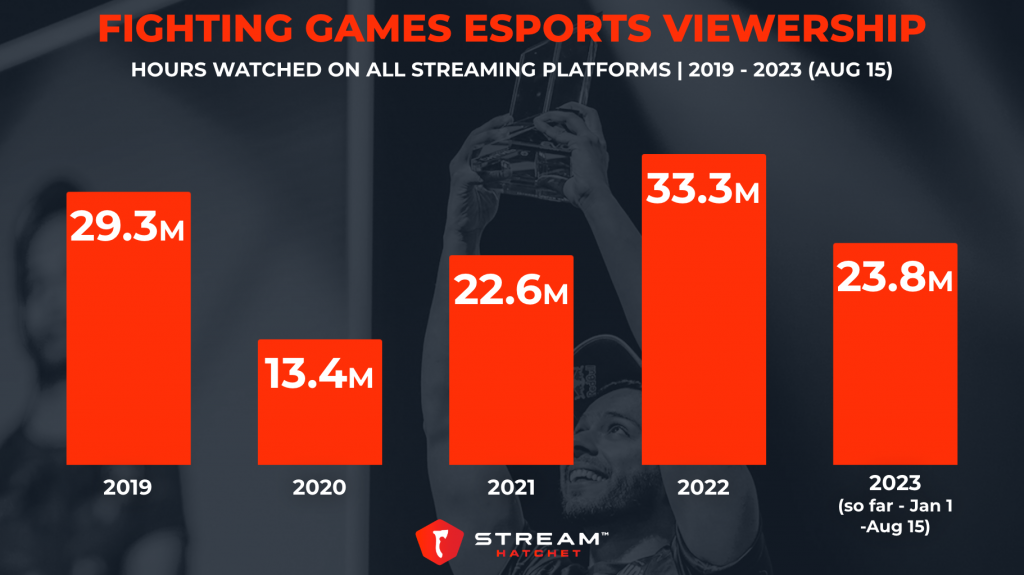 Publishers & Brands Dive In
The ascendancy of fighting games hasn't escaped the notice of top-tier publishers. Riot Games, for example, is venturing into this arena, with their Project L that has intrigued many. Moreover, global brands are recognizing the potential of this market. EVO 2023 saw sponsorships from giants like Chipotle, Sony, Redbull, AT&T, and Playstation Tournaments.
When asked about their EVO sponsorship in a Digiday interview, Chipotle's CMO Chris Brandt noted that they could "show up with a community that has a passion point, and there's lots of other brands that just aren't there."
Activations in the gaming and live streaming space are not just for gaming-endemic brands. Food, clothing, makeup, skincare, and a plethora of other brand types have started diving into the space, because their target demographic lives there online.
These types of activations are unique in that every asset is measurable. Unlike regular television, you can pull attribution data from these events much easier, counting affiliate link clicks, chat mentions, QR code scans, and more from fans watching online at home.
Learn more about how to utilize Stream Hatchet's technology to help build your brand's campaign activation strategy and execution.