Naraka Bladepoint, the brainchild of 24 Entertainment, a game developer from China, hit the gaming world on August 11, 2021. The game was an addition Battle Royale genre that intrigued its fans thanks to its innovative 3rd person, rock-papers-scissors melee combat style while searching for loot to be the last player standing.
In the initial phase post its release, big names like Sodapoppin, Shroud, and MoistCritikal were selected to help with its marketing campaigns. The game shot to the top games played on Steam within the first few weeks.
Its popularity skyrocketed by the end of 2021, especially in the East, where it dominated the esports scene with teams hailing from Vietnam, Singapore, and Japan. Sponsors like Phillips and Durex poured in support, reaching a prize pool of $1.2M. NetEase, the game's publisher, furthered the game's esports trajectory by sponsoring a Naraka Bladepoint league with $800K prize pool.
Yet, despite this promising start, Naraka Bladepoint struggled to maintain its foothold in the Western market. In contrast, it continued to boom in Asia, selling 6 million copies in China alone, and to its thriving esports scene. This disparity posed a question: Why the difference?
Top channels, like CDNThe3rd, Shroud, LIRIK amassed huge viewer counts during the first few weeks. But, according to Akshon Esports, an unforeseen setback came into play at the end of 2021. The alteration of certain game cosmetics, perceived as explicit, didn't sit well with a significant portion of its Asian player base. This led to an avalanche of negative reviews on Steam and a decline in the game's player base.
Naraka Bladepoint Goes Free-To-Play
24 Entertainment, however, was not one to back down. In a strategic move to rejuvenate the player base, they made Naraka Bladepoint Free-to-Play (F2P) two years after its initial release. This wasn't a random decision. Their pivot was actioned by competitors such as Apex Legends and PUBG Mobile.
In the first half of 2023, Naraka Bladepoint was averaging less than half a million hours watched per month across live streaming platforms. However, in July of this year when the game went free-to-play, that number shot up to 3.1 million hours watched. From July of last year, that's a 171% increase, or a staggering 804% increase in viewership from June 2023.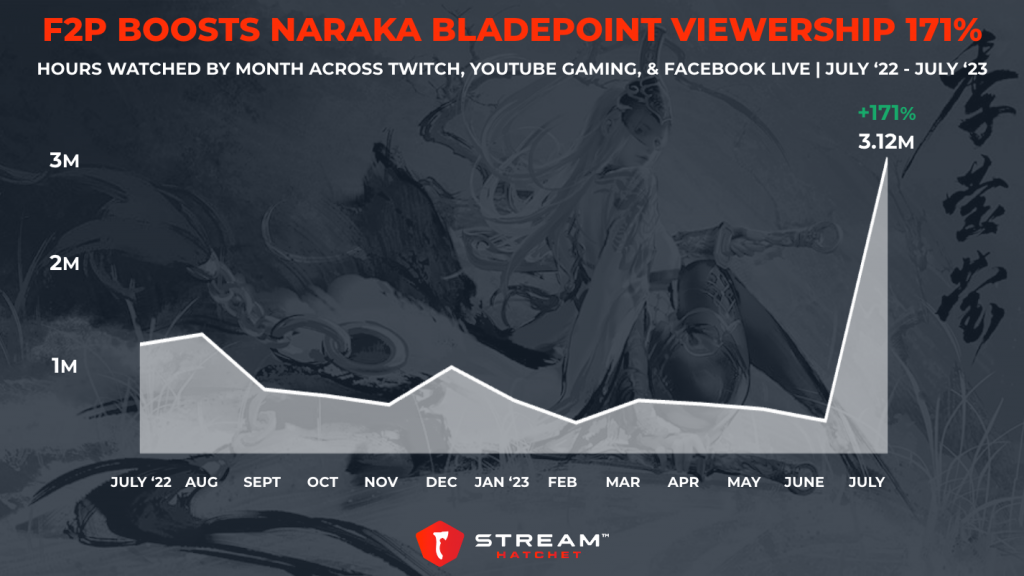 In the first week of being free to play, the game generated just under 2 million hours watched alone. Popular streamers like Maxmilian_DOOD, Mizkif, and Emiru were among the top channels to stream the game. Emiru, from the content creator group One True King (OTK), was the 10th most-watched channel during that week but had the highest peak viewership with 16.4K viewers. She streamed the game for just over 2 hours and generated the most impressions from her play.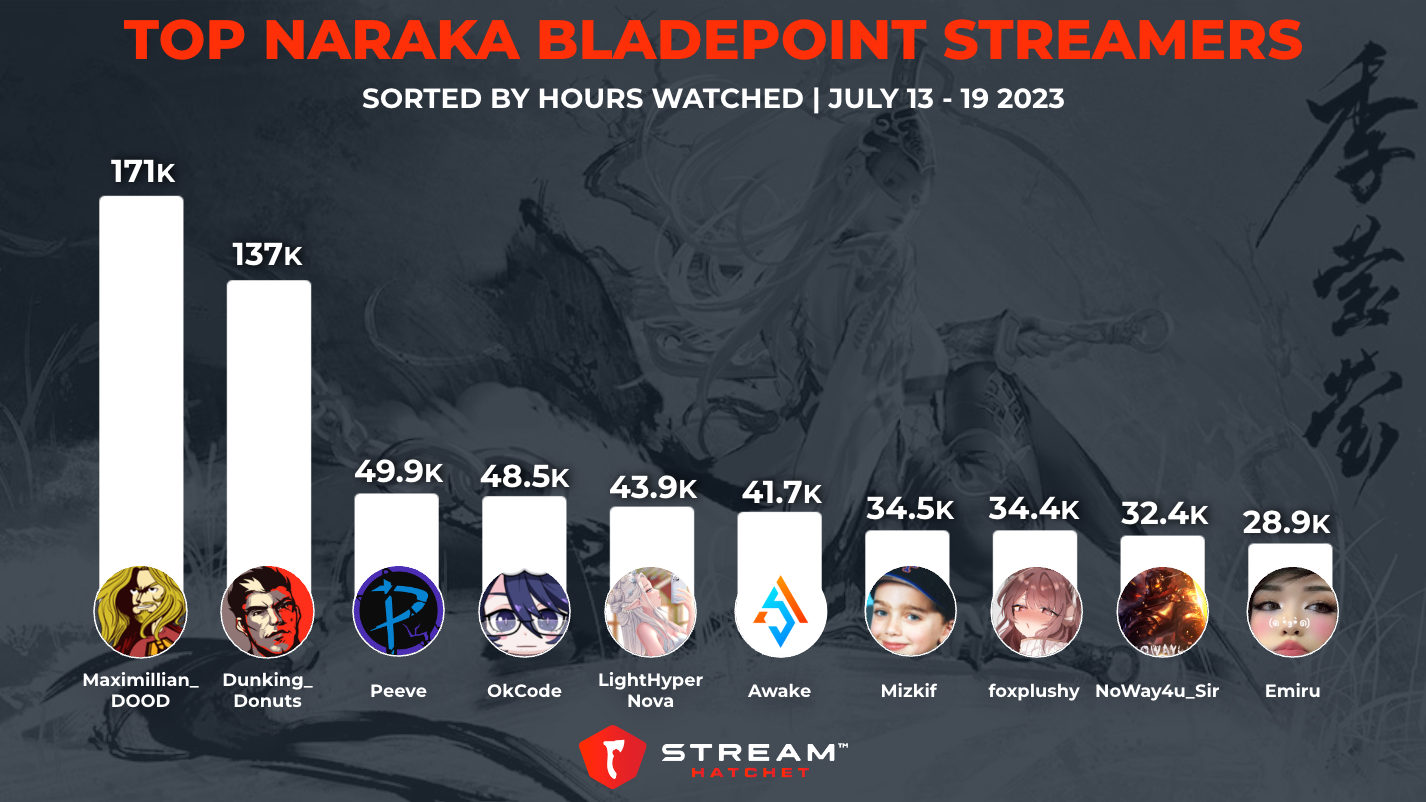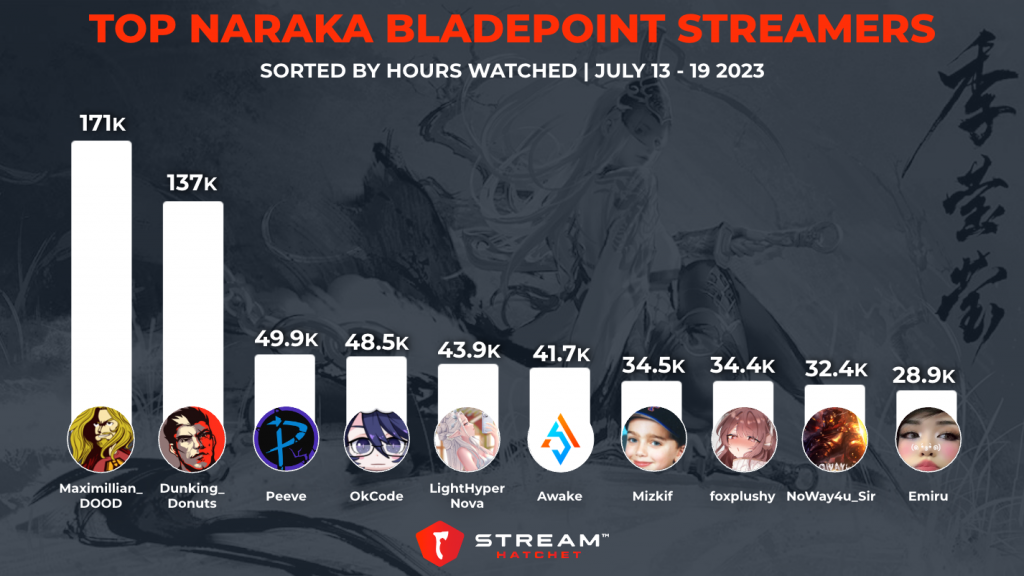 Live Streaming Viewership to Steam Player Base
In fact, this relation between increased player base and viewership on live streaming platforms can be further confirmed. The 7-day drops on Twitch for Naraka's 2-year anniversary starting on July 13th 2023, and coinciding with the release of the F2P version, is a testament to its success. According to Steam Charts, there was a whopping 99% increase in the player base in July 2023 alone.

The game also hit its all-time Steam player peak on Friday, July 24th with 264.4K concurrent players, the day after the game went free-to-play. That's more than double its first-week concurrent players back in 2021 (104.6K concurrent players).
The developers were also considerate to their loyal fanbase. Players who initially purchased the game received bonus content, ensuring they received value equivalent to their investment. This move was clarified on a FAQ page, as detailed by Checkpoint Gaming.
Naraka Bladepoint's journey, from its initial booming success to a slight decline and its resurgence with the F2P model, underscores the symbiotic relationship between viewership on platforms like Twitch and the game's player base. When managed strategically, this relationship can be leveraged to revitalize a game, ensuring its longevity and success in an ever-competitive market.
Want to learn how to use live-streaming data analytics and insights to power your video game marketing strategy? Get a free trial of Stream Hatchet's business intelligence software: