Barcelona's Primavera Sound festival partnered with Amazon Music this year to broadcast a selection of the shows on Twitch. The three broadcasts generated over 400K hours watched across their 4 Twitch channels, and featured sets from popular artists like Caroline Polachek, The War on Drugs, Måneskin and many more. 
Most Watched Performances on Twitch
The most watched performance on Amazon Music's Twitch channel came from Depeche Mode who generated 44.7K hours watched during their set. The English dynamic duo is very well known internationally with 13.7M monthly listeners currently on Spotify.
Annie Clark, also known as St. Vincent, generated the second highest viewership with 24.4K hours watched during her set, with the English rock band Blur close behind, generating 22.5K hours watched.
The live-streaming industry has continued to expand its offerings outside of gaming. Since the pandemic, non-gaming content on Twitch and YouTube Live has been on the rise, including sports, music, travel, and other "IRL" content as consumers continue to become less and less satisfied with traditional television programming.
Live-streamed musical performances have begun to find their footing in live-streaming. Allowing fans of an artist to see a live performance that they normally wouldn't be able to attend can build a deeper connection and increase anticipation for the next live performance that they can participate in. They also help brands and sponsors get in front of more viewers and expand their potential ROI for the shows.
Primavera Chat Mentions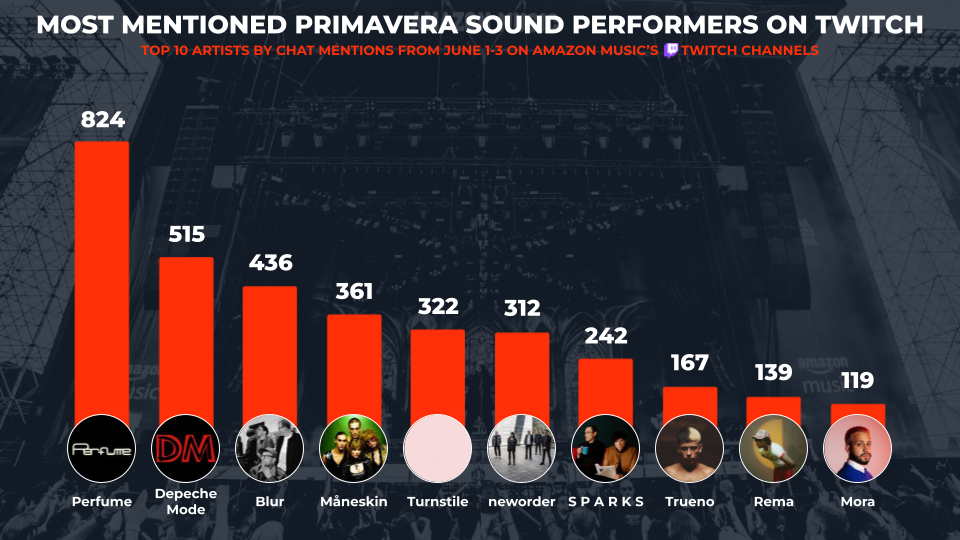 The J-Pop Idol group Perfume generated the highest number of Twitch chat mentions with 824 mentions sent throughout the festival's broadcast. The group is currently sitting at about 708K monthly listeners on Spotify, but their dedicated fanbase found their way to Twitch to show their support for the group pushing their chat activity past performers with larger fanbases.
Thanks to their large following, Depeche Mode ranked second in chat mentions during the festival's broadcast generating 515 chat mentions on Twitch. Blur once again ranked third with 361 messages sent throughout the broadcast.
Twitch chat data analysis is a great method for understanding the audience's perspective on what content they are currently consuming. Being able to see in real time what resonates with the viewers is a major advantage for people activating in live streaming.
If you want to learn more about how you can level up your live-streaming marketing campaigns talk to one of our sales representatives to get you started.