Just Chatting grew 130% in 2020 from 88M hours watched in January to 203M hours watched in October.
In Q3 2020, Just Chatting generated about 522M hours watched placing it second behind League of Legends with 543M cross-platform hours watched.
The growth of Just Chatting becomes more remarkable considering it is a category solely on Twitch whereas other games benefit from streams across all platforms. If other platforms outside of Twitch weren't included, Just Chatting would be over 100M hours watched ahead of League of Legends in Q3 2020.
Top Growing Titles:
CS:GO increased 34% in total hours watched while also generating a 36% growth in peak viewership.
Minecraft jumped up to the fourth place spot after a 32% climb in hours watched.
Just Chatting reached 62M hours watched, a 20% increase from the previous week.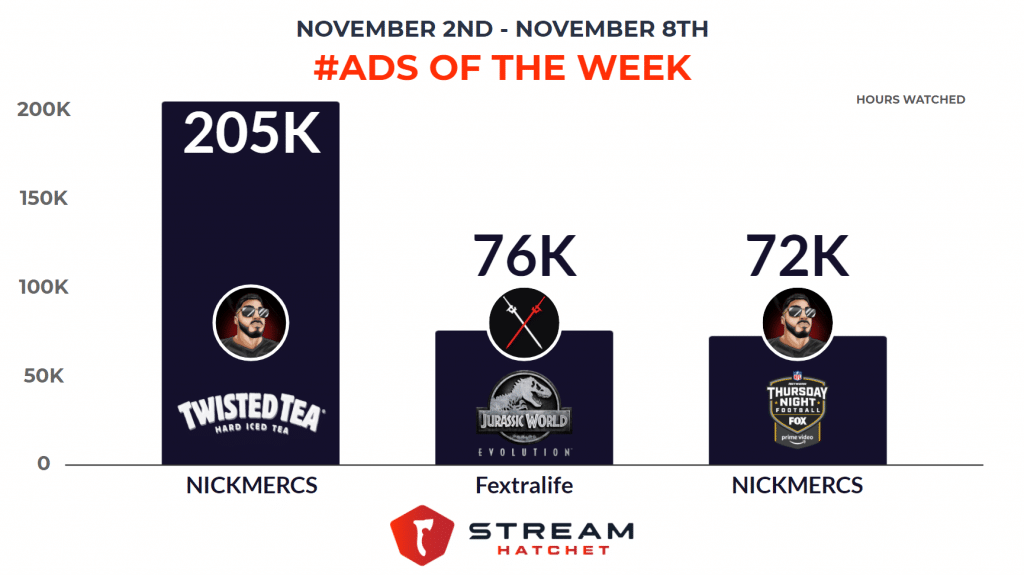 THIS WEEK'S WINNER: NICKMERCS x Twisted Tea
Twisted Tea partnered with NICKMERCS for a 3 hour session that generated 205K hours watched in addition to an average audience of 61K viewers.
This may be part of the new wave of alcoholic beverage brands moving towards individuals to spon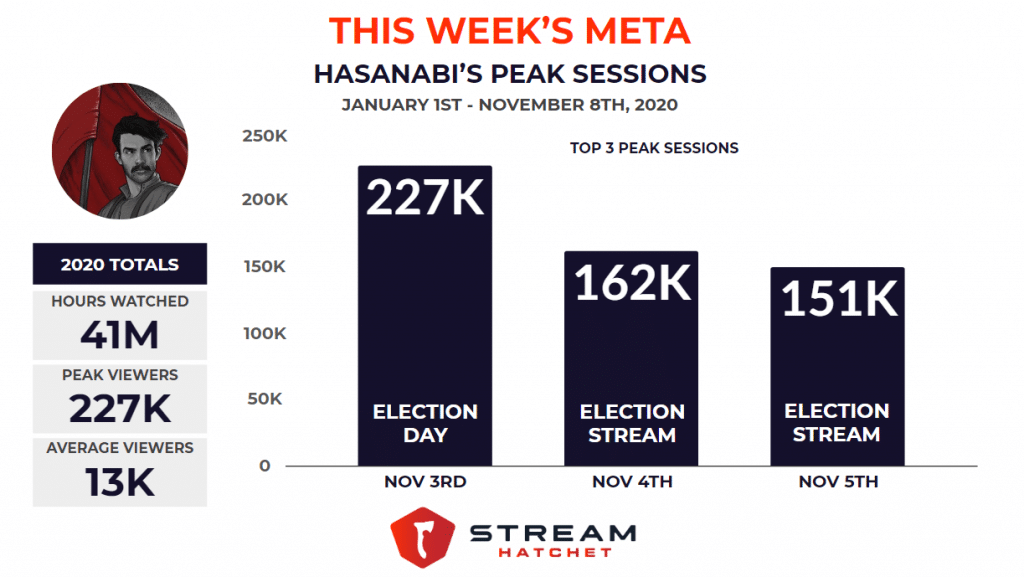 HasanAbi has been one of prominent influencers discussing politics on Twitch, further increasing his engagement over the past few months during election season. His three largest peak viewership moments came in three consecutive days starting on November 3rd. In aggregate, Hasan produced over 41M hours watched so far in 2020; already a 538% increase compared to the 6M hours watched he generated all of last year. He also jumped from an average of 2.7K viewers to just over 13K viewers. Although the political atmosphere has helped his growth, the movement towards more diverse content on Twitch has also assisted awareness of creators like Hasan and others.