February
Kai Cenat shot up to the top of February's top live streamers leaderboard with a whopping 43M hours watched. At the beginning of February Kai began his "Mafiathon", his own version of a subathon. Kai was live 24/7 through all 28 days of February while averaging around 66K viewers during that time frame. Not only did Kai Cenat set the record for most hours watched by a creator in a month, he also broke Ludwig Ahgren's all-time record for most Twitch Subscribers by garnering over 300K subs by the end of February.
January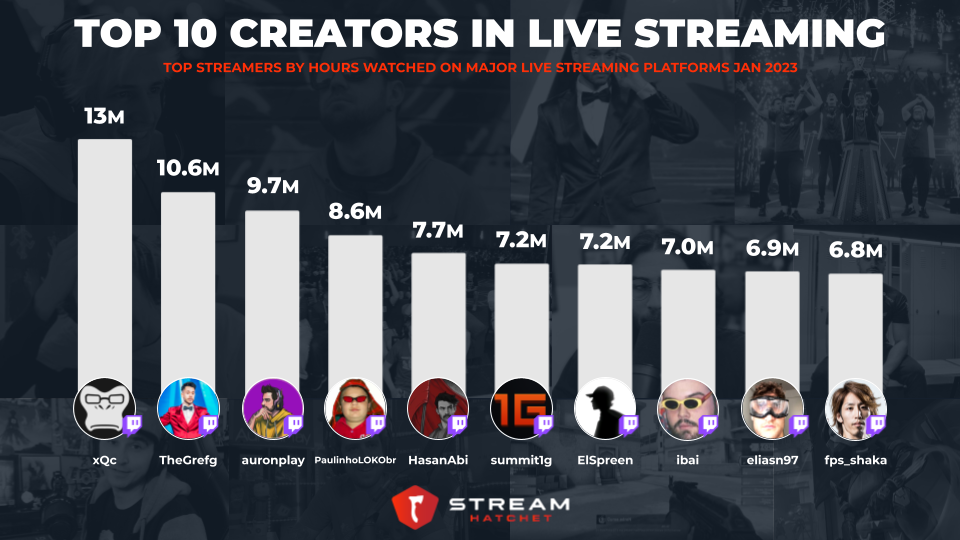 TheGrefG started off this year strong landing #2 overall on January's Top 10 Live streamers. TheGrefG was able to generate 9M of his 10.6M of his total watch time during his Esland Awards event. The Eslands Awards is an award show brought together the Spanish-speaking livestreaming community to celebrate their accomplishments over the past year. This year, the award show reached 1.7M peak viewers.
To stay updated with current live streaming trends, subscribe to our newsletter.