February saw a lot of Gaming activations thanks to some popular game titles being released early on in the month.
PlayStation
The top of our Gaming #Ads of February is Playstation who partnered with popular Spanish-speaking streamer IlloJuan. Playstation's activation with IlloJuan generated 346K hours watched with the session garnering a peak viewership of 57.9K viewers.
During his sponsored stream in February, IlloJuan reported on all of the latest news for Sony's PlayStation Plus subscription service.
While Playstation's partnership with IlloJuan hasn't been as attention-grabbing as a large tournament or other big event, there are major upsides to a continued partnership with a streamer with a large community. The continued exposure that Playstation gets from IlloJuan's community is an easy way to remind viewers that Playstation supports IlloJuan, so by supporting PlayStation you in-turn support your favorite creator.
Additionally, IlloJuan's most popular live streaming category is Just Chatting, meaning his fans like listening to him talk and don't have a preference for specific games that he plays. While he does play Playstation titles often, the format of having him read off the newest Playstation Plus news is a perfect way to activate in the space.
Warner Bros. Games
This month's runner up is Warner Bros. Games who partnered with Portuguese-speaking streamer alanzoka. This activation was to promote the launch of Hogwarts Legacy. While there were many other streamers who partnered with Warner Bros. Games to push Hogwarts Legacy, alanzoka's session generated the most hours watched with 316K and reached a peak viewership of 55.7K
Warner Bros. Games has been creating memorable moments in live streaming by leveraging their most popular IP's in the gaming space. Hogwarts Legacy is another success story in Warner Bros. dive into the gaming industry. Hogwarts Legacy's campaign was a huge factor in breaking records for most concurrent viewers watching a single-player game on Twitch before the game's official release.
4Divinity / Focus Entertainment
In third place this month we have 4Divinity /Focus Entertainment who also partnered with IlloJuan to launch Atomic Heart. The activation with IlloJuan generated 294K hours watched and reached a peak viewership of 60K viewers.
Atomic Heart is a first person shooter that was developed by Mundfish and takes place in an utopian society where you fight monsters and robots to defend mankind. The campaign to launch Atomic Heart consisted of not only the activation with IlloJuan, but popular gaming streamers like MissMikkaa, EsfandTV, and Im_Dontai.
During its release week, the game reached the top 10 games in live streaming with almost 12 million hours watched, with the help of these activations with live streaming creators.
Non-Gaming #Ads of February
The top brand activations in live streaming last month were Hello Fresh, Turbotax, and Ebay.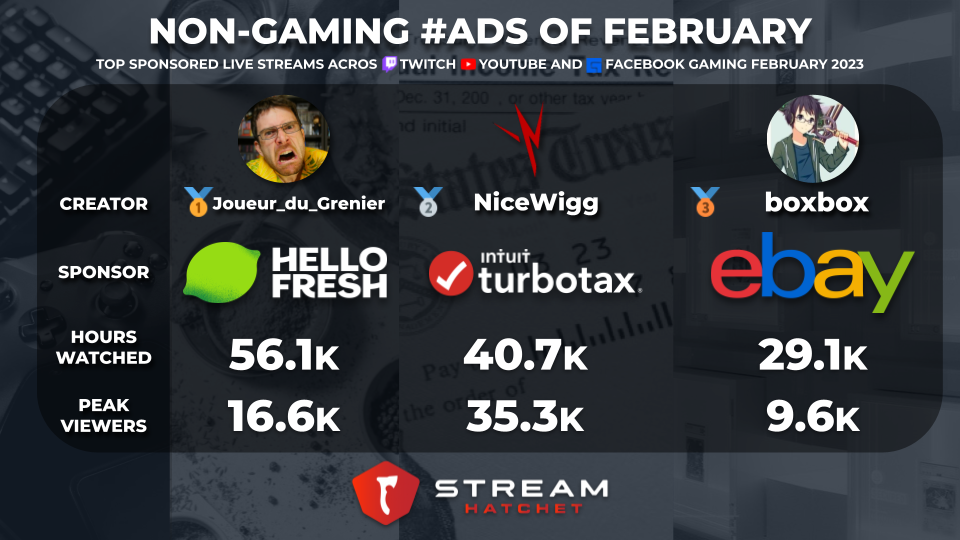 February's top activation was between Hello Fresh and Twitch streamer Joueur_du_Grenier. This activation generated 56.1K hours watched and reached 16.6K peak viewers during the broadcast.
Hello Fresh
Hello Fresh is a meal kit delivery service that provides fresh and ready to cook ingredients right to your doorstep. The audience within the live streaming and gaming community have become a prime target audience for food delivery services like Hello Fresh, DoorDash, Uber Eats, and many others. Hello Fresh has continued to tap into this audience by activating with many streamers across major platforms. The food delivery industry understanding the habits of the live streaming audience has greatly benefited the campaigns they have activated in the live streaming space.
TurboTax
Next on the list for top activations is Turbotax who partnered with NiceWigg with their TurboTax Expert Invitational tournament. This activation generated 40.7K hours watched and reached the highest peak viewership on the list with 35.3K peak viewers.
Tax season is quickly approaching in the United States and as the live streaming community begins to grow and age, more viewers are going to start filling their own taxes. TurboTax has used live streaming as an opportunity to activate with young professionals who are also interested in video games with the creation of their own TurboTax Expert Invitational.
The Turbotax Invitational featured members of popular esports teams and influencers competing against each other in games like Apex Legends, Multiversus, and Fall Guys. NiceWigg competed in this tournament and encouraged his chat to vote on certain rules that he and his fellow competitors will have to follow during the competition.
Ebay Vault
Ebay rounds out our top brands activating in live streaming list this month with their partnership with boxbox to support the launch of Ebay Vault. Ebay's activation with boxbox generated 29.1K hours watched and reached a peak viewership of 9.6K.
Ebay Vault is Ebay's entry into the collectible trading card industry. This service allows collectors with expensive trading cards to safely store and protect their assets in a climate controlled environment. Collectors can also sell items in their vaults to other potential buyers. Platforms like Twitch have become well known for their community of collectors and enthusiasts. The massive surge in popularity for Pokemon cards and classic video game boxes continues to linger within the Twitch community, making Ebay's activation with boxbox, who primarily streams card based video games,  a very smart move to capitalize on an untapped market. 
If you are looking to get started marketing in the live streaming space, contact our sales to to help get you started: