On Wednesday, March 22nd, Valve announced the upcoming summer release of Counter-Strike 2, to be built on Source 2. They also announced a limited test beta for the game, which a select number of players were invited to participate in.
On the 22nd, viewership of CS:GO across Twitch, YouTube, and Facebook Gaming spiked, generating 6.4M hours watched and peaking at 930K concurrent viewers.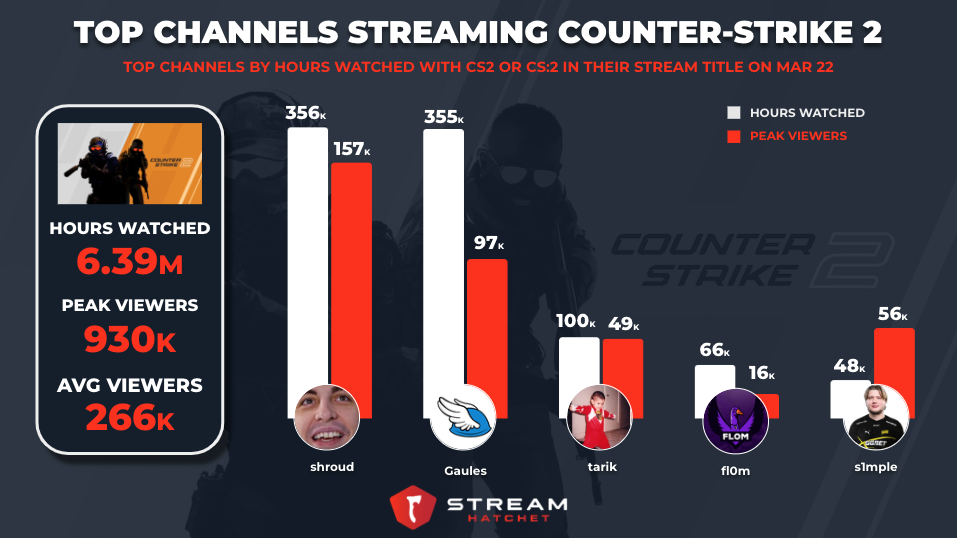 Shroud was the most watched live streaming creator with the word "CS2" or "CS:2" in the stream title, generating 356K hours watched with a peak viewership of 157K. Gaules generated around 355K hours watched with a peak viewership of just under 100K.
Tarik, fl0m, and s1mple took the next 3 spots with 100K, 66K, and 48K hours watched, respectively, on the 22nd.
Chat mentions of the new game also spiked yesterday, with 57.5K mentions in Twitch chat of CS:GO live streams. That's an increase of 567% from the prior day.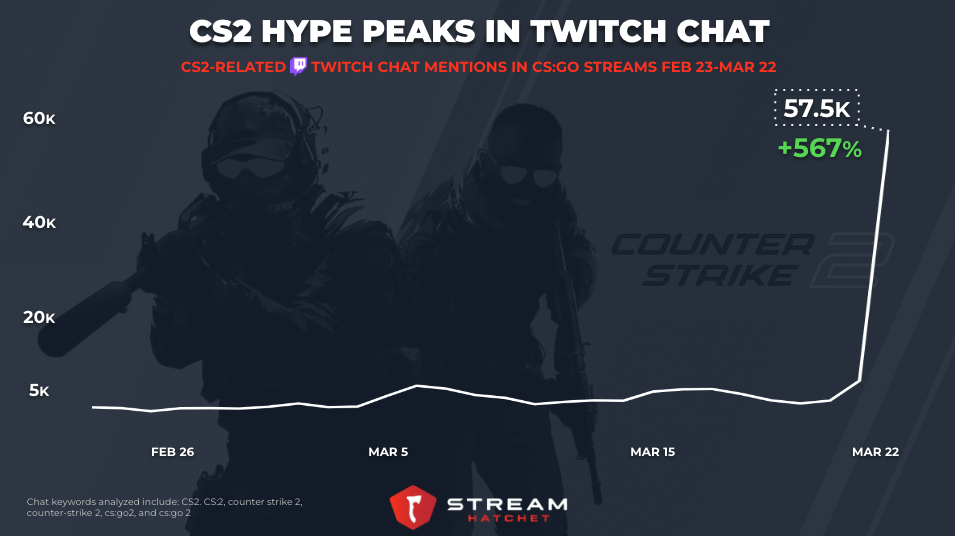 Rumors of the new game have been flying around all year, amid leaks and rumors of Source 2 and a beta launch. Mentions of the new game since February 23 were hovering around 3K a day.
Valve's Source 2 engine will update the game's performance and give the game a new look, according to The Verge. New maps, better graphical details, and other updates will accompany the free CS2 game.
As more players get added to the beta test and the closer Valve gets to the release date, CS:GO players and live streaming viewers will most likely continue to get hyped for the new game. Conversations will continue in live streaming chat, and the game could possibly land itself in some top leaderboards for 2023.
Subscribe to our newsletter to get weekly live streaming updates: