The 2022 Game Awards premiere tonight on major live streaming platforms and will award the best of the best publishers, developers, designers, and more working in the video games industry. The Game Awards will also answer one question on everyone's mind: who will be crowned this year's Game of the Year?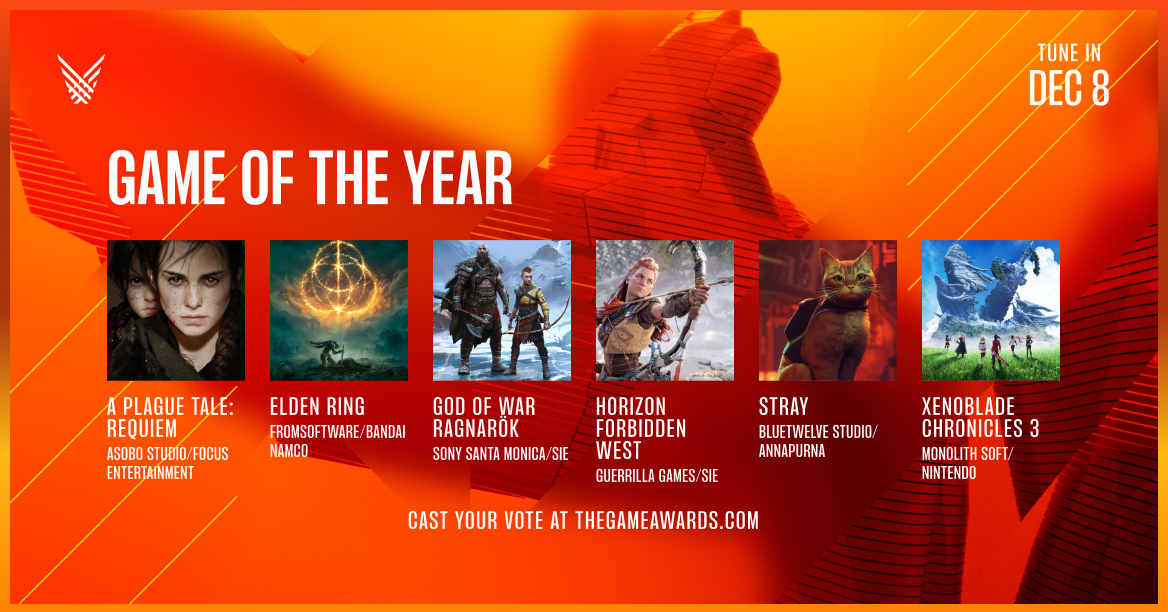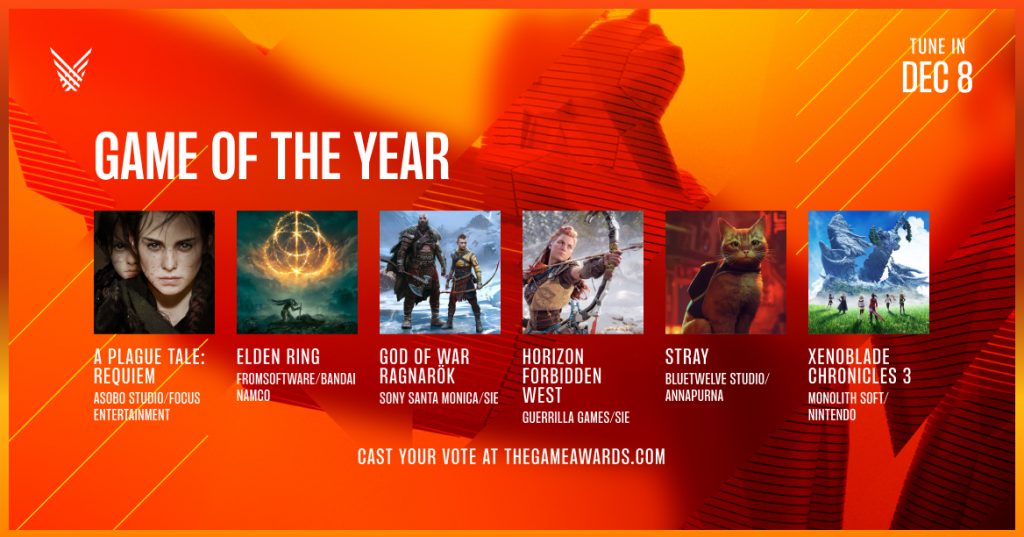 Six games are nominated for the award: Horizon Forbidden West, Elden Ring, Stray, Xenoblade Chronicles 3, A Plague Take: Requiem, and God of War: Ragnarök. While live streaming performance doesn't always directly indicate the quality of a video game, trends across Twitch, YouTube Gaming, and other live streaming platforms can indicate popularity and help us understand whether a game will stand the test of time.
The sequel to Guerrilla Games' Horizon: Zero Dawn, Horizon Forbidden West, was released on February 18th 2022. Playing as Aloy, you traverse an open world experience battling against robotic machines. During Horizon's first week the game generated 10M hours watched landing in #4 among other nominees.
Elden Ring Tops the Streaming Charts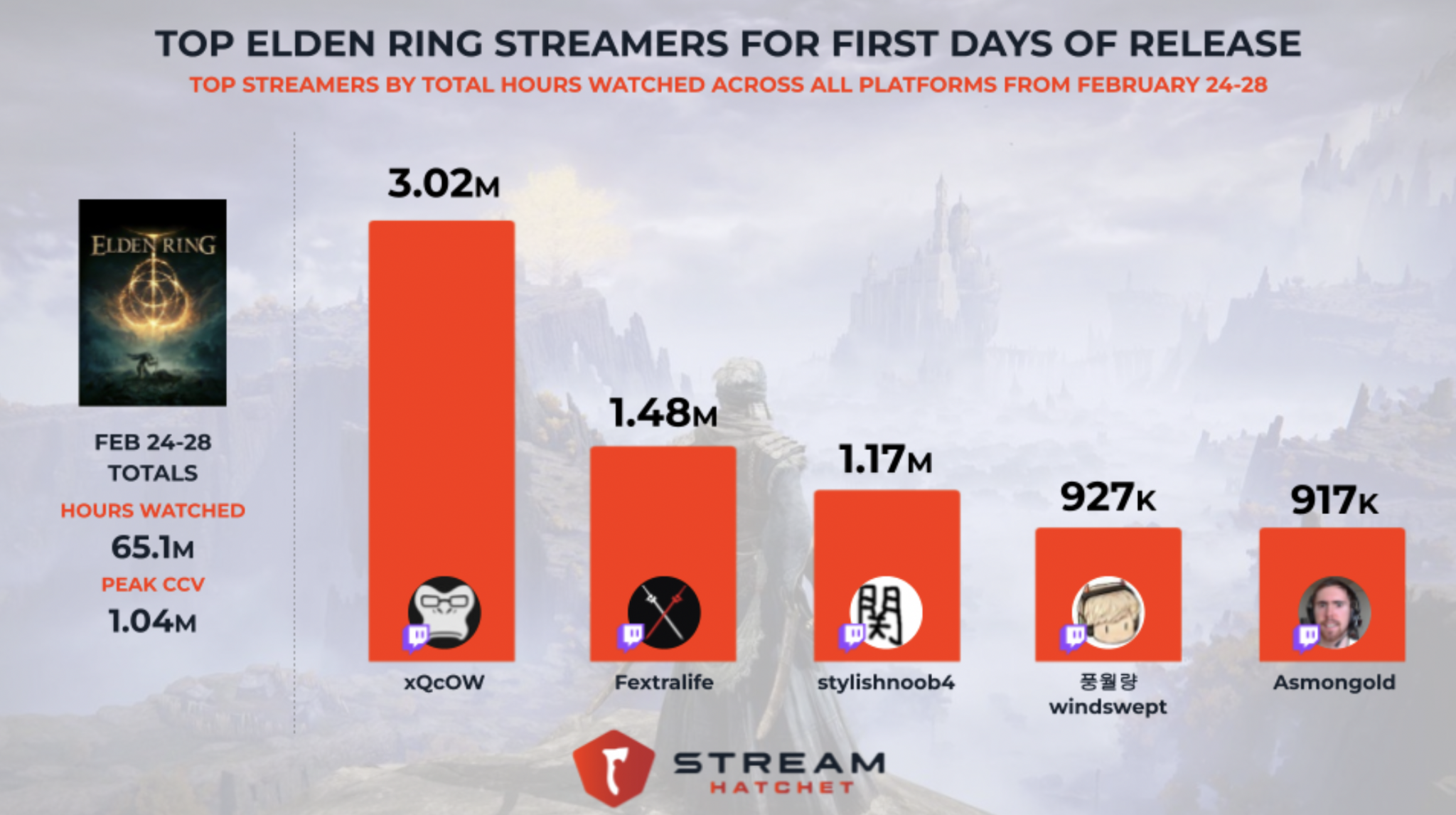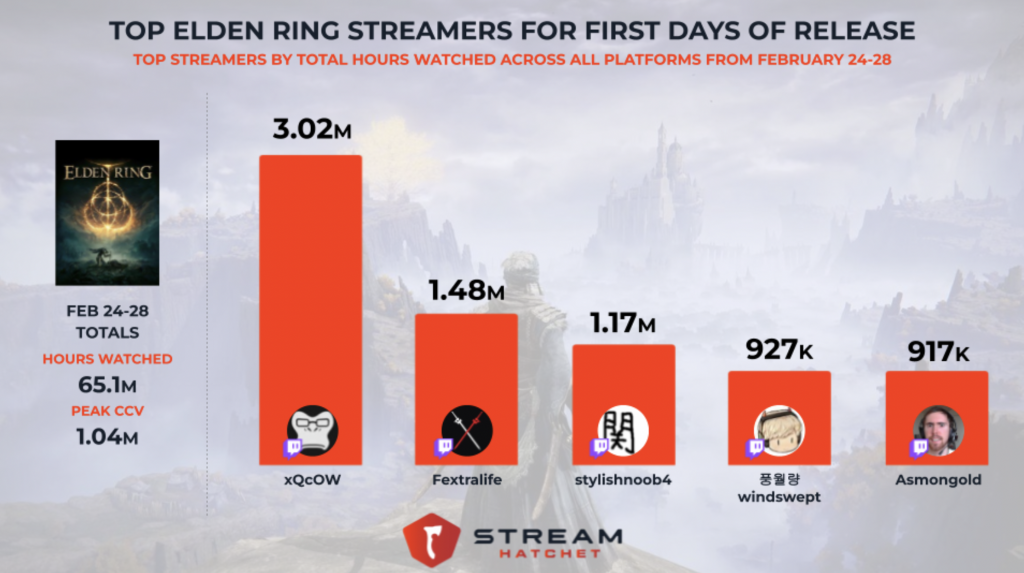 Just one week later, Elden Ring was released with a bang and generated the most hours watched of the GOTY nominees, generating 83M hours watched in its first week. Elden Ring was developed by FromSoftware with "Souls-like" gameplay similar to the Dark Souls and Bloodborne series. In March it remained the #3 most watched game in live streaming. 
Stray generated 12M hours watched in its first week and quickly climbed to #9 among all games in live streaming during the first week. Stray was developed by BlueTwelve Studio and is a game where you play as a stray cat in a cybercity trying to return to the surface world. 
Xenoblade Chronicles 3 is Nintendo's representative for game of the year generating 1.5M hours watched. Developed by Monolith Soft, Xenoblade Chronicles follows Noah, Mio, and their respective companions on a journey to understanding the mysteries of their world.
A Plague Tale: Requiem is Asobo Studio's sequel to A Plague Tale: Innocence. Playing as Amica you use any means necessary to survive a breathtaking world that becomes twisted by the supernatural. A Plague Tale: Requiem generated 3.8M hours watched during its first week of release.
God of War: Ragnarök Saw 2nd Most Hours Watched
The latest installment of the God of War Series, God of War: Ragnarök was the final nominee to debut this year. In its first week, Ragnarök generated 30M hours watched, the second highest for all of the GOTY nominees. The game reached #10 for the top games in live streaming for the month of November. God of War: Ragnarök was developed by Santa Monica Studios and follows the protagonists Kratos and Atreus as they traverse the nine realms of Norse mythology.
Will the winner of the Game of the Year be one with the best first week performance in live streaming viewership? Or will an underdog bring home the trophy?
Get gaming & esports insights delivered weekly to your inbox by signing up for Stream Hatchet's newsletter: