With only a week left in January, we are starting to see the last of the campaigns across Twitch. This week, we see Epic Games pop in due to the creator code popularity in the stream title, Postmates with a powerful activation behind a popular variety streamer, and lastly MTG: Arena partnering one of the most popular TCG players on Twitch. Stream Hatchet is here to analyze the moments of these sponsored stream segments across the four major platforms and contextualize the successful campaigns.

In the first place, we have Maximilian_DOOD with 81k hours watched who partnered with Postmates to provide gameplay for not a new release, but a very popular title from 2016, DOOM. With this activation, like most content creators, there was a specific command, !postmates, to notify chatters about the activation. During this stream session, !postmates was the 5th most talked about topic for the entire stream. Overall, the activation was very welcoming from the community because let's be honest, who doesn't like food and free delivery credits from Postmates.

Next, benjyfishy comes in second with 60.1k hours watched. As last week with TSM Myth, he was promoting his creator code in his stream title and he made sure to put #ad. One of the reasons this stream was more popular than TSM Myth's stream from last week was that he participated in the Fortnite Solo Cash Cup. Even with placing 82nd, he still pulled in good numbers and kept an average 18k viewers for the session.

Lastly we have Kripp streaming Magic The Gathering: Arena where he hit 35.6k hours watched across a 5 hours and 30 minutes session. Kripp has been known for playing TGC and this has to be one of the most on-brand activations that happen Twitch. Getting one of the most popular TGC players to pick up your game and play it, and then also play it outside the #ad sessions, shows it was a successful activation. This hasn't been the first activation between MTG and Kripp and definitely won't be the last.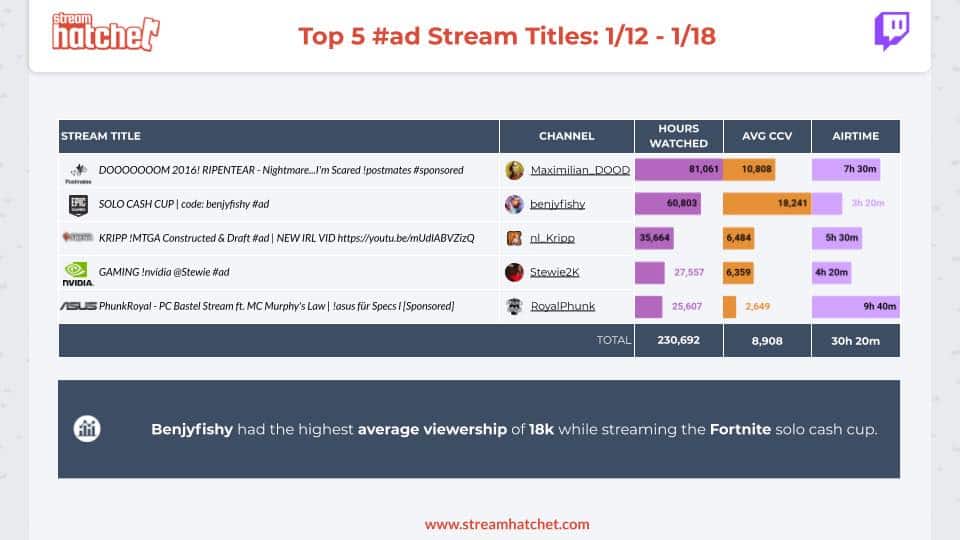 Honorable mentions:
CouRage's first session as a partner with GameFuel generated 19.2k hours watched and he was showing off Ninja's new icon series Fortnite skin.
Benjyfishy had the highest average viewership of 18k while streaming the Fortnite solo cash cup.