Live streaming is a burgeoning industry that saw incredible growth in the last several years, partly due to the COVID-19 pandemic. 2021 saw peak viewership levels, with 34 billion hours watched of live-streaming content across leading platforms Twitch, YouTube Live Gaming, and Facebook Gaming.
This implies an incredible opportunity for video game publishers, esports organizations and tournament organizers, and talent agencies working with brands and influencers, to utilize live-streaming as a growth platform.
Using data to make informed decisions about investing in the industry is the essential way to operate, and Stream Hatchet is the market leader in live-streaming data analytics since 2017. 
In our European Live-Streaming Trends Report, we put a spotlight on the Nordic community in live-streaming, to analyze performance and identify growth opportunities for those investing in the industry.
Nordic Live-Streaming Marketing Analysis
Despite a 10% decline across Twitch YoY from Q1 2022 to Q1 2023, Nordic-language live streams on the platform have actually increased 36% in that timeframe, growing from 23 million hours watched to over 31 million.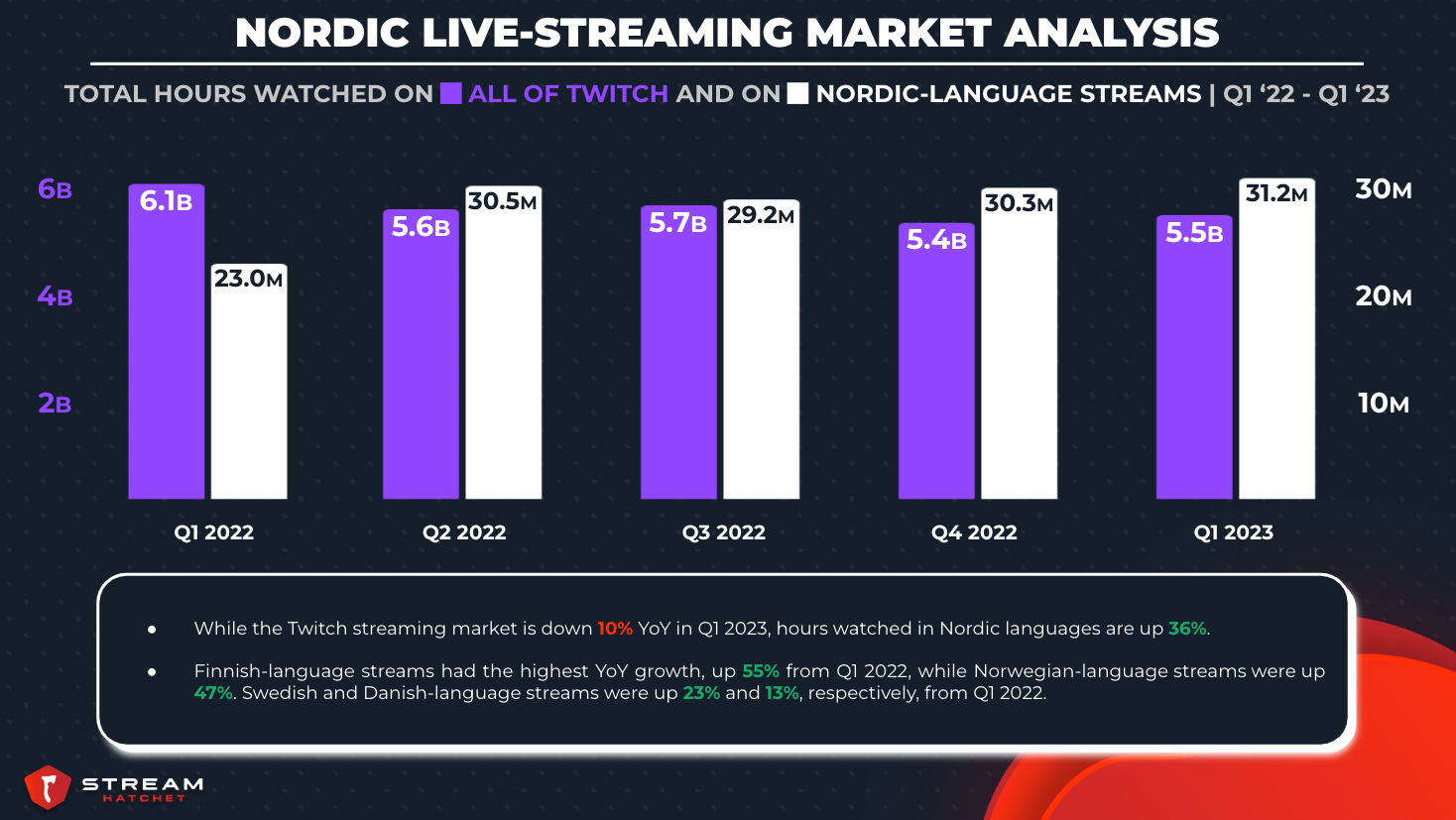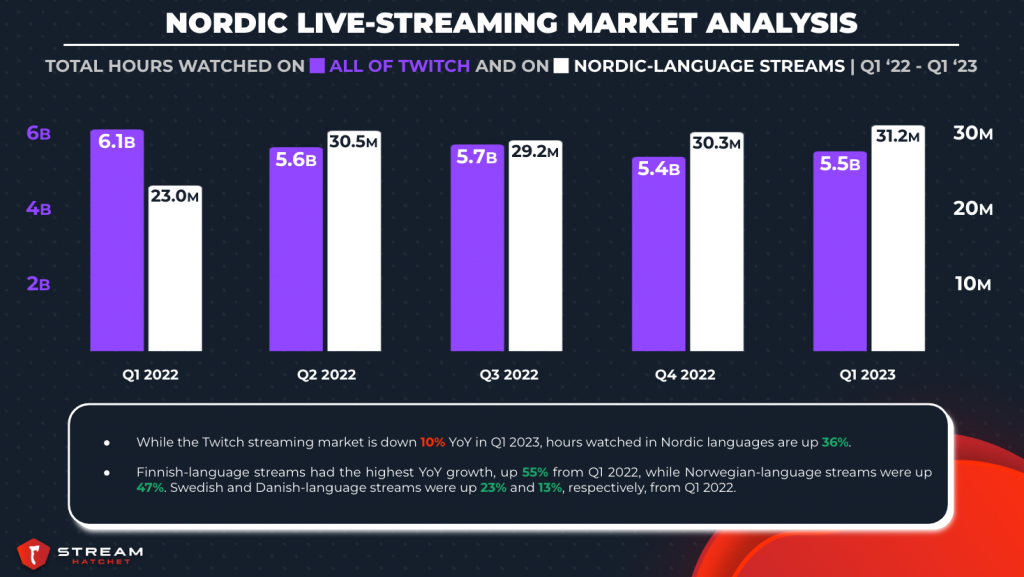 Finnish-language streams saw the highest growth of the 4 languages analyzed, with a 55% increase. Norwegian streams also saw a large increase of 47% YoY. Swedish and Danish-language streams were also up 23% and 13%, respectively.
This shows the potential for growth in the Nordic countries on Twitch, and the strength of the market within those communities.
First-Person Shooters & Gambling Are More Popular in the Nordic Streaming Market
When investing in specific markets in live-streaming, it is also important to understand the differences in content that viewers are watching. Understanding differences in popular genres and live-streaming categories between the global market and the niche markets you're investing in is important when devising a marketing strategy.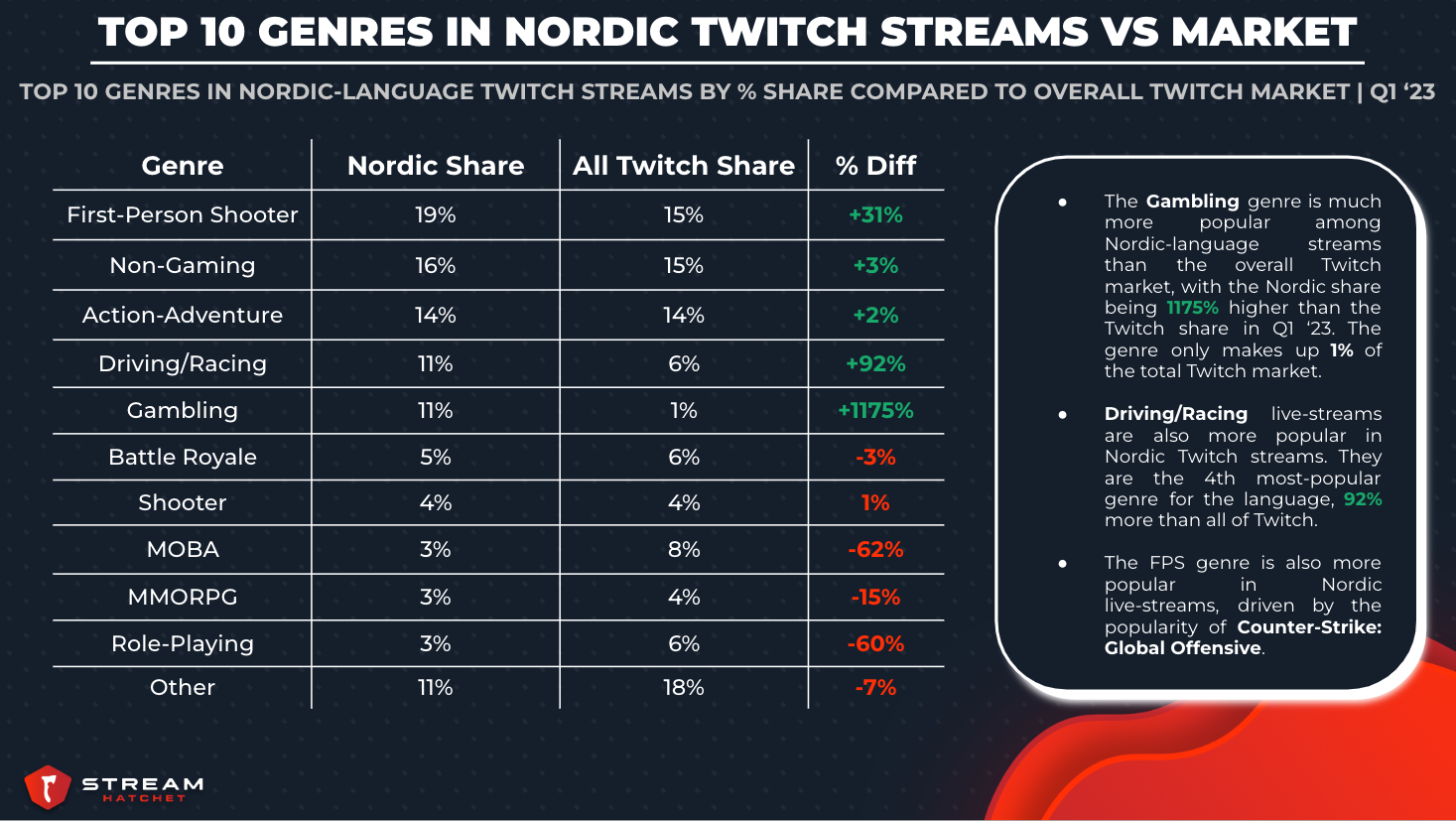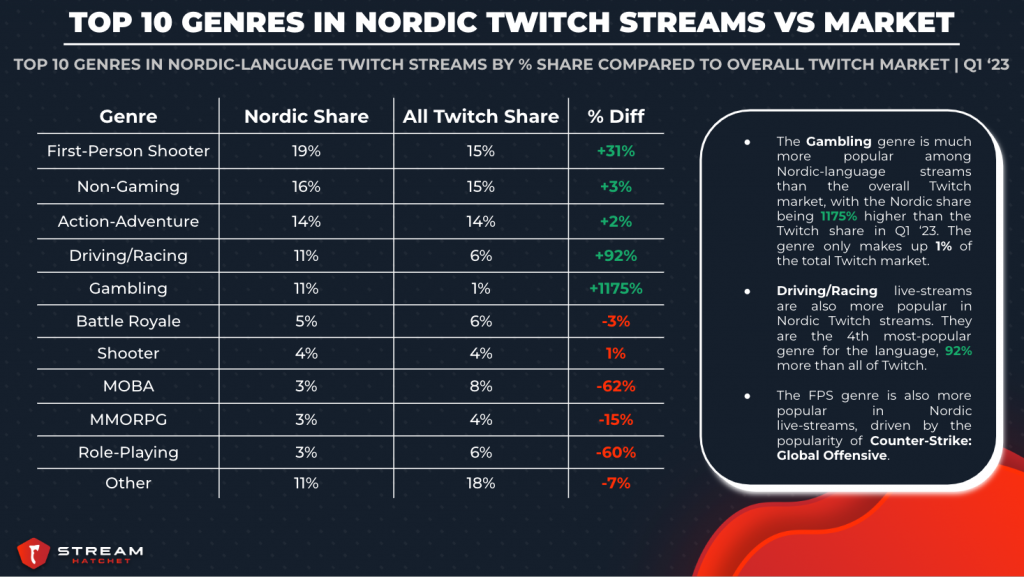 In Nordic-language live streams, the Driving/Racing and Gambling categories are much more popular than they are across the global market. They each make up 11% of Nordic-language streams, or 92% and 1175% higher than the global Twitch market, respectively.
Additionally, the most popular categories in Nordic-language streams looked a bit different from the overall Twitch market in Q1 2023.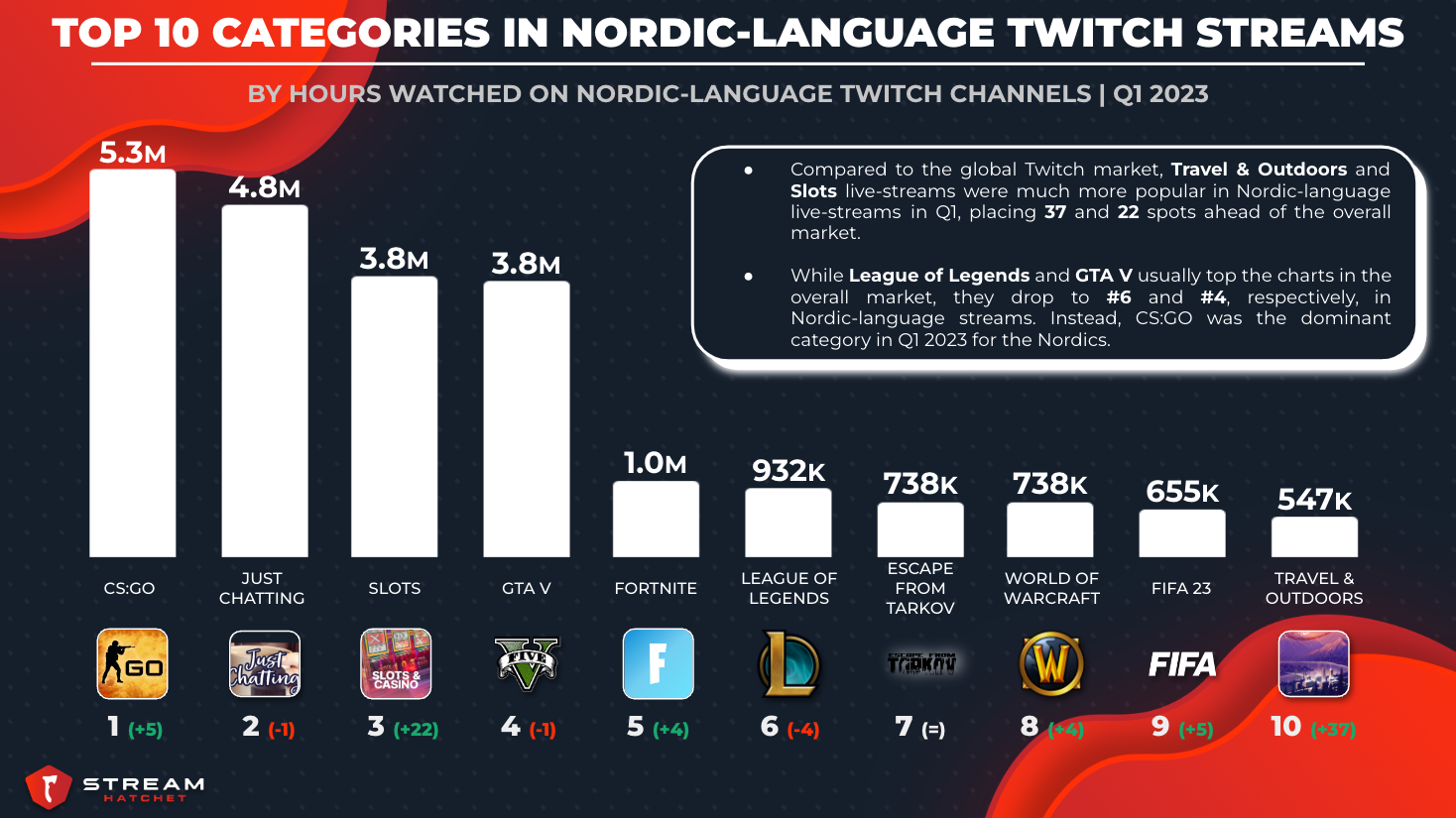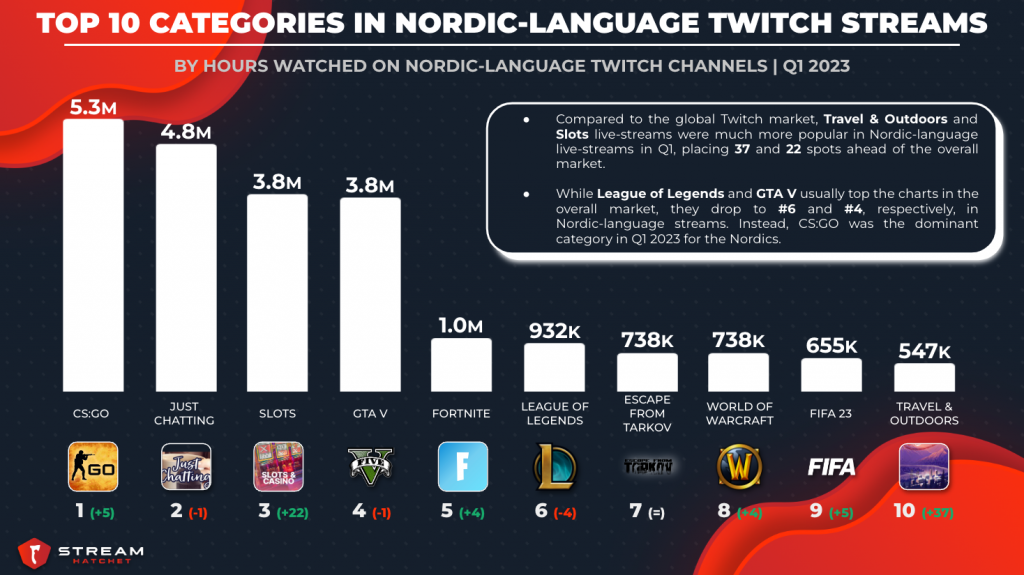 League of Legends and Grand Theft Auto V, which regularly place in the top 3 globally, are #6 and #4 for the Nordic market, replaced by CS:GO and the Slots category. The "IRL" Travel & Outdoors category saw the highest difference, gaining 37 spots over the global market and coming in as the 10th most-popular category for Nordic-language live streams.
Brawl Stars Finals Grew 573% YoY from 2020-2022
Finally, we looked at a case study on the performance of a Nordic publisher, Supercell, and their growth in esports live-streaming performance from 2020 to 2022.
While mobile live-streaming viewership as a whole is down, mobile esports are growing significantly. The overall market for mobile esports live-streaming viewership has grown 37% from 289 million hours watched in 2020 to 394 million hours watched in 2022.
Supercell's esports live-streaming viewership has grown similarly and is up 38% YoY from 2020 to 2022. While the video game publisher's most-watched esports game in 2020 was Clash Royale with 3.2 million hours watched, Brawl Stars has overtaken that title in 2022 with 4.8 million total esports hours watched.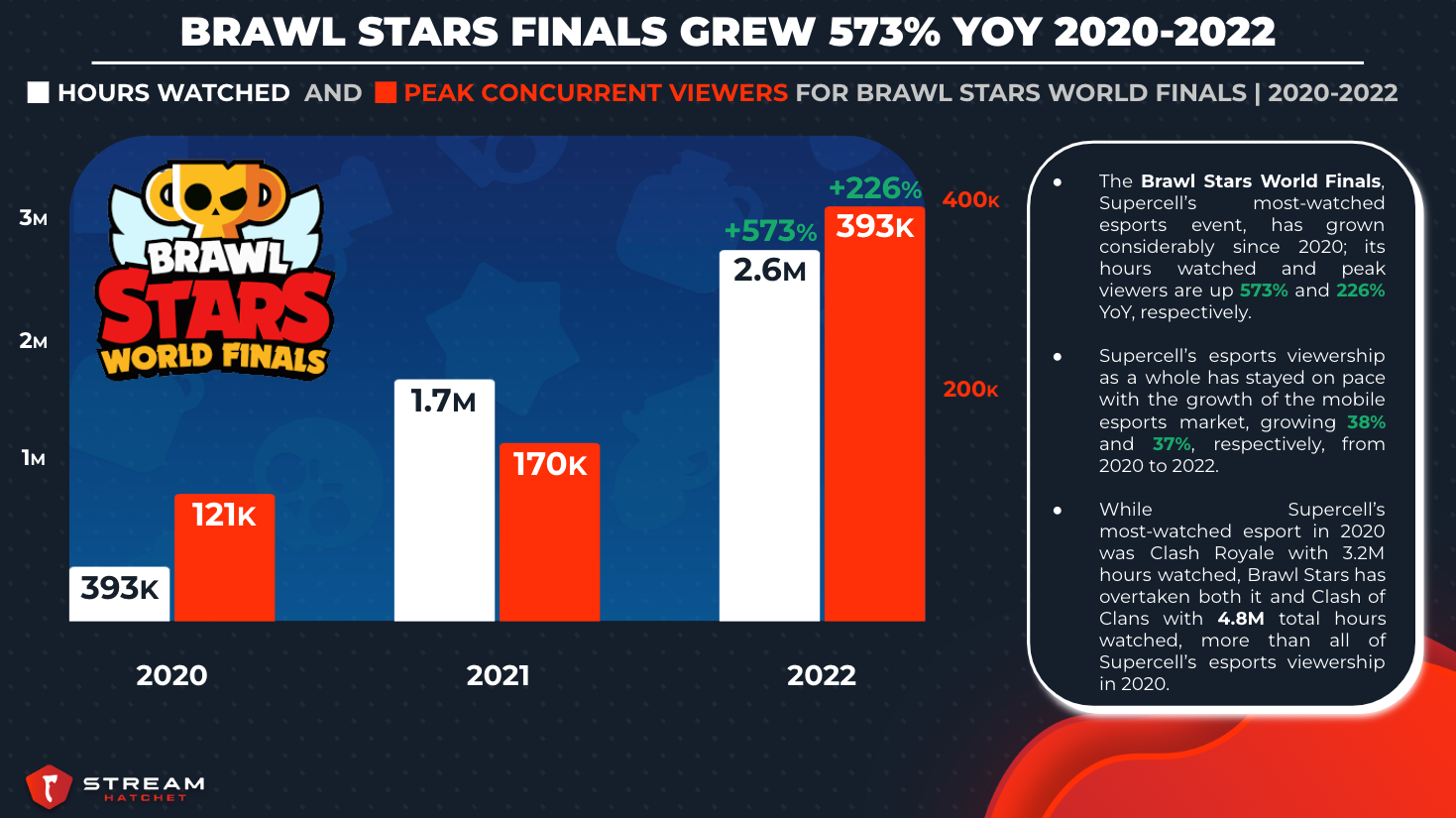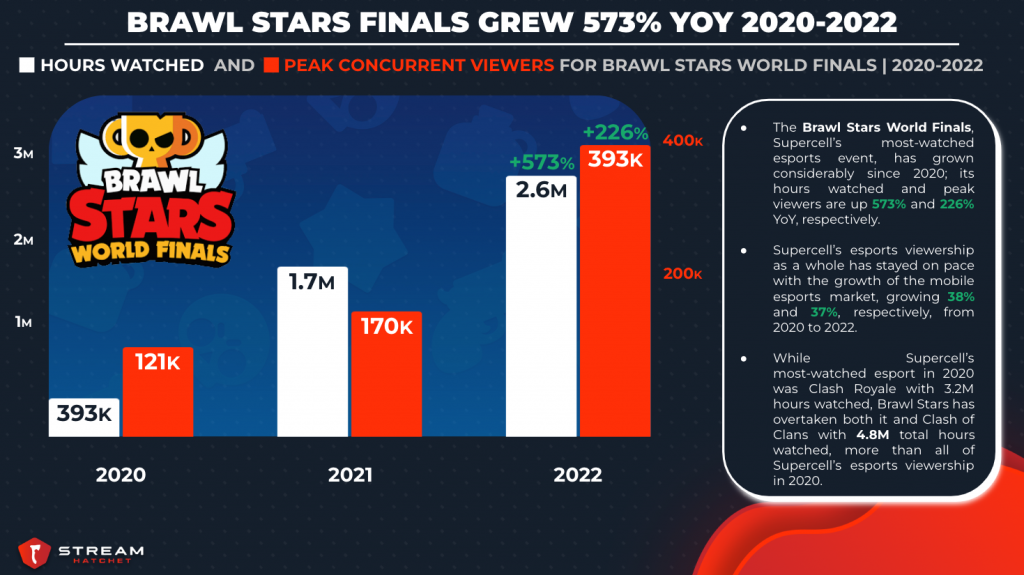 The Brawl Stars World Finals takes place in Q4 every year and has been the event with the most significant growth in Supercell's esports ecosystem. Since 2020, its hours watched have skyrocketed on live-streaming platforms from a mere 400K to 2.6 million, an increase of 573%. The peak viewership has more than tripled as well, growing from 121K to 393K viewers for the most recent event.
Get The Full European Streaming Trends Report
Want the full report? Download our free European Live-Streaming Trends Report here: