KaiCenat has quickly become one of the fastest growing content creators on Twitch in 2022. This year alone he's gained over a million followers on the live streaming platform. On Wednesday night, he broke his own peak viewership record with 214K viewers watching his Just Chatting stream featuring rapper Lil Baby.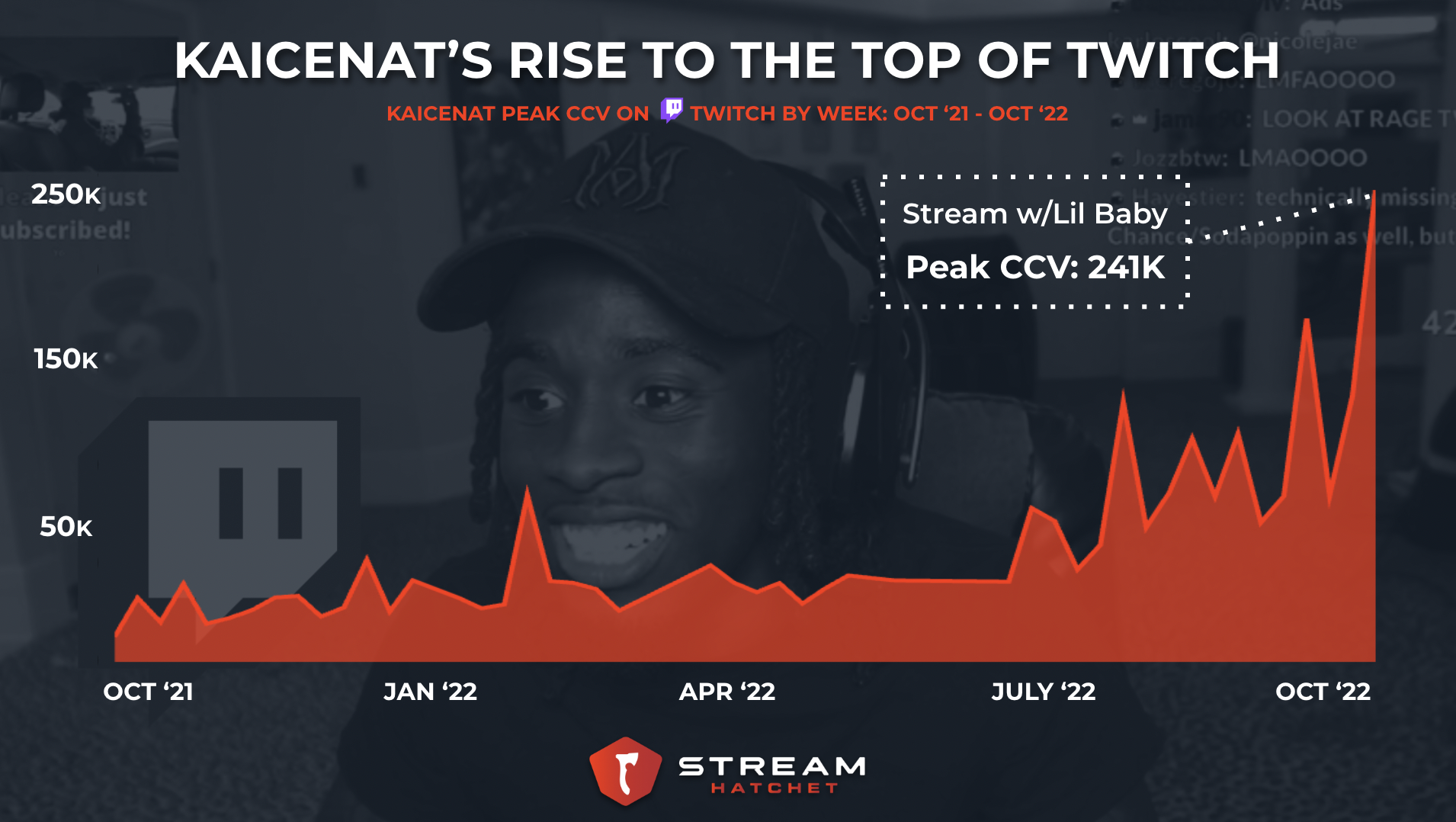 Kai's high energy and comedic personality has helped him become one of the top content creators on Twitch today. In late 2021, Kai was seeing around a million hours watched of his content per month. However, that number slowly started to climb into 2022 as he gained popularity. In August, Kai became the 3rd top creator across all major live streaming platforms with 12.6 million hours watched, just behind ElSpreen and xQc who had 15.2 million and 17.8 million hours watched, respectively.
Kai's 24-hour stream in August helped boost his numbers and audience; during that stream he averaged 79K viewers and garnered just under 2 million hours watched. Since this 24-hour stream, Kai has gone on to break Twitch's Hype Train record, and has become one of the most subscribed streamers on the platform with over 100K active subscribers. 
Kai Cenat: History of a Creator
Kai Cenat is originally from the Bronx, New York. While growing up Kai had a drive to be the funniest person in the room. Kai has been creating content since high school, posting comedy skits on Facebook and building his local notoriety. However in 2018, Kai would begin to take the next step in his career by posting regularly on YouTube. On YouTube Kai continued to post skits and prank videos, but he also transitioned into creating more vlog-style content.
As Kai continued to create content on YouTube, he was invited to join the AMP (Any Means Possible) content creator house. Being a part of this house gave Kai opportunities to collaborate with fellow members Agent 00, ChrisNxtDoor, Duke Dennis ImDavisss, and Fanum. Eventually Kai moved from New York down to Atlanta to live with his fellow AMP members. 
Kai's Pop Culture Influence
On February 2, 2021, Kai joined Twitch, and entered a brand new generation of live streamers which would go on to be dubbed the "W" community. Since joining Twitch, Kai has continued to grow his following while having his own fair share of trending moments. He has collaborated with many large creators like AdinRoss, BruceDropEmOff, YourRage, and xQc to create a variety of content including GTA V Role-Play, E-Dating, and regular Just Chatting streams. 
He has also been a key factor in bridging the gap between pop culture and live streaming by featuring many pop culture icons in his streams like rappers Ice Spice, NLE Choppa, Polo G, and most recently Lil Baby who is currently the 14th most-streamed artist on Spotify.
Kai has also collaborated with NBA All-Star Kyrie Erving as well as with adult actress Teanna Taylor. 
Kai has also pushed New York pop culture by creating clips of himself and other creators like I'mDontai doing dances like the "sturdy".
Kai's Audience & Influence
Kai's audience on Twitch consists mostly of males (90%) and 94% of his audience is based in the United States. His audience also skews pretty young compared to other creators, with over 90% between the ages of 20 and 29.
His audience also tends to also watch other young, high-energy creators; 30% of Kai's audience also watched AdinRoss in September, and 27% watched xQc in the same month. 
Want to try out Stream Hatchet's data platform for free? Sign up for a free 7-day trial: