Anime and video gaming culture have always been intertwined. Looking back all the way to the 80's when Japanese consoles were brought to the US, Western culture was introduced to the Japanese cartoon style of art design, anime.
Since then, anime and video games have continued to inspire one another, with anime being turned into video game titles, as well as video games being turned into anime series. Some of the most popular titles in the 21st century include Naruto, Attack on Titan, One Piece, and Dragon Ball Z.
While the first episode of a Dragon Ball Z anime was released back in 1989, the series has maintained its popularity into the 21st century. The show has had five different installments and dozens of video games created based on the Dragon Ball IP.
Top Dragon Ball Z Games
Three of the top games currently in streaming are Dragon Ball FighterZ, Dragon Ball Legends, and Dragon Ball Z: Kakarot. The three fighting games are all centered around the main characters within the Dragon Ball universe battling each other. FighterZ's viewership is mostly on Twitch, Legends is popular on both Twitch and Youtube, and Kakarot has the biggest share of the three on Facebook.
While Dragon Ball FighterZ was released back in 2018, it saw a resurgence in peak viewers in Q1 of 2020 when Dragon Ball Z: Karakot was released. The two games saw peak viewership in Q1 of around 100k viewers each. While the games would ebb and flow in the next few years, Karakot saw a resurgence again in live streaming in Q4 of 2021 when the Nintendo Switch version of the game was released.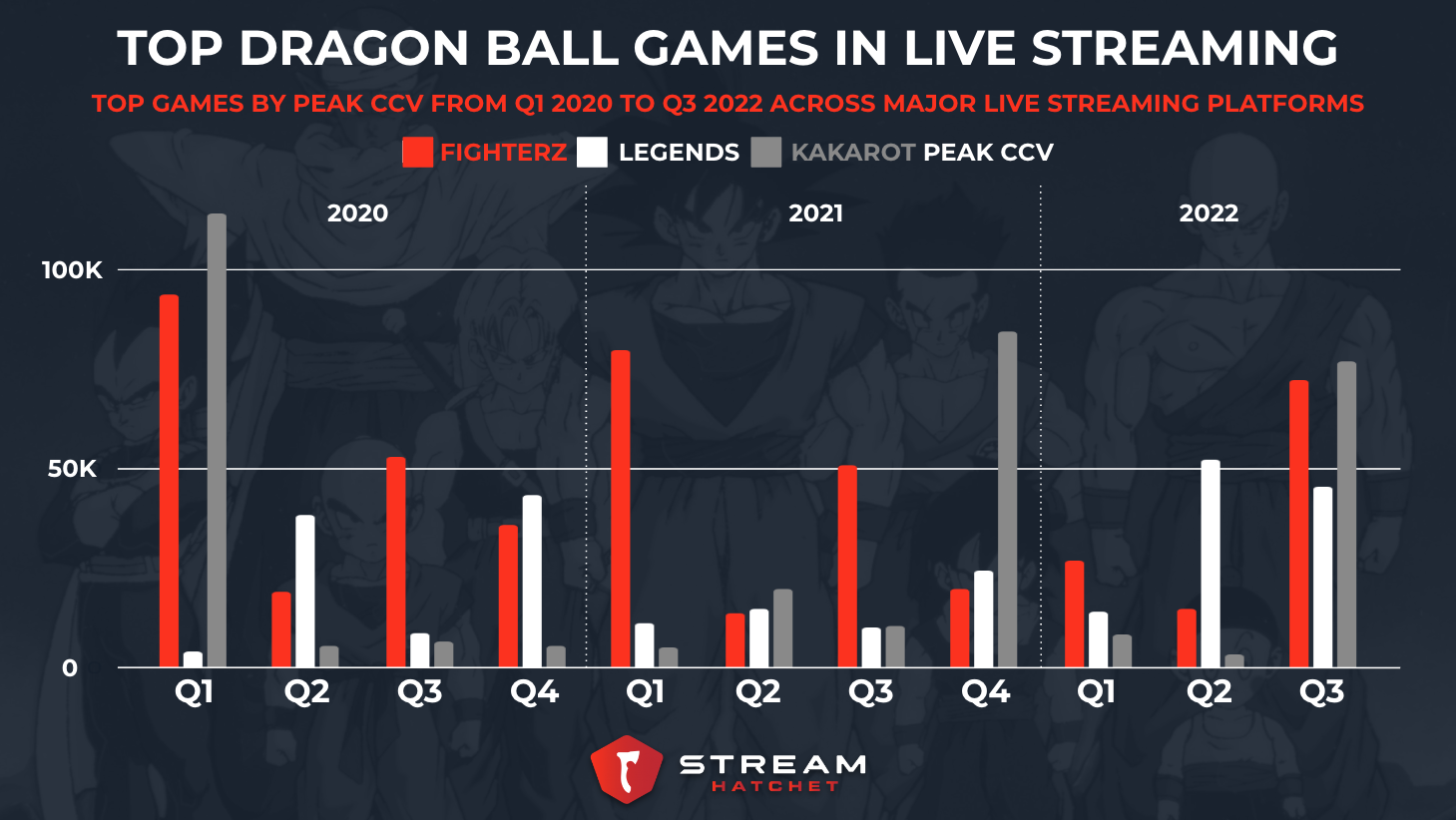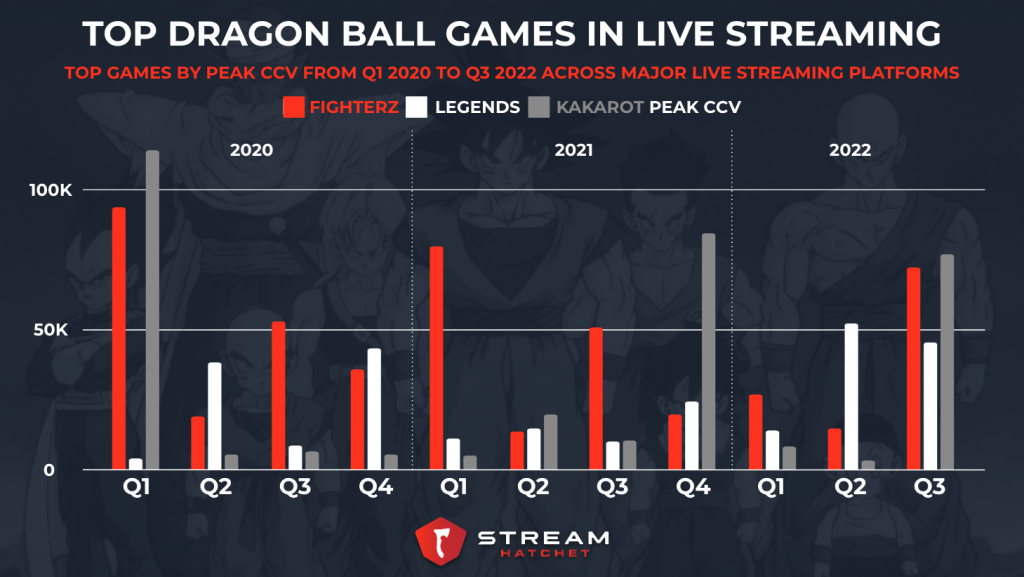 Dragon Ball Games Live Streaming Viewership Spike in August 2022
The live streaming viewership for the game Karakot also spiked in August of 2022 based on several factors, including a new theatrical release and a collaboration between the popular battle royale game Fortnite and the Dragon Ball franchise.
Dragon Ball Super: Super Hero debuted in movie theaters on August 19th 2022. The movie is based on the latest installment in the Dragon Ball franchise, Dragon Ball Super. The movie stars fan favorite characters Gohan and Piccolo as they team up to defeat the Red Ribbon Army.
Prior to the release of this movie, Fortnite had posted this tweet on August 11th 2022, hinting at a Dragon Ball collaboration. On August 16th, the collaboration went live when Fortnite released a set of skins featuring iconic Dragon Ball Z characters Goku, Vegeta, Berus, and Bulma. They also released a brand new Item that allowed players to fire a Kahmehameha wave in game, and brand new emotes mimicking classic Dragon Ball animations.
Fornite YouTube Viewership Boosted on Dragon Ball Z Event
Collaborations between anime franchises and popular video game titles can be a great way to increase viewership and playership of both titles involved. Bandai Namco has already seen a boost in live streaming viewership of their Dragon Ball Z IP with the Fortnite collaboration and new movie release. Fortnite viewership has also been boosted by the event, hitting a peak of 238k viewers last week on the day of the Dragon Ball Z skins release, with most of that coming from YouTube. 


It's a good strategy for video game publishers to continue updating their games with DLC, collaborating with other companies, and continuing to create media with their IP to keep fans engaged. Whenever a new piece of media around a popular video game title is released, fans get excited and start playing and watching the game on live streaming again.
To better understand how to understand your video game performance in live streaming, schedule a consultation with one of our data experts!