Released 23rd Feb 2023
The horror survival game released in early access on the 23rd of February 2023 and in a month since its release has generated over 39 million hours watched across Twitch, Youtube Gaming and Facebook Gaming.
133K unique channels have live streamed the game during that time period, and the game hit a peak viewership of 909K during the first two days. It also hit #2 by hours watched on the live streaming charts on its second day of release with 7.45M hours watched. It was behind only the Just Chatting Twitch category, making it the most-watched game in live streaming that day.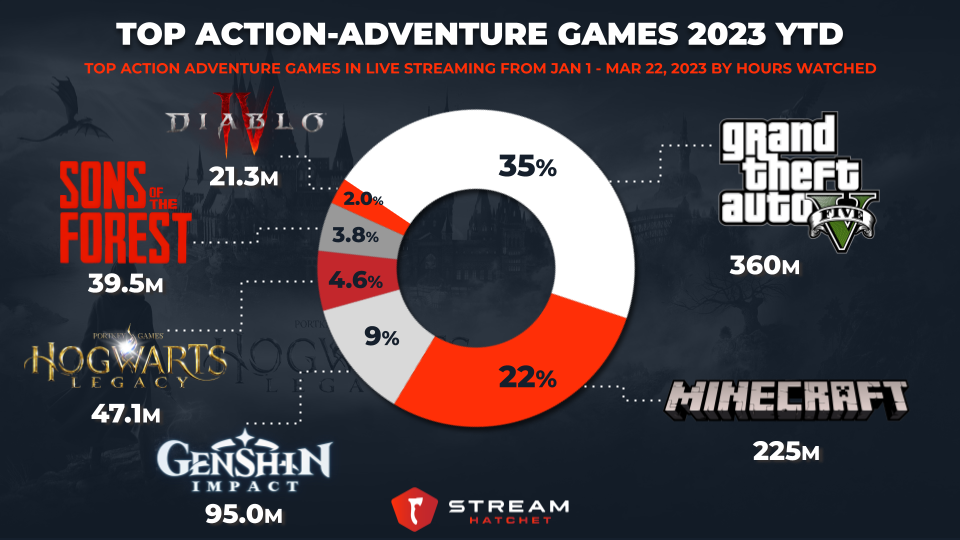 Despite only being available to livestream for the past month, it has already made its mark as a successful Action-Adventure game. As of the 22nd of March, it ranks at number five in the top Action-Adventure games in live streaming for all of 2023 and makes up 4% of the genre's hours watched.
Sons of the Forest is the work of Endnight Games, who also was responsible for the game's predecessor, The Forest. Released 9 years ago in 2014, the game is still a popular choice for live streaming creators, still garnering around a million hours watched per month across Twitch, YouTube, and Facebook. Creators were hyped for the game's release at the start of this year; The Forest generated almost triple its monthly average in January at 2.6M hours watched in anticipation of the sequel.
While similar to The Forest, Sons of the Forest has an open world almost 4x the size of the first game, allowing players a lot more world to explore and content to create. The sequel also has a co-op mode, improved mechanics and AI, and more.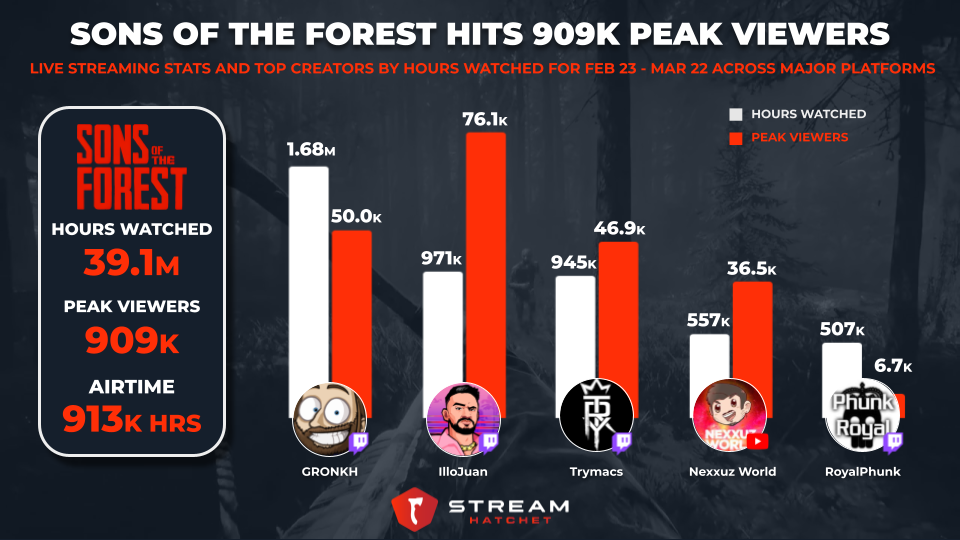 Many popular live streaming creators indulged in the cannibal-invaded game during the first month of release. German-speaking Twitch streamer GRONKH managed to generate almost 1.7 million hours watched, the highest amount for any streamer on the 3 main platforms, during his 48 hours of airtime.
This is followed by Spanish streamer IlloJuan, with 970K hours watched, who also produced the highest peak viewership of 76K. The top five is then finished out with another German speaker, Trymacs, in third with 945K hours watched, Nexxuz World on YouTube with 550K and Royal Phunk with just over half a million.
Although the viewership has decreased since the initial hype of the release, hours watched a month later on March 22nd still accumulated to over 290K and popular streamers like auronplay and ElMariana were still playing the game in its fourth week of release, garnering 145K and 134K hours watched for that week respectively.
The game has secured itself as one of the top single-player games in live streaming released in Q1 of 2023, close to Hogwarts Legacy which was released around the same time.