The second annual Streamer Awards were held this Saturday in Los Angeles and broadcast live on Twitch. The event, hosted by QTCinderella, generated 2.19M hours watched and hit a peak viewership of 532K viewers across both QT's channel and co-streaming channels.
Streamer Awards Live Streaming Stats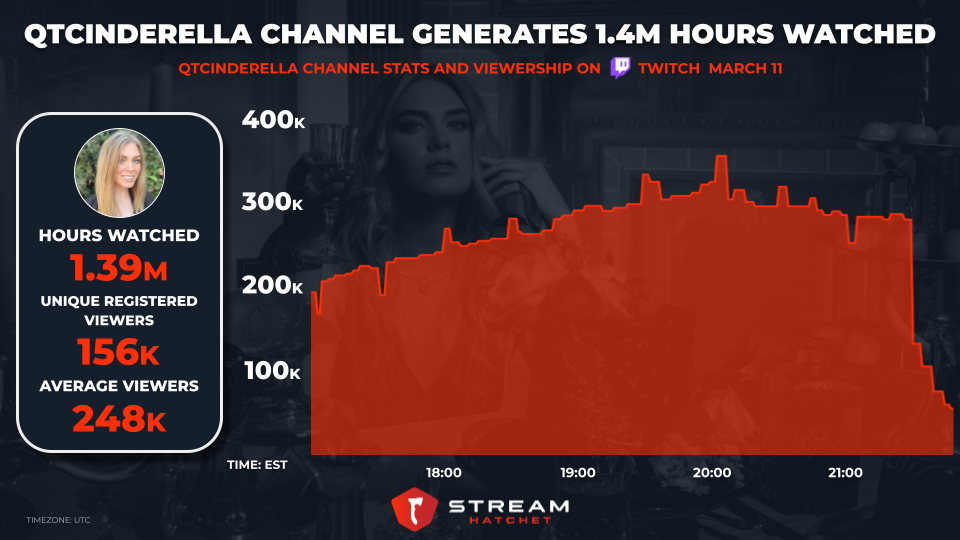 On QT's channel alone, the show generated 1.26M hours watched and hit a peak of 355K viewers. These numbers were 4.3% and 7% shy of last year's amounts, respectively. However, for 2023's event, QT announced she would be allowing creators to co-stream the event if they couldn't make it to LA. This change boosted overall viewership by almost 1M hours watched and 180K peak viewers.
In addition, on QT's channel alone, the audience was more endemic than last year's event. The number of users logged into Twitch watching the show increased by over 10% in 2023. This boost in registered viewers also increased Twitch chat participation by 7% compared to last year's event.
Having a greater percentage of unique registered viewers (URVs) watching your live stream is an important stat to measure when looking at the success of an event. The higher the number of URVs in a stream is an indication of greater actual interest in the event. When viewers are logged in and choose to watch your stream, they'll also participate more in chat. These metrics are imperative to track when demonstrating success to brand partners especially.
The number of viewers peaked during the presentation of the award for Best VALORANT Streamer, which was awarded to kyedae.
Streamer Awards Chat Messages Peak
Chat messages on QT's channel peaked around 10:42PM EST, during the reveal of their new Nitro Stream Racing game. The game is an interactive racing game that viewers can participate in right from Twitch chat.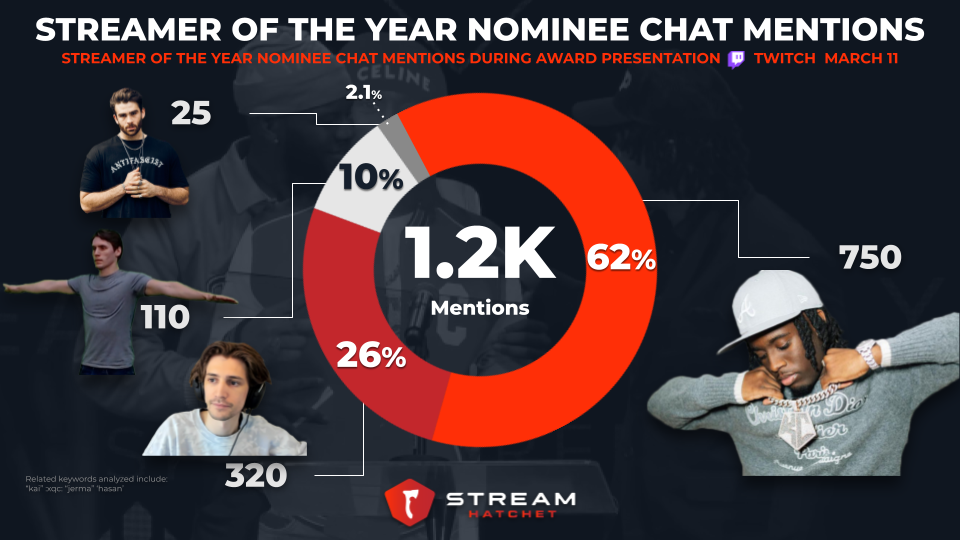 The final award of the night was for Streamer of the Year. This year's nominees were HasanAbi, Jerma985, xQc, and KaiCenat. Following his outstanding success over the past year and most recently for his Mafiathon, KaiCenat rightfully triumphed and took home the award. During this timeframe, 62% of all of the Streamer of the Year nominees went to Kai, an obvious fan favorite.
If you want to stay updated in the latest live streaming trends sign up for our newsletter here!