Battlegrounds Mobile India has shown dramatic growth on live-streaming platforms since it has been unbanned in India at the end of May. From June 1 to July 18th of this year, the game's hours watched across live-streaming platforms has increased 90% since the same timeframe before its ban in 2022.
The Indian mobile gaming landscape saw a dramatic upheaval in 2020 when the beloved PlayerUnknown's Battlegrounds (PUBG) mobile game was banned by the government. The game had over 50 million downloads on Android and an average of 33 million active users before the ban. The ban was imposed due to national security concerns as the government perceived the game's data handling processes as potential threats.
Following the ban, PUBG Corporation, a subsidiary of South Korea's Krafton Inc, rebounded by launching Battlegrounds Mobile India (BGMI) in 2021, tailoring the game specifically for the Indian market. However, BGMI was not immune to the same concerns that led to the banning of PUBG, and it too was barred due to similar national security apprehensions in July of 2022.
Despite these setbacks, the battle royale genre has maintained a robust presence in India's gaming ecosystem. After its reinstatement, BGMI made an impressive comeback, clocking in 20 million hours watched in June 2023. Before the ban, the numbers were already promising, with 24 million hours watched in January 2022, and it fluctuated between 10 and 14 million hours watched from February to July 2022.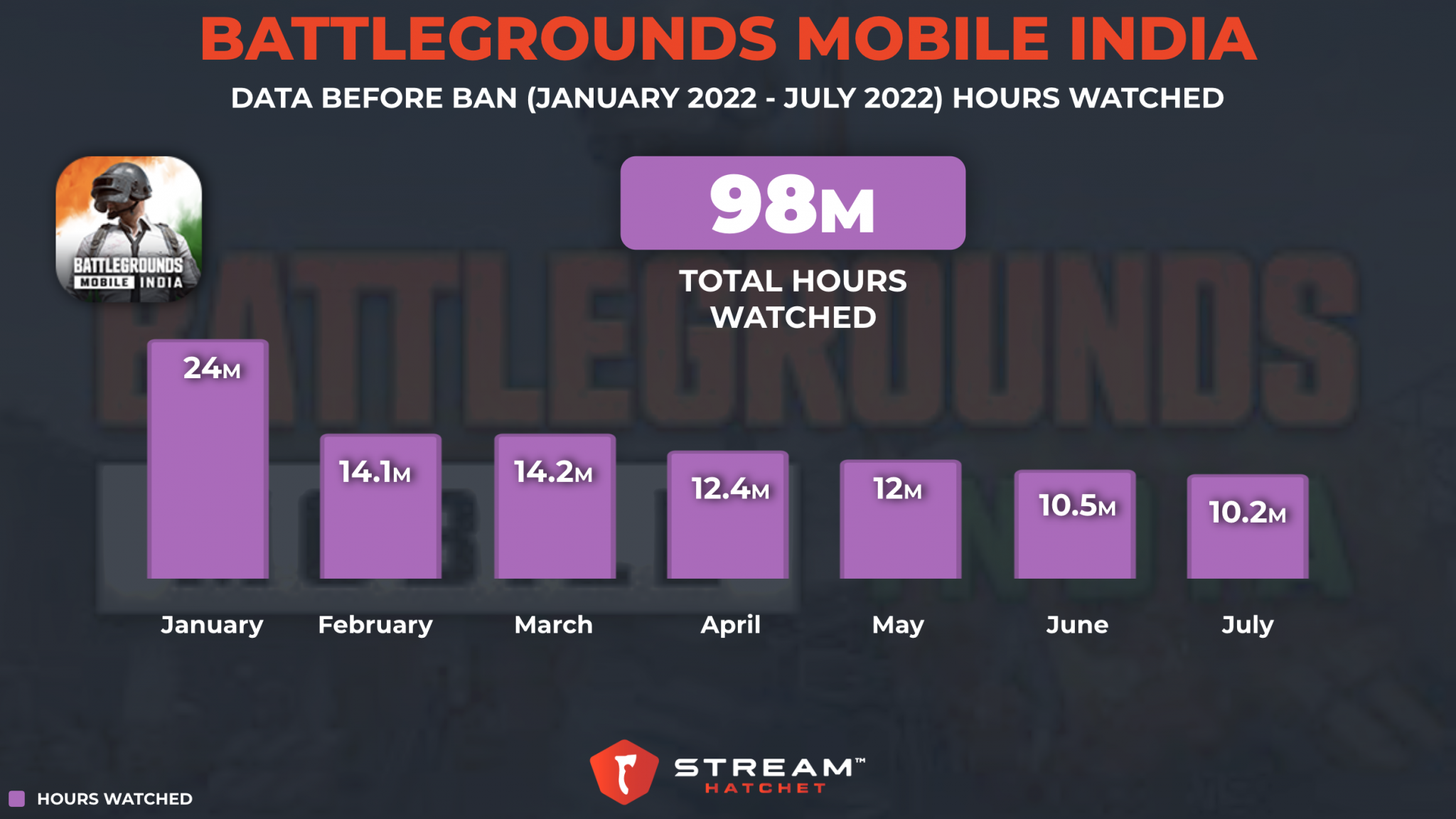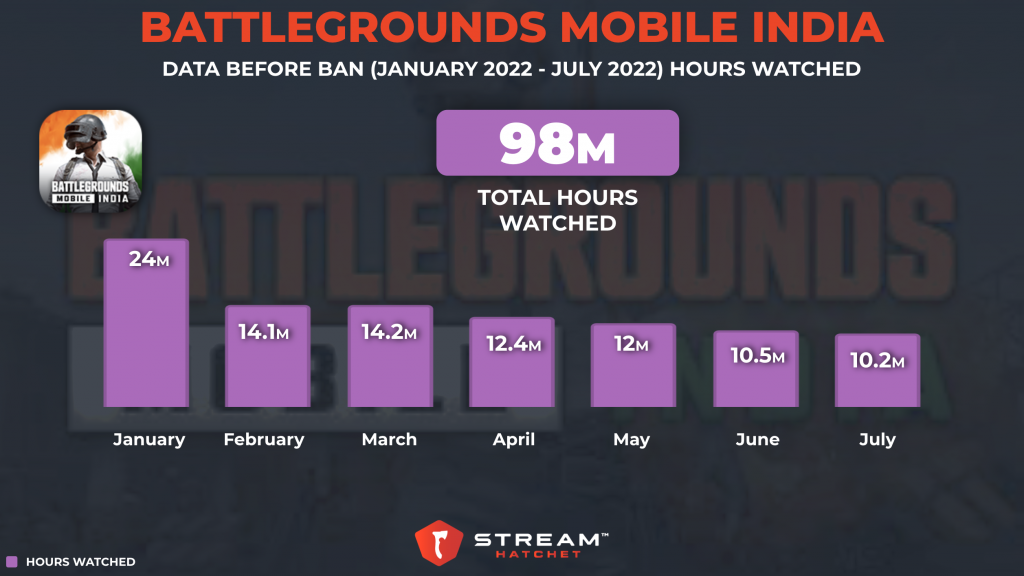 But why was Krafton so determined to keep PUBG and BGMI in the Indian market? The answer lies in India's incredible audience consolidation around third-person battle royale shooters. Since the start of 2023, India has 400 gaming companies and 420 million online gamers, the second-largest online gaming community globally, only behind China.
Almost all of these gamers are on mobile devices, with the introduction of 5G technology amplifying this trend. The emergence of cloud-based gaming also allows gamers to enjoy high-quality gaming experiences without needing sophisticated hardware, making the games more accessible and popular among the masses.
Most of BGMI's viewership is on YouTube Gaming, one of the preferred platforms for the Southeast Asian market. YouTube Gaming and Facebook Live also see the majority of mobile gaming viewership of the top 3 platforms, each with about 3x the number of hours watched than Twitch in 2023 so far.
In the pre-BGMI ban period of June-July 2022, PUBG Mobile had 58 million hours watched while Garena Free Fire had 65 million. Post-BGMI's unbanning in June and July 2023, PUBG Mobile saw a slight increase to 60 million hours watched while Garena Free Fire dropped to 52 million. BGMI, on the other hand, surged to 41 million hours watched, more than double its 2-month pre-ban period. Taking into consideration that BGMI is only played in India, and their overall audience and creators are on YouTube Live, the numbers reached by BGMI are astounding.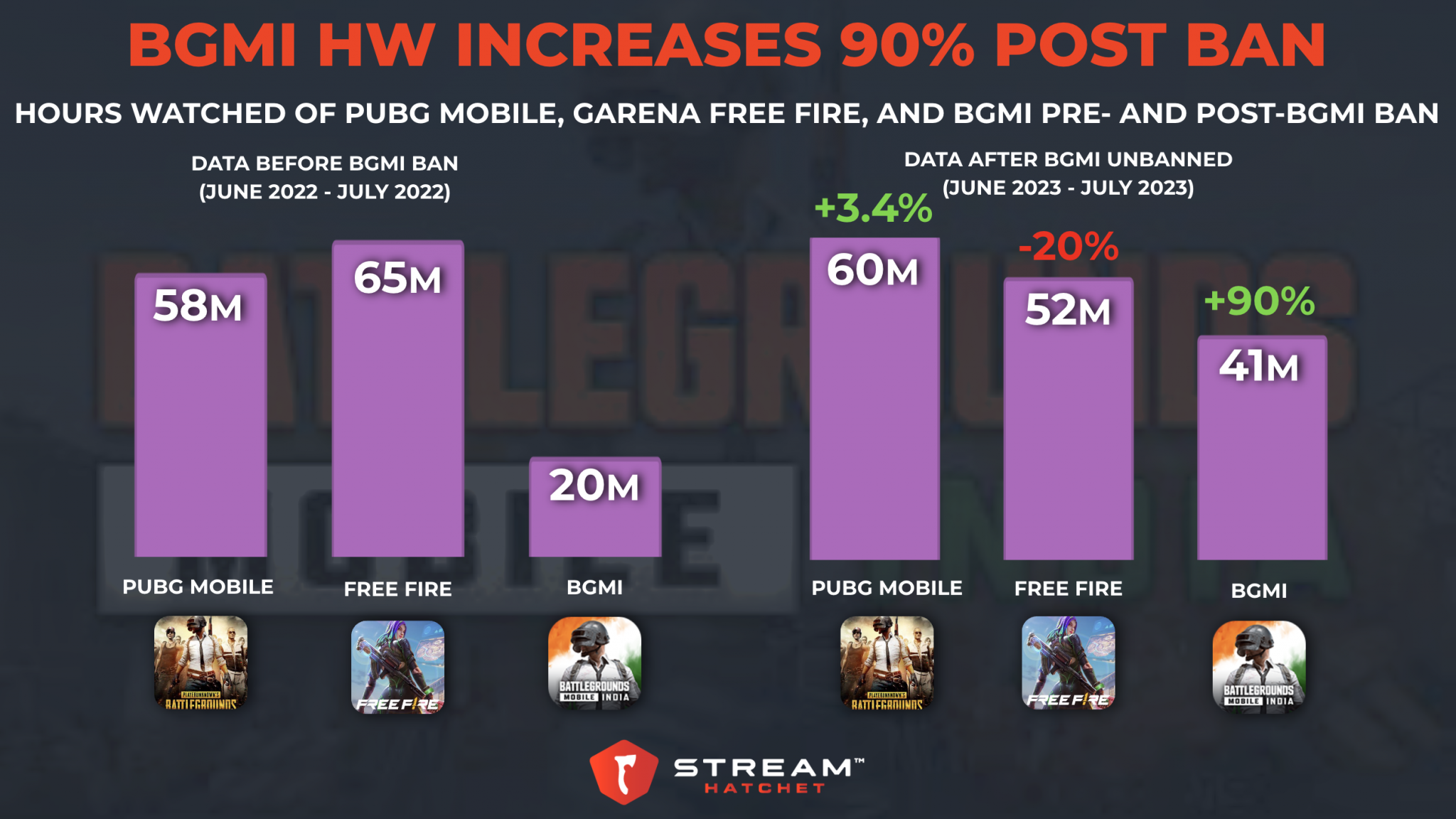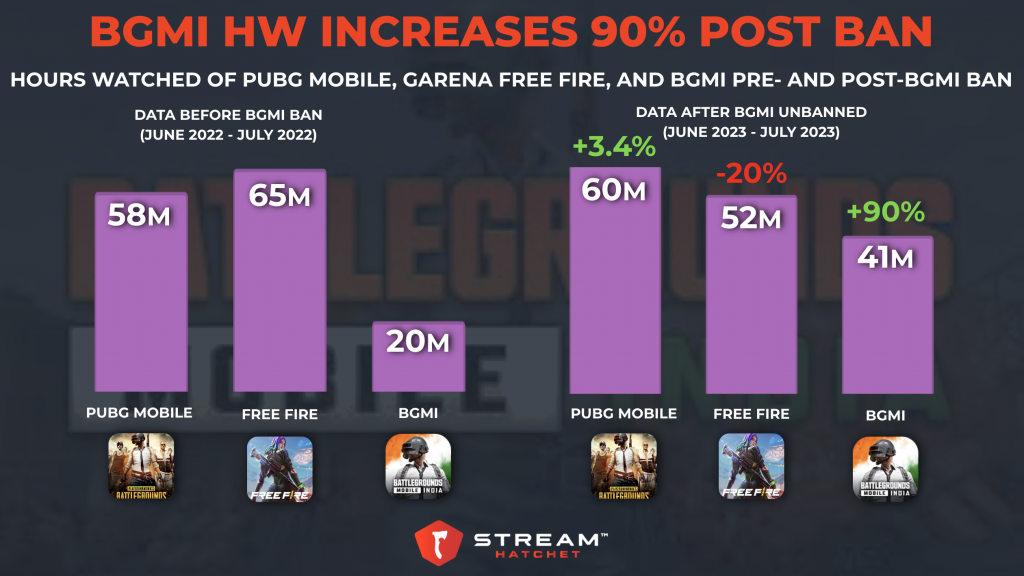 These numbers underline the potential and resilience of the Indian mobile gaming industry. BGMI's return to popularity after a ban exemplifies the Indian gamers' passion for the battle royale genre. It also emphasizes the strategic importance of India as a vital market for global gaming companies.
As 5G and cloud gaming continue to revolutionize the industry, India's gaming landscape seems ready for a new era of growth. Mobile gaming, led by games like BGMI, looks set to dominate this environment, carving out a thriving niche in the global gaming ecosystem. As these trends continue, it will be fascinating to see how India's gaming story unfolds.