With the holidays over, streamers are back to the grindstone with their updated schedules; a new year means new partnerships and sponsored streams. This week we noticed a few new faces within the top 5 most watched sponsored streams with some activations including events, giveaways, and even promoting remedies for flu symptoms. Stream Hatchet is here to analyze the peak moments of sponsored stream segments across the four major platforms and contextualize the successful campaigns.
RajjPatel held the top spot for sponsored stream segments with over 90k hours watched. The sponsored stream coincided with his talent show event that boasted a prize pool of $25k. RajjPatel was actually able to secure 3 different sponsors for the event: The Grudge Movie, Displate, and MVMT Watches. Each sponsor included a command in chat for the audience to use to get more information about each activation. After analyzing the chat, !grudge was sent 469 times, !mvmt was sent 334 times, and !displate was sent 21 times. Implementing numerous sponsors during a single time frame is extremely difficult and may not result in the most awareness or viewership. However, this marks another step towards traditional media for live streaming content on these platforms. Regular television channels run an abundance of commercials during one show so why not start to implement multiple sponsors per session or simultaneously? As more brands create budget for these activations, streamers will inevitably need to handle multiple sponsors at the same time.
With just under 58k hours watched NICKMERCS' Zicam sponsored stream placed second. Zicam has been slowly moving into the gaming industry as a popular non-endemic brand. The cold and allergy relief company has partnered with a few other streamers on Twitch, like NickEh30, and even branched out to other platforms as well. Assessing the various streamers Zicam sponsored, it appears they're targeting the Fortnite and FPS communities. In the midst of winter, the timing of the activation makes sense due to the cold and flu season but the audience fits as well. There's reason to believe Fortnite has a younger demographic which means viewers are likely in school and around sick children more often; therefore needing medicine like Zicam. The company has been taking their campaigns seriously as this is now the second time Zicam popped up in the top 3 sponsored streams in December of 2019.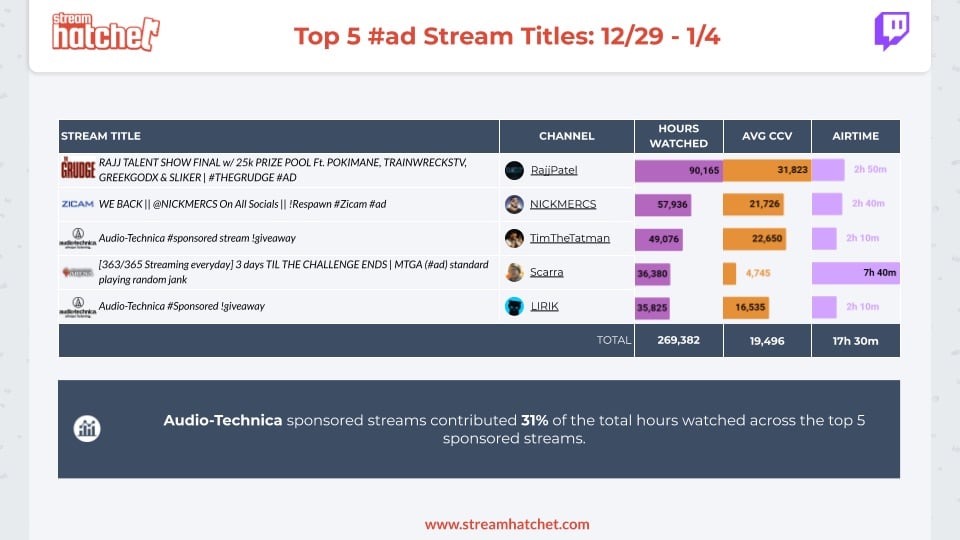 In third, TimTheTatman partnered with his headset sponsor Audio-Technica on a sponsored stream that generated about 49k hours watched. Audio-Technica's complete activation was spread out across various streamers on Twitch and used multiple giveaway opportunities as incentives. To show for it, !giveaway was the #1 topic throughout Tim's sponsored stream at a staggering 4,109 mentions. Audio-Technica is a popular endemic brand but is leveraging eye-catching tactics to stay competitive with the plethora of peripheral brands in the industry. In the end, the most creative brands will survive and hold onto those top streamers.
Honorable mentions:
Clint1717 had a $5,000 standing tournament that ran for 38 hours and reached a peak of 1,930 viewers. He is also the only non-partner within the top 10 streamers.
Audio-Technica sponsored streams contributed to 31% of the total hours watched across the top 5 sponsored streams.