Amazon Prime Video has purchased the rights to stream this year's Thursday Night Football on Prime Video. Amazon has also opted in to allow Twitch viewers to watch TNF live on their platform as well allowing viewers to stream Prime Time NFL games free of charge. Streaming live on Twitch helps reach a younger audience of football fans who have cut the cable cord and opt only for streaming services on their mobile devices or computers.
Through the first 14 weeks of the NFL season, 12 games have been streamed on Prime Video (the NFL's opening game as well as the Thanksgiving day games were not covered by Thursday Night Football). Over these 12 Games Thursday Night Football was able to generate 4.5M hours watched on Twitch.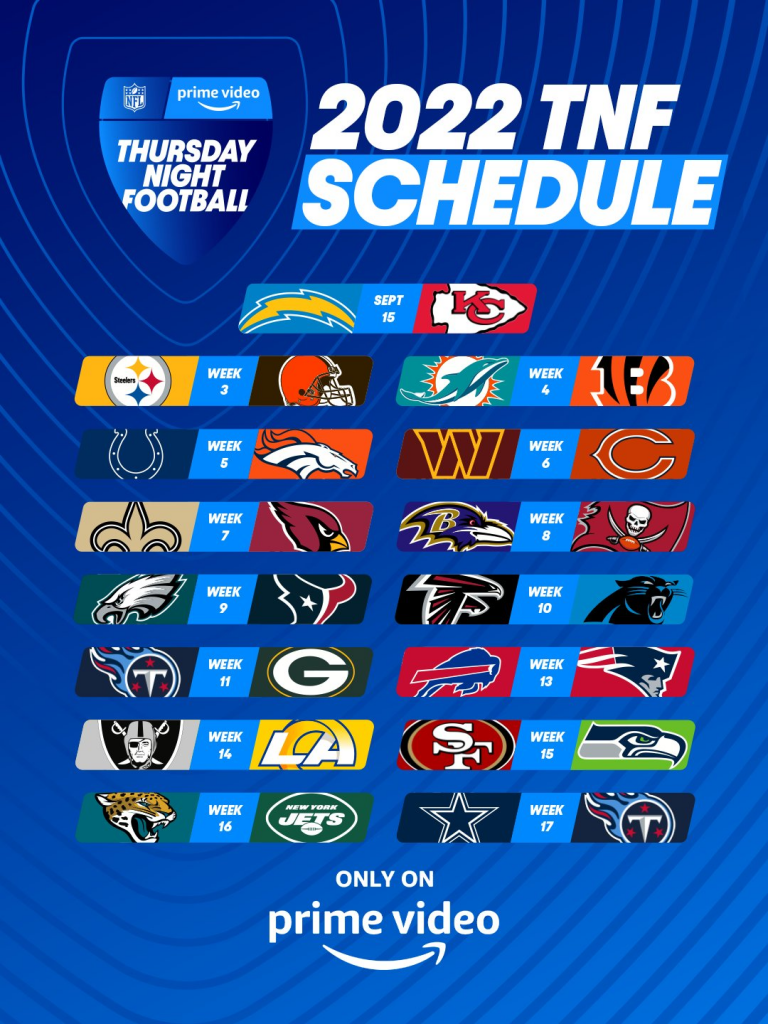 The most viewed game this year was Matt Ryan's Indianapolis Colts taking on Russell Wilson's Denver Broncos on October 6th, though both teams currently are ranked in the bottom half of the league.
This game was a highly anticipated Prime Time showing between a former MVP (Matt Ryan) and Super Bowl Champion (Russell Wilson) who are both playing on brand new teams that during the offseason analysts held as potential playoff teams. However, based on the low scoring 12-9 outing, the game didn't live up to fans expectations.
The second most watched game was a no brainer with the surging Miami Dolphins facing off against the Cincinnati Bengals that took place on September 29th. This game had much anticipation heading into the match. The Dolphins started off this season red-hot thanks to the growth of Tua Tagovailoa and the connection that he has with his favorite targets Tyreek Hill and Jaylen Waddle. However, they were going against the reigning AFC Champions in this matchup and couldn't outlast the fire power provided by Joe Burrow and crew, who proved why in the 2020 Draft he was taken #1 overall while Tua was picked #5.
The third most watched game was on October 27th featuring a matchup between 2 MVPs with Lamar Jackson's Ravens going up against Tom Brady's Buccaneers. This would be the second time that these two MVP's would clash leading to a close back and forth with Lamar Jackson extending his record versus Tom Brady to 2-0.
If you're looking to get weekly insights on the latest livestreaming trends subscribe to our newsletter: