Twitch announced that they will begin banning certain gambling streams October 18th. The news comes after top streamers like Pokimane and Mizkif threaten to go on strike after news broke of a Twitch streamer scamming others out of hundreds of thousands of dollars to fund his gambling addiction.
The ban won't affect all types of gambling. A statement released Tuesday night said the ban will affect "streaming of gambling sites that include slots, roulette, or dice games that aren't licensed in the U.S. or other jurisdictions that provide sufficient consumer protections."
Stake, Rollbit, Duelbits, and Roobet are the four platforms that will be banned so far, though Twitch may expand that list in the future. The four platforms are all crypto currency gambling sites and are not regulated for U.S. use. Gambling streams featuring skill-based games like poker, sports betting, and fantasy sports won't be affected.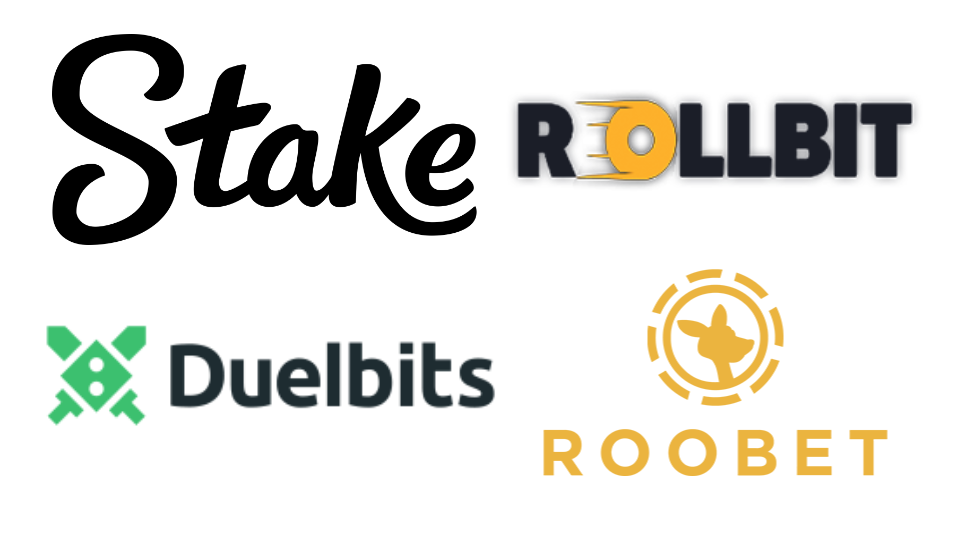 Gambling Live Streaming Viewership Sees Huge Growth
Online gambling has seen massive growth on Twitch in the last 5 years. In 2016 and 2017, the gambling genre on Twitch was averaging 9 million hours watched per quarter. For context, that was only 0.6% of the total hours watched on the platform. However, the end of 2018 started to see a shift in popularity.
Both the number of unique channels and hours watched of gambling streams started to increase steadily. From Q3 2016 to Q2 2022, gambling live stream viewership on Twitch grew over 1,500%. The viewership continues to grow in 2022, with 127 million hours watched in Q2 and has already peaked at 137 million hours watched in Q3, with over a week to go in the quarter.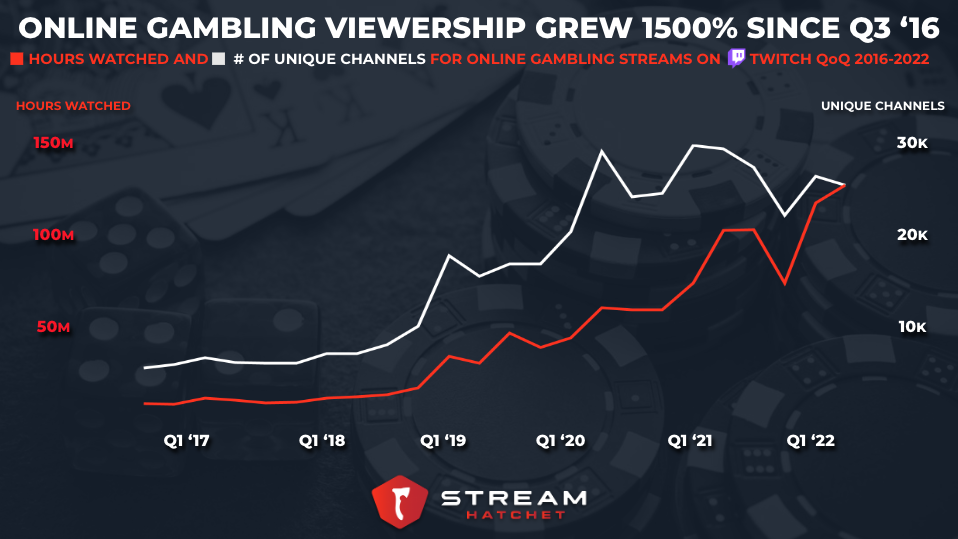 While the Twitch ban doesn't get rid of all gambling, slots make up the majority of the genre's hours watched on the platform. In Q2 of this year, slots streams accounted for 88% of all gambling content hours watched. While not all slots platforms will be banned, Stake and the other three take up a good chunk of the viewership.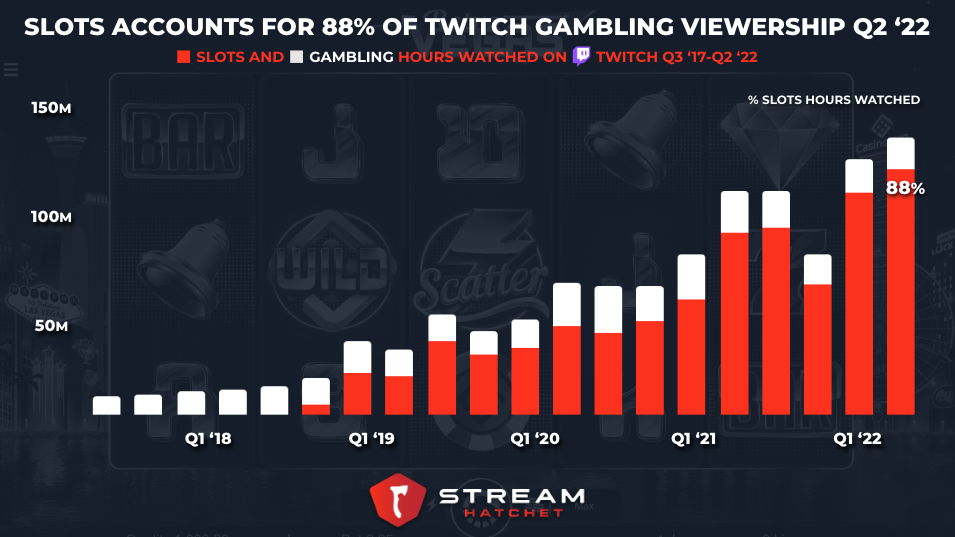 How Will the Ban Affect Twitch Streamers?
Live streamers like Trainwreckstv and Roshtein almost exclusively create gambling content, sometimes streaming for 24 hours a day, playing slots on Stake.com. Trainwrecks has over 2 million followers on Twitch and regularly reaches peaks of over 50K viewers on his streams. He also partnered with Stake to create this content, betting enormous amounts of money while often telling his viewers about the risks of gambling. 
Top streamer xQc also partnered with Stake.com this year for sponsored slots content. While his content used to be a variety of Just Chatting plus games like GTAV and VALORANT, xQc started mainly streaming slots in May for his Stake partnership. With over 11 million followers, xQc has a great influence on a giant section of the Twitch population.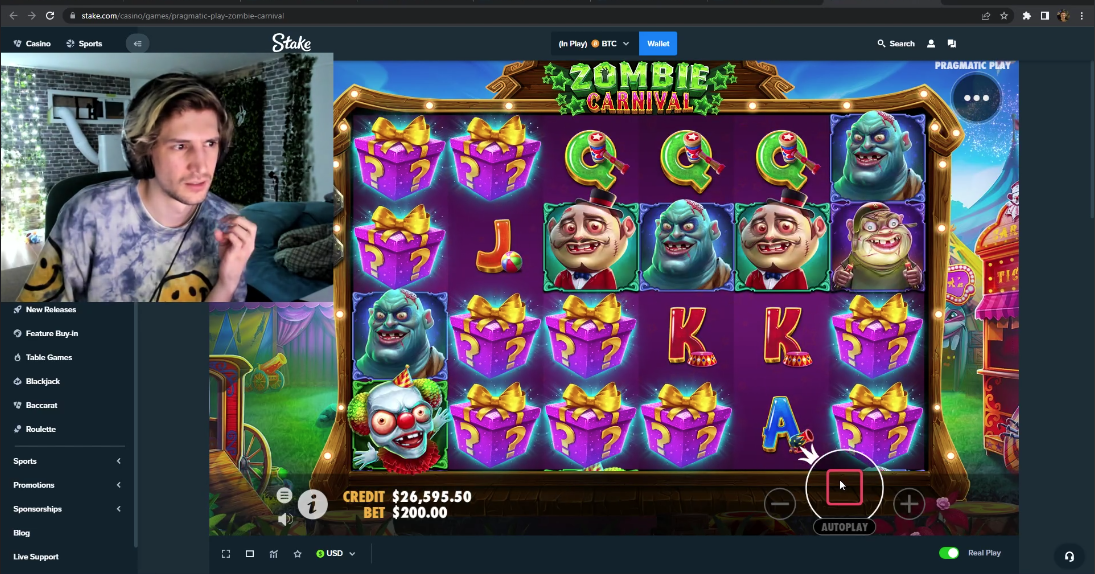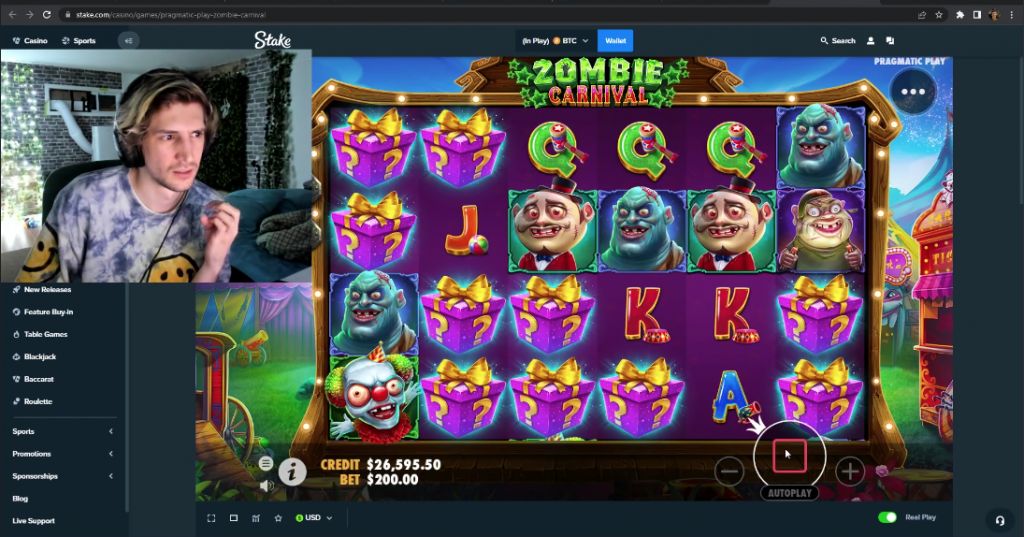 In Q2 of this year, his viewers watched almost 9 million hours of gambling content, and he reached a peak viewership of 120K viewers. Gambling News reported in May of this year that he had raised almost $120M for Stake from viewers in just his first few weeks of the partnership.
With the Twitch ban going in effect next month, these streamers' sponsorships will be taken away and many will have to find new sources of income. It will be interesting to see where they go from here, and if some streamers will stick with gambling, just on a different platform.
To learn more about how you can use Stream Hatchet's robust data and analytics, schedule a call with an expert for a free demo of our products!