Stream Hatchet has released our Video Game Live Streaming Trends Q1 2022 Report. We look into the past and current state of the live video game streaming market and its relevance to the popularity of streaming platforms, game publisher IP, creators and esports. Here, we've released a snippet of information from the report with our analyst insights. Download the full report here.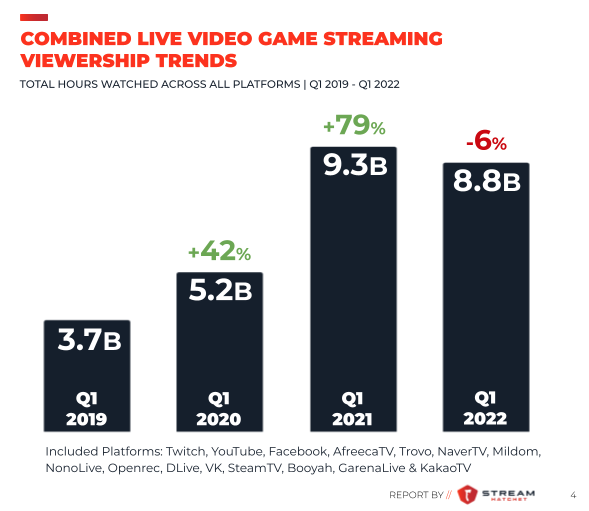 The growth rate of video game live streams achieved as a result of lockdowns from the COVID-19 pandemic has begun to stabilize. Total hours watched this quarter decreased 6% when compared to Q1 2021.
This decrease in hours watched may be partially impacted by creator fatigue. The average number of channels broadcasting at any given moment during Q1 2022 decreased by nearly 13% from the same time period in 2021.
In spite of this decrease, video game streaming viewership has sustained as a pop culture phenomenon. Q1 2022 total hours watched is up 140% relative to the Q1 2019 period.
TOP GAMES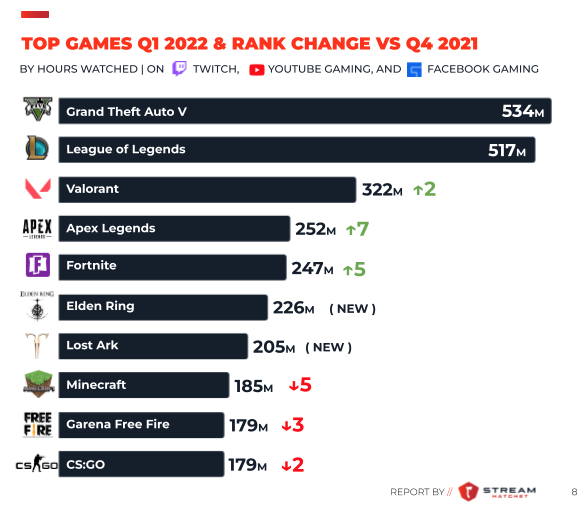 It remains challenging for new titles to reach the peaks of video game streaming. 80% of the top 10 titles have maintained a foothold on the leaderboard and the top two titles have held their positions since Q4 2020.
Strong game launches from Elden Ring & Lost Ark have propelled both titles into the top 10. Lost Ark's North American release helped it garner a total of 205M hours watched this quarter. Elden Ring launched just one month before the end of the quarter, and was still able to place 6th in the most watched titles this quarter.
Mobile Game streaming has fallen in popularity this quarter; only one game, Garena Free Fire, cracked the top ten. The 2nd most watched Mobile title, PUBG Mobile, was banned in India, which may have contributed to a 48% drop in hours watched this quarter.
Download the full report here.
TOP LIVE STREAMING CREATORS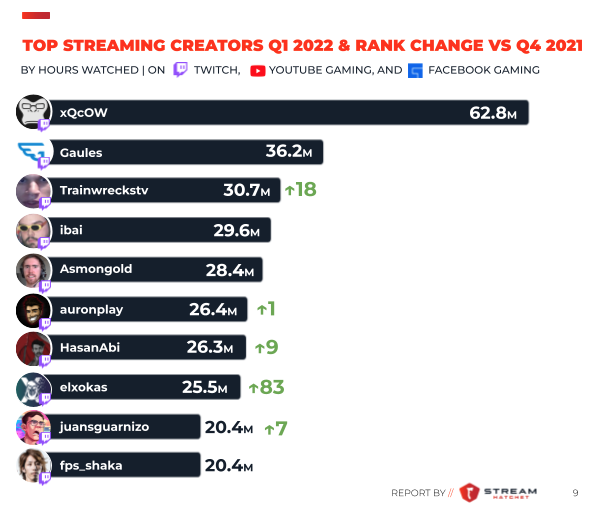 xQcOW once again took the top spot for streaming creators in Q1 2022. This marks the 7th straight quarter he was the most watched channel across all three major streaming platforms.
60% of this quarter's leaderboard was led by non-English speaking channels as (4) Spanish, (1) Portuguese, and (1) Japanese creator. Spain contains to be a bastion for streamer culture with streamers like Ibai, Auronplay, Elxokas and Juansguarnizo dominating the leaderboards.
Juansguarnizo saw a huge increase in hours watched when streaming the Egoland 2 Rust server, which shut down in early Feb. Juansguarnizo generated 2M hours watched from Rust alone in Q1 2022.  
ESPORTS SUSTAINS GROWTH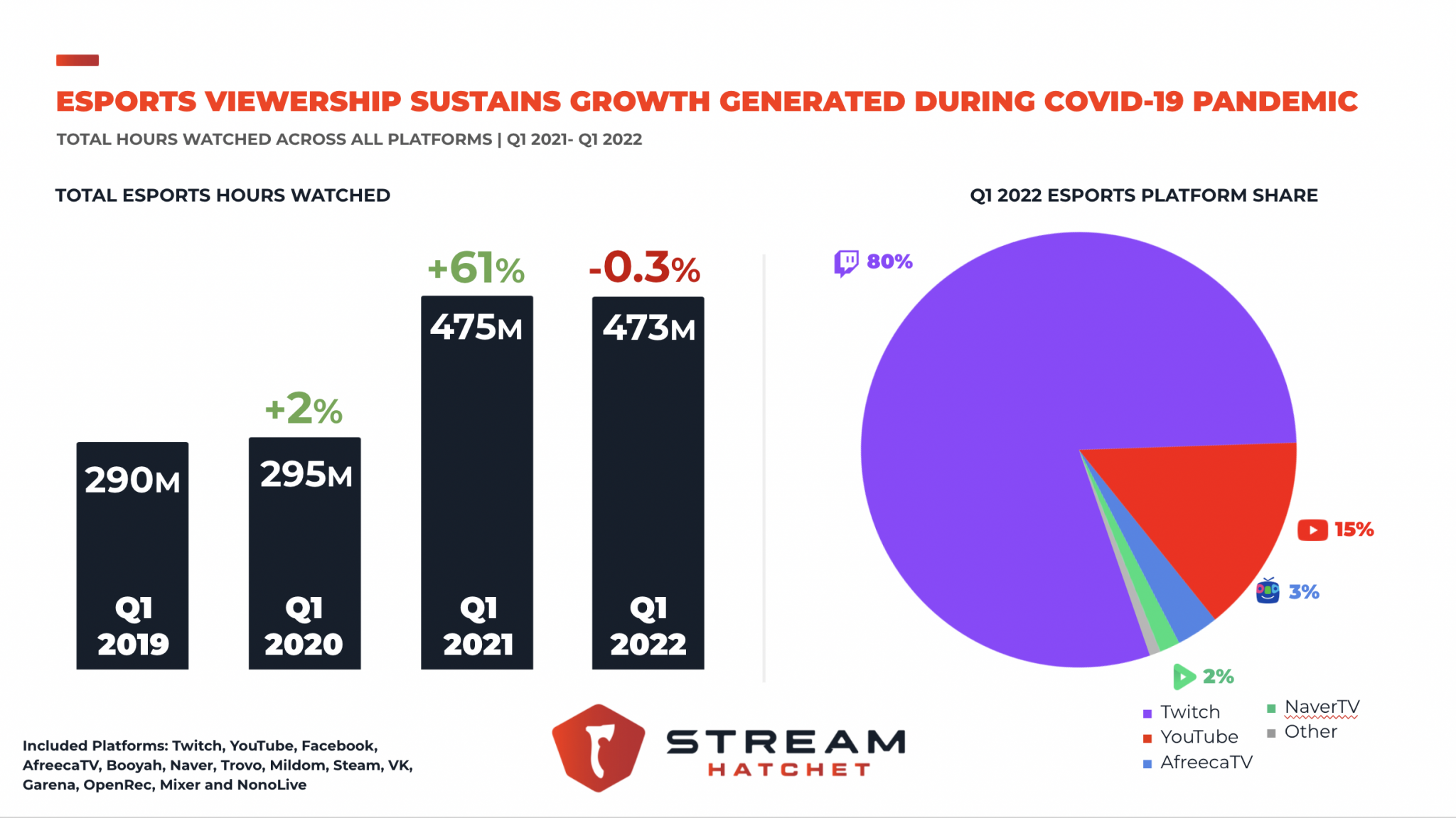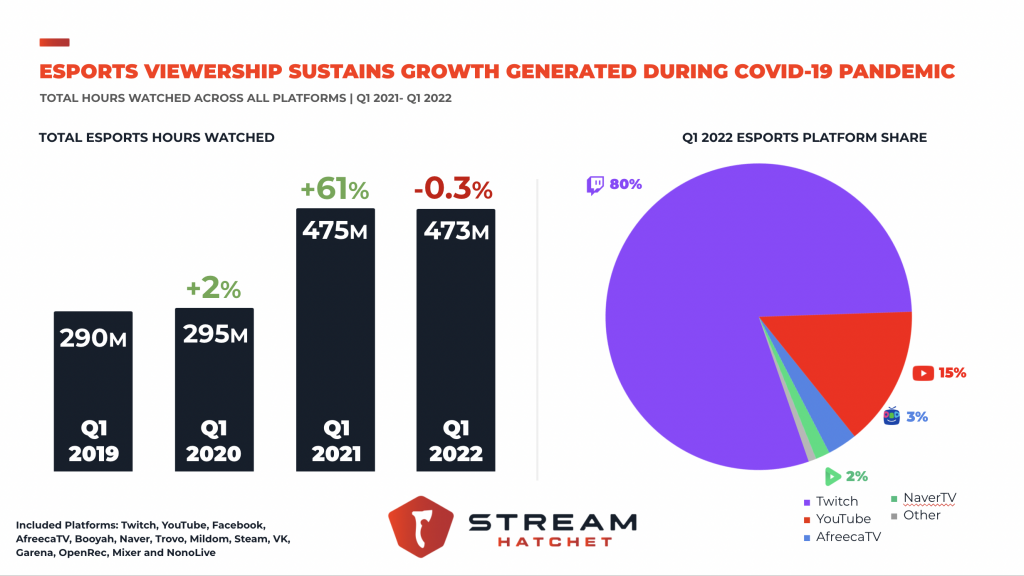 Esports has continued to rise in popularity each year as gaming continues to break into pop culture. Compared to broader market trends, global esports audiences have been less impacted by the end of the global lockdowns: total esports hours watched decreased by just 0.3% this quarter compared to Q1 2021.
Historically, esports viewership has increased significantly from pre-pandemic levels. From Q1 2019 to Q1 2022, total esports hours watched has grown over 63%. Additionally, Twitch is the definitive place to watch esports content. Twitch accounts for 80% of the total Q1 2022 esports hours watched. It's worth noting that eastern platforms Afreeca and Naver have captured significant market share relative to other leading streaming platforms, with 3% and 2% of the esports market share, respectively.
For more insights on Q1 2022 video game live streaming trends, download the report: