The 2023 FIFA Women's World Cup concluded on Sunday with Spain emerging as the winner, defeating England with just one goal.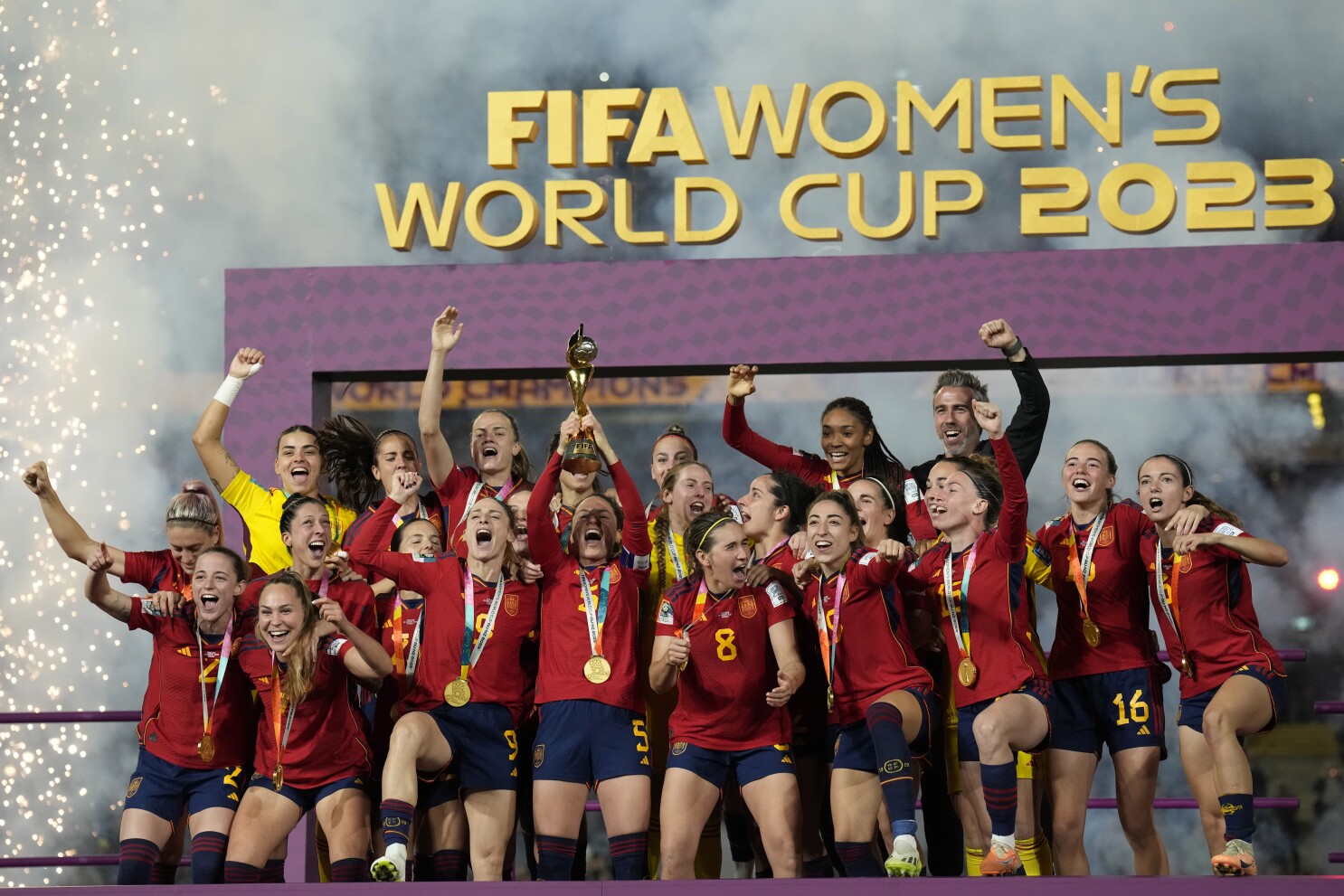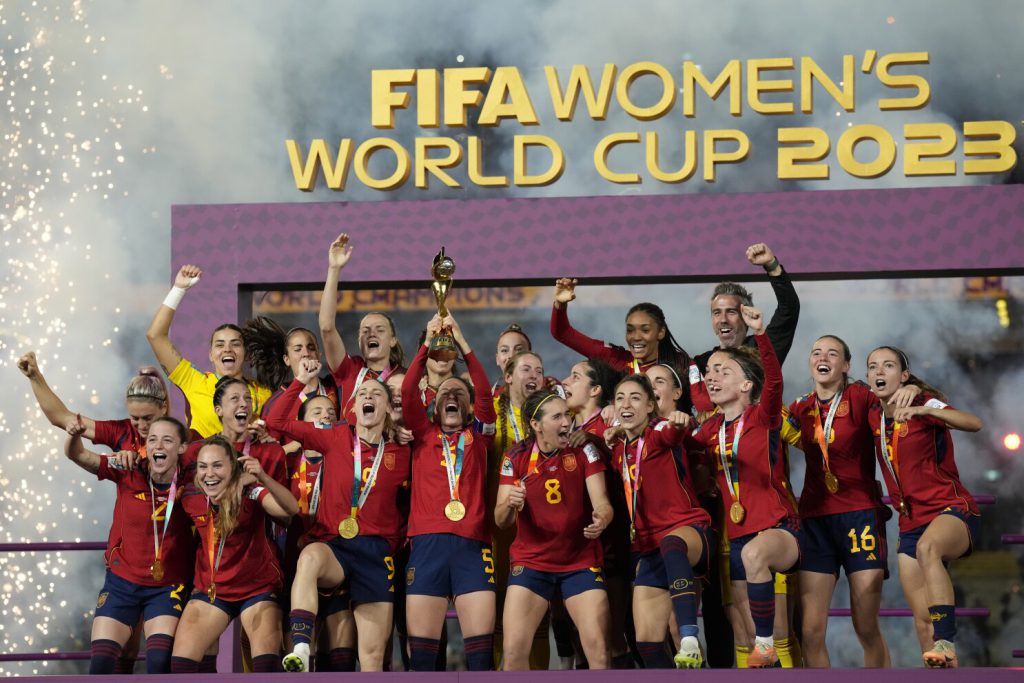 The tournament saw record television viewership numbers for women's football in several markets. In the US, the USA vs Netherlands group stage match in July was the most-watched English-language group stage match in FIFA Women's World Cup history with 6.4 million viewers.
While usually restricted to regular television channels like ESPN, Fox Sports, and other mega regional TV streaming giants, football (soccer) and other sporting events have seen a rise in popularity on live-streaming platforms like Twitch and YouTube in the last few years.
In July of 2023, the Sports category on Twitch saw its highest number of hours watched in the last year, with 27.6M hours watched in total. About 12M of that was from the King's League, Queen's League, and the Women's World Cup.
Casimiro Brings Football Live Streams to Brazil
Casimiro Miguel is one of the most popular football streaming creators right now, with several channels on Twitch and YouTube where he makes mostly football-related content. Hailing from Brazil, Casimiro has partnership agreements with several organizations to live stream football events, region-locked to Brazilian viewers only.
In 2022, Casimiro live-streamed the Qatar FIFA Men's World Cup matches on both his YouTube and Twitch channels. His YouTube channel, CazeTV, hit a record 6.15 million viewers during the Brazil vs Croatia game, which saw Croatia come out on top.
Across both of his channels in 2022, Casimiro generated 80.5 million hours watched from the entire tournament, with an average of 131K viewers.
This summer, Casimiro also streamed the New Zealand and Australia FIFA Women's World Cup to his Brazilian fanbase. Unfortunately, Brazil was eliminated during the first round of the tournament, which limited viewers' interest in the region. However, in total he generated 29 million hours watched and hit a peak of 1.74 million viewers during the Brazil vs Jamaica game.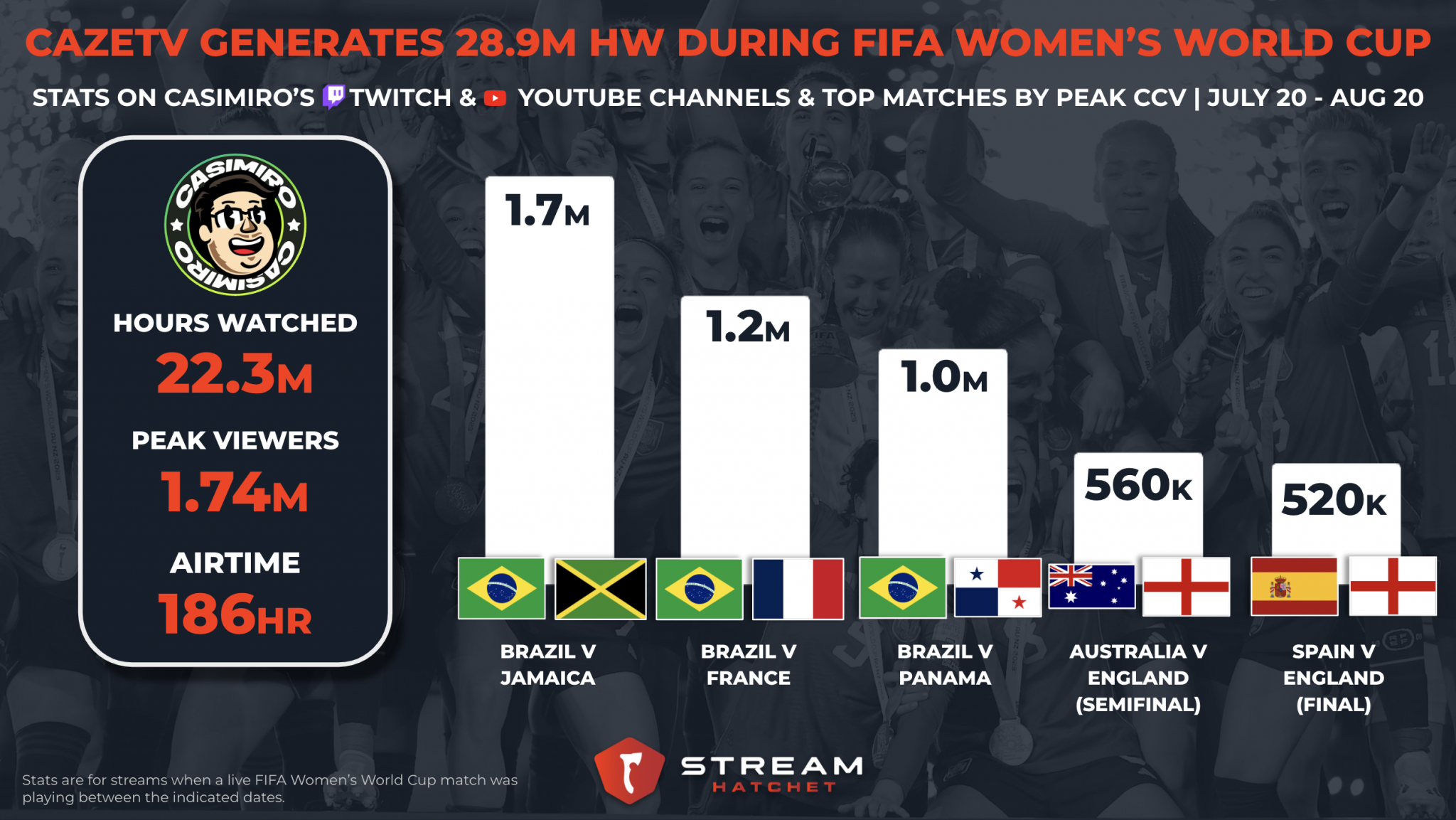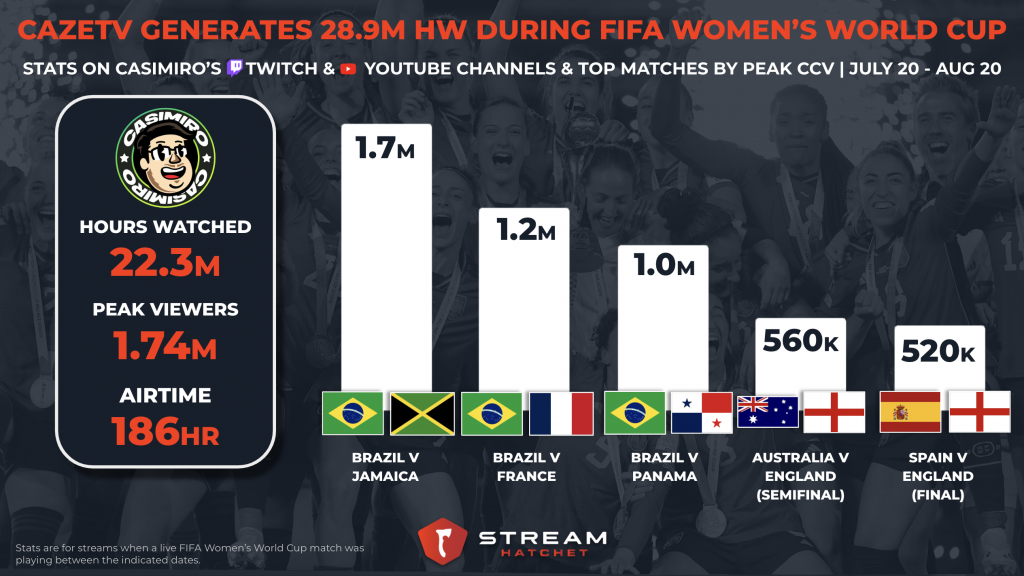 Brazil's 3 games before they were eliminated were, expectedly, Casimiro's most popular live streams for the entire tournament. The 4th most-watched match was the semifinal game between Australia and England with 560K peak viewers. The final match between Spain and England peaked at 520K viewers. Despite only being available to Brazilian fans, these viewership numbers are impressive, indicating the rising popularity of the sport on live-streaming platforms.
Kings & Queens League Boost Football Viewership
Some of the most popular football events on Twitch and YouTube in 2023 have been the King's and Queen's Leagues. The leagues, established by the Spaniard Gerard Pique, former Football World Champion, take place in Barcelona and are a unique take on the sport. They combine entertainment and passion for the sport to appeal to the live-streaming format. They also attract younger audiences that are becoming less interested in mainstream sports because of the length of the matches.
The leagues consist of 12 teams owned by popular hispanic streamers such as Ibai, DjMariio, Rivers, and others. Matches are 7v7 and last 20 minutes each half plus aggregated times, dictated by a specific set of rules that includes game cards, a dice, and penalty kicks being taken from the middle of the court.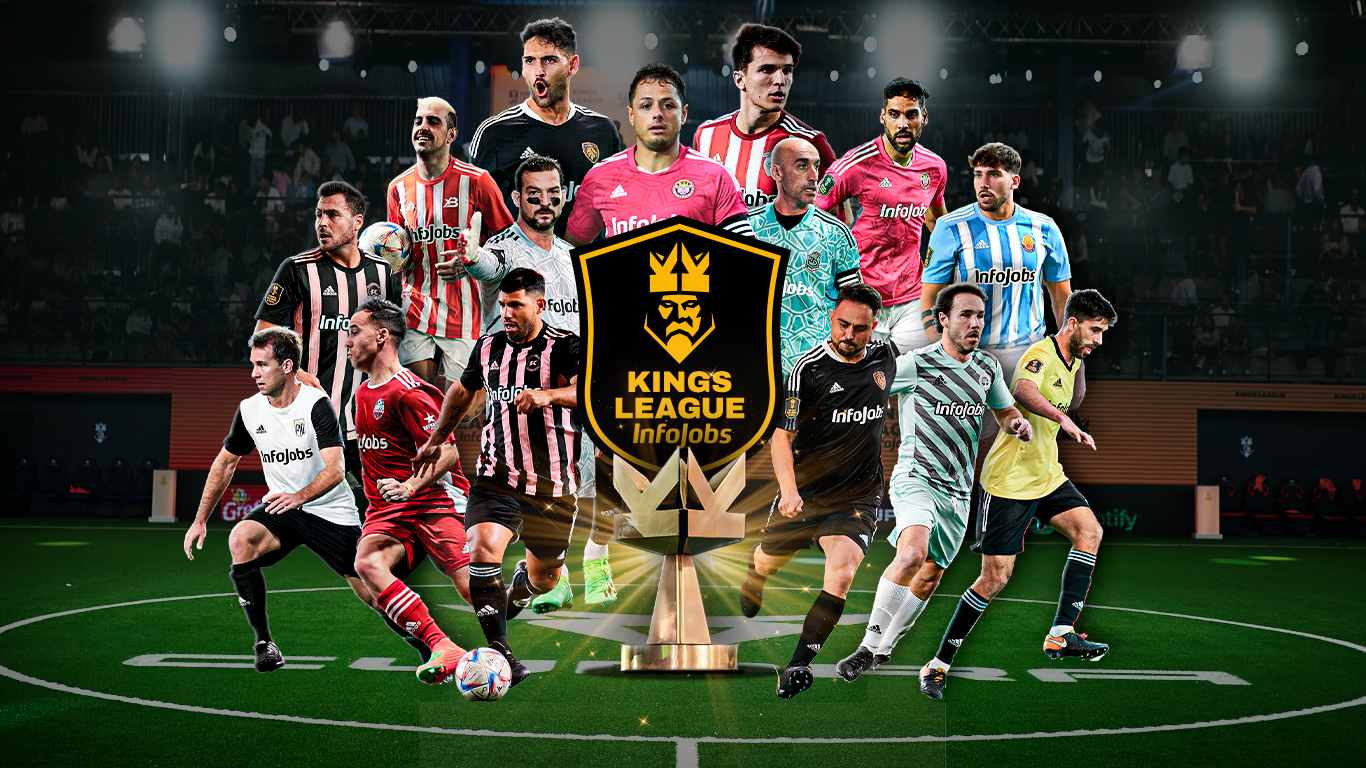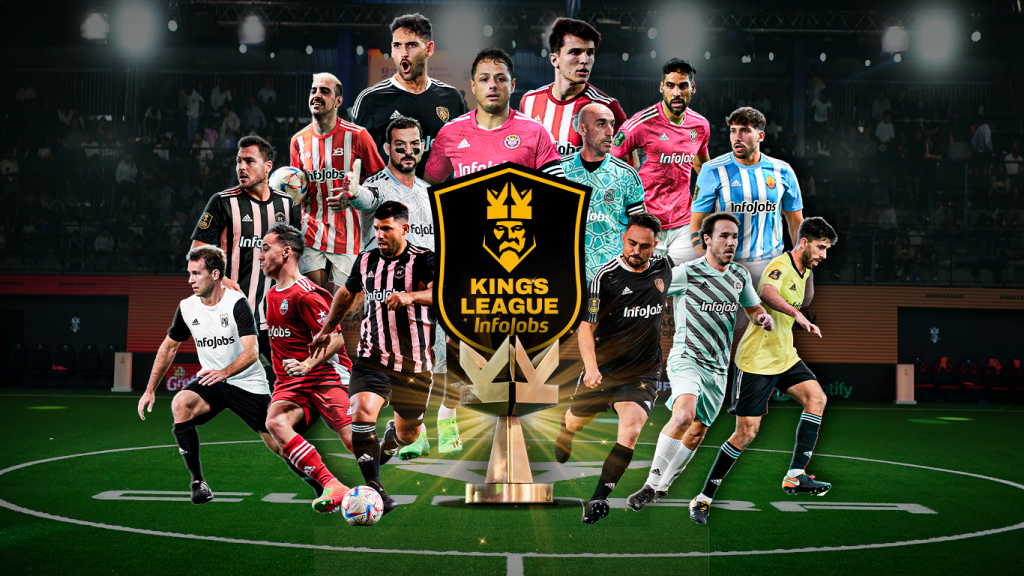 The King's League has just finished its 2nd split this year and the Queens League its 1st split with numbers that are promising for Football, and sporting events in general, for their presence on live streaming platforms. Both splits of the Kings League generated a combined 72M hours watched and averaged 412K viewers.
With the rise of these kinds of sporting events across major live-streaming platforms, the opportunities are bright for investment in the space. As more and more young audiences continue to "cut the cord" on mainstream cable television, the opportunity in online live-streaming platforms becomes bigger.
Chat to a live-streaming data expert for more insights and to learn about our subscriptions to power your marketing strategy: