Mobile games have become a staple in the gaming and entertainment industry because of their accessibility and the increasing quality of the games developed as the years go on. In the live streaming industry, however, the most popular mobile games played on live streaming platforms are the esports-centric titles; PUBG Mobile, Mobile Legends: Bang Bang, and Garena Free Fire consistently top the charts.
In 2022, viewers watched 360 million hours of mobile esports events, or 19% of all esports viewership (which amounted to about 2.53 billion hours watched). While mobile esports viewership is down about 24% from last year, the industry was affected by the ban of several popular titles in India, including PUBG Mobile and Battlegrounds Mobile India (the game created to replace the former). Additionally, one of the biggest MLBB events, M4, was pushed to January of 2023, taking some viewership numbers away from 2022.
MLBB was by far the biggest mobile esports title of the year, with 165 million hours watched of esports events. That puts it at the 5th biggest esports title of last year overall, including non-mobile games.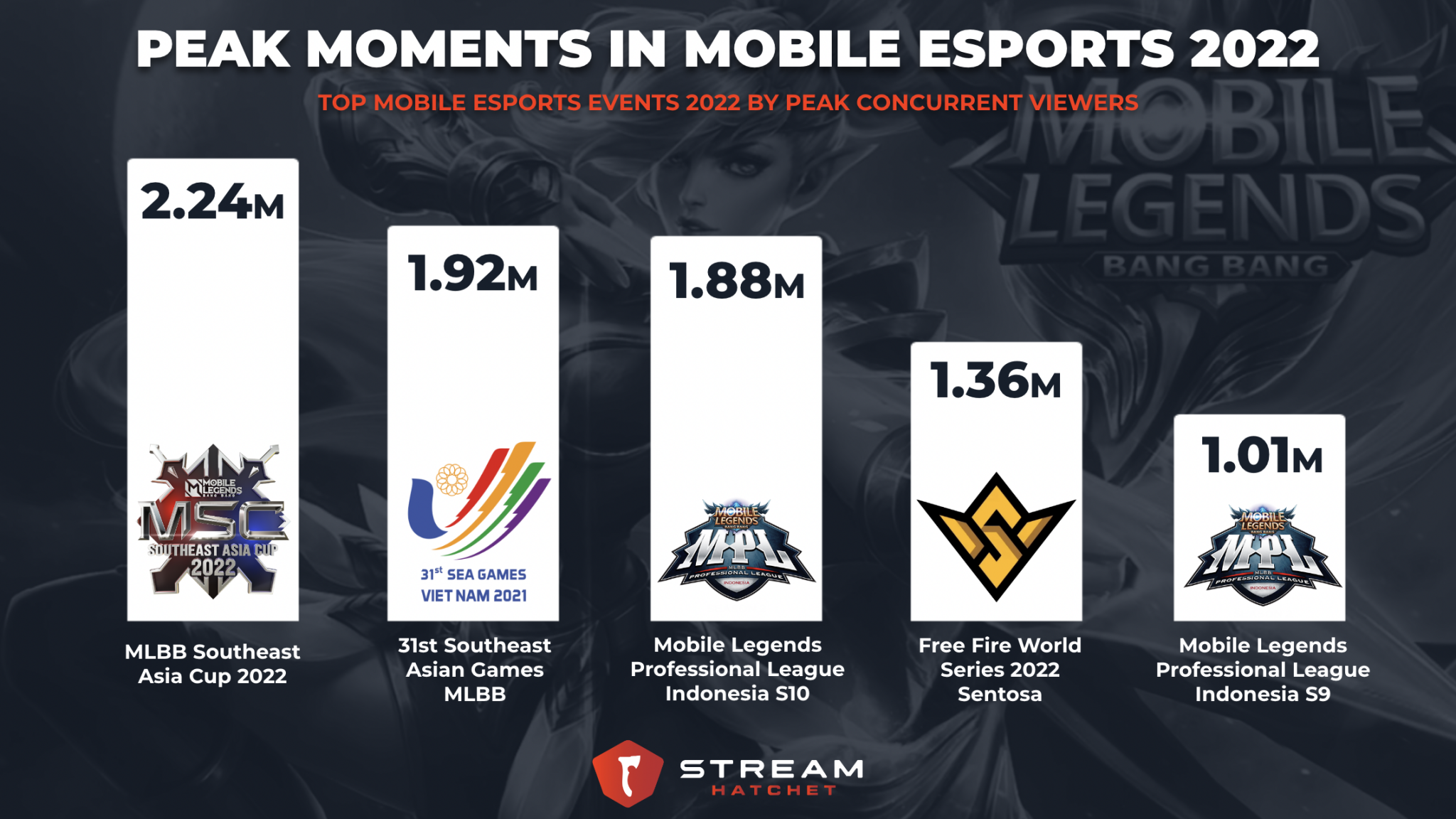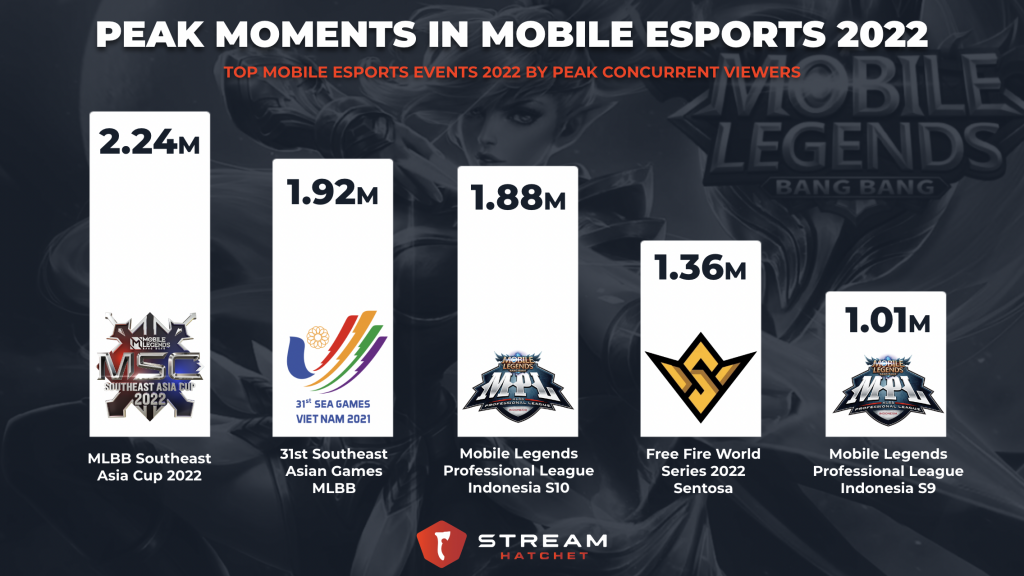 MLBB had 4 of the 5 peak mobile esports moments in 2022. The MLBB Southeast Asia Cup came out on top with 2.24 million viewers at its peak. The 31st Southeast Asian Games MLBB had just under 2 million peak viewers. Garena Free Fire was the only other game to break into this list, with 1.36 million peak viewers during the World Series Sentosa in November. 
Mobile esports are extremely popular with communities outside of the western world, especially in Southeast Asia, because of their ease of access and level of development compared to PC games. This popularity also affects where mobile esports are watched; while 70% of non-mobile esports were watched on Twitch last year, the live streaming platform only saw 2.7% of the total mobile esports viewership.
YouTube reigned as the top platform for mobile esports, with almost 80% of the total watch time. (This does not include Chinese platforms as their metrics are measured differently and cannot be easily compared with other platforms).
Half of the hours watched for mobile esports last year (170M) were from channels based in Southeast Asia. Eastern and Southern Asia made up another 136M hours watched combined. Latin America had a combined 20M hours watched of mobile esports and North America came in at only around 5M hours watched.
To learn how you can utilize Stream Hatchet's powerful data and reporting system for live streaming insights, sign up for a demo of our software and try it out for free: