Stream Hatchet is pleased to announce the release of our Video Game Live Streaming Trends Q3 2022 Report. In the report, we cover game streaming and esports viewership trends across major live streaming platforms, platform share comparisons, top streamers and games for Q3, and other trending topics. Download the full report here.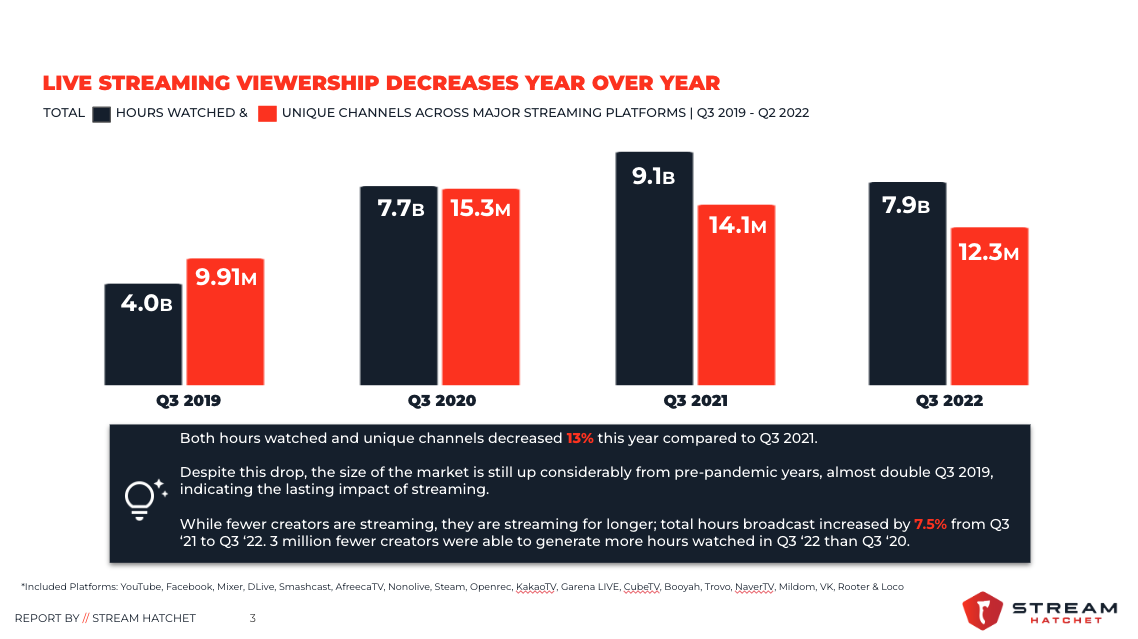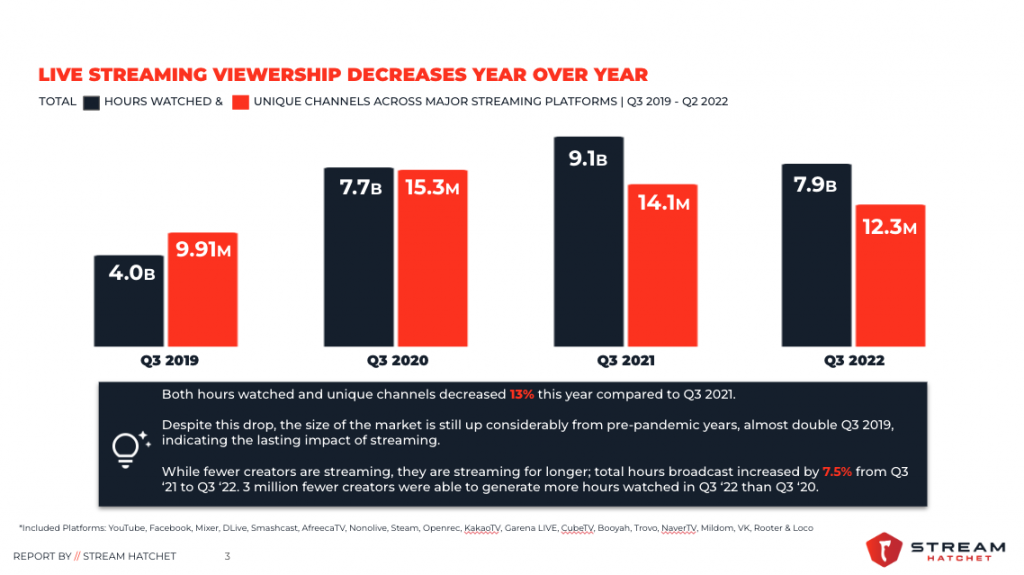 While live streaming viewership is down from Q3 last year, it is still nearly double pre-pandemic levels. Additionally, esports viewership is up 40% year-over-year compared to Q3 2021 last year; the industry has seen consistent growth over the last 4 years.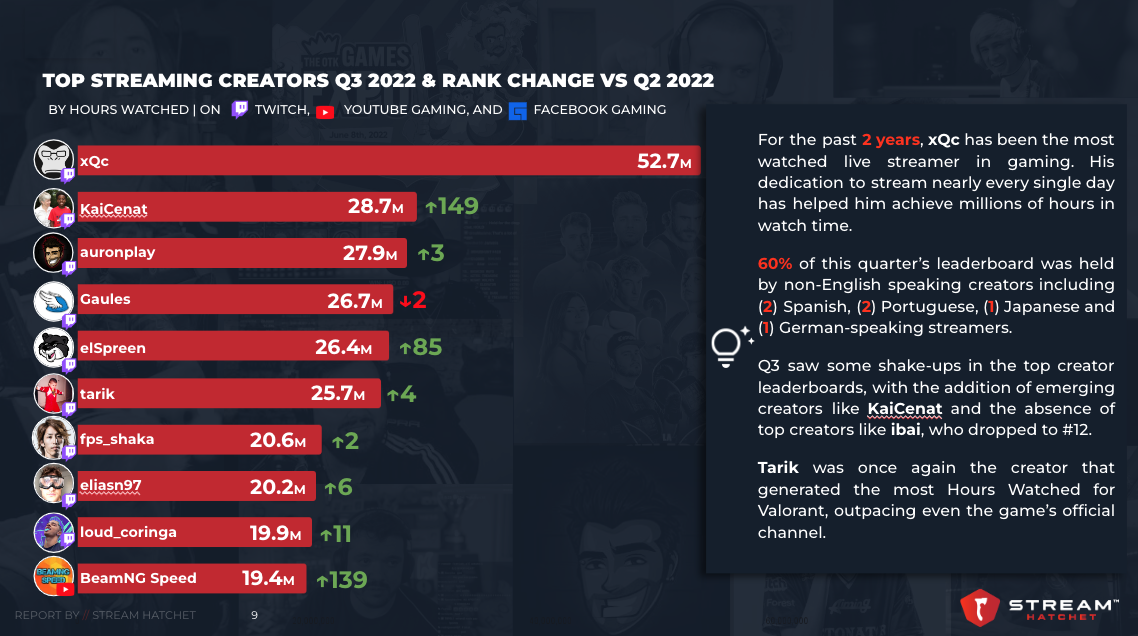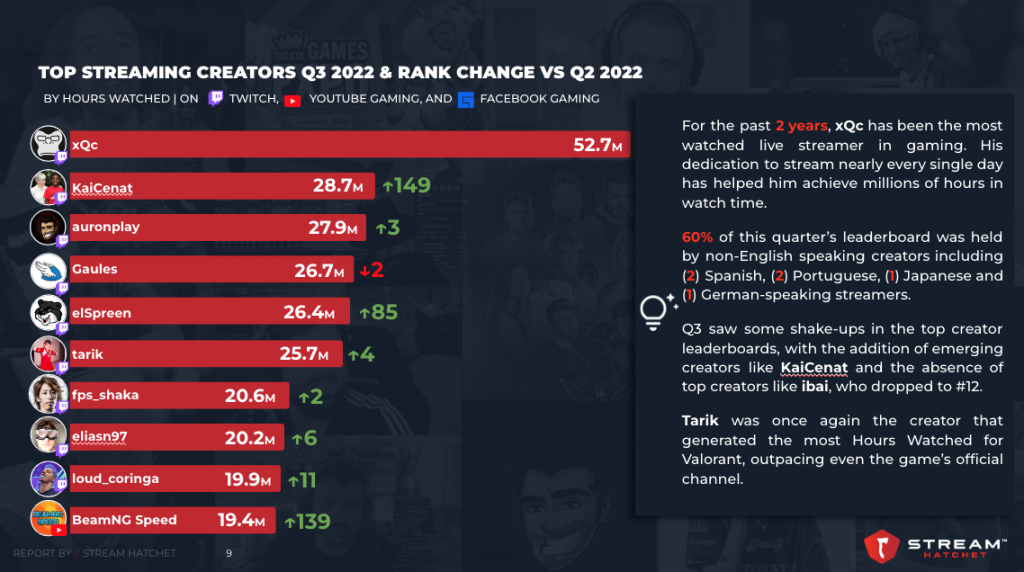 While xQc continues to hold his spot as the top creator in live streaming, Q3 saw some shake-ups in the leaderboard. Emerging creators like KaiCenat have seen explosive growth, and some top creators are missing from the leaderboard, like ibai who dropped to #12. The top leaderboard is not just made up of English-speaking creators; 60% of the list are non-English speaking creators, including 2 Spanish, 2 Portuguese, 1 Japanese, and 1 German-speaking creator.
While winning tournaments will always generate viewership, many esports organizations are leaning into content creators as a means of appealing to a broader array of consumers. In Q3 of this year, 8 of the 10 top esports teams generated more than 50% of their streaming hours watched from content creators. Compared to Q2, that's 2 more teams with over half their streaming viewership coming from content creators, indicating a shifting trend towards creators.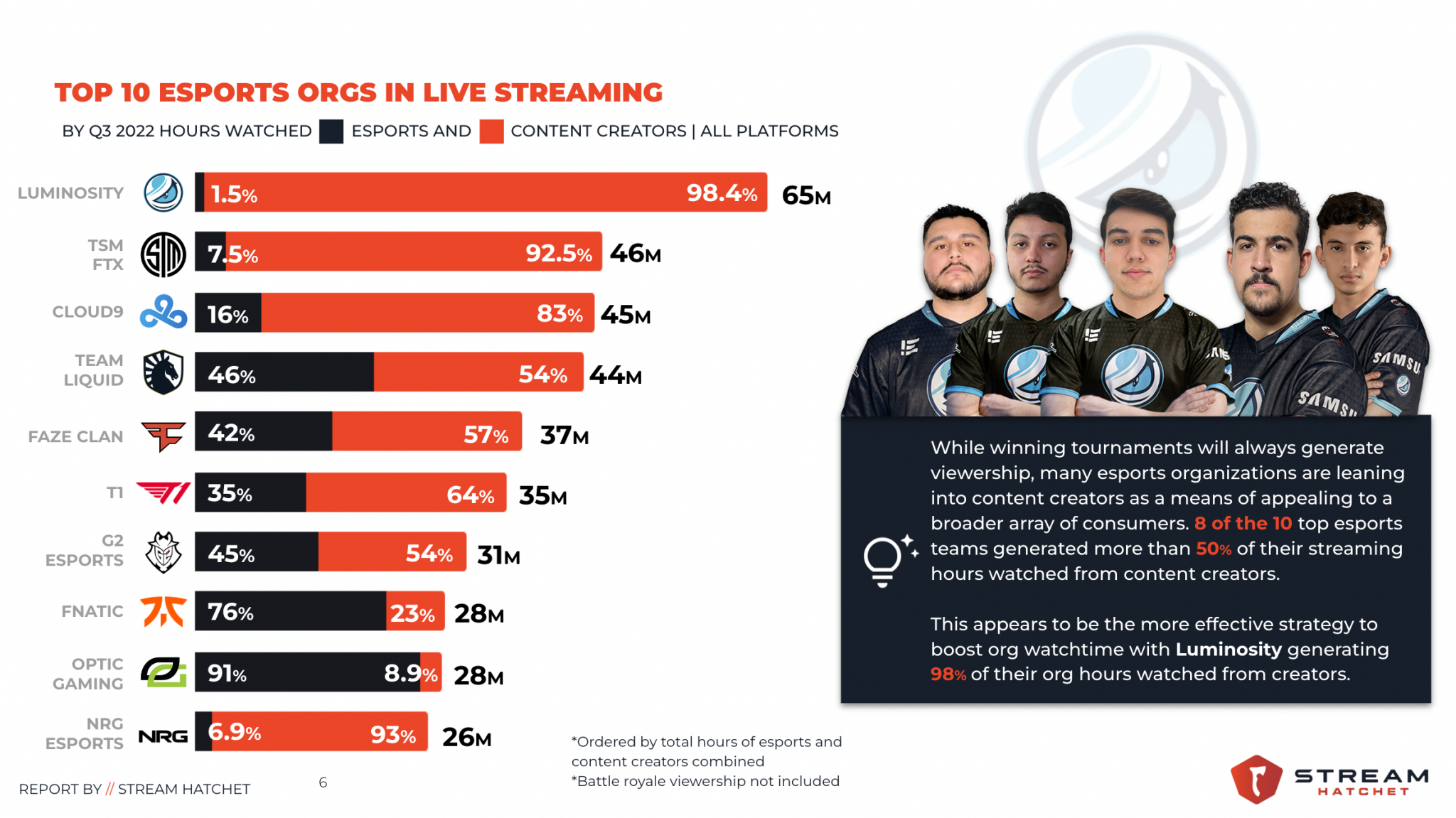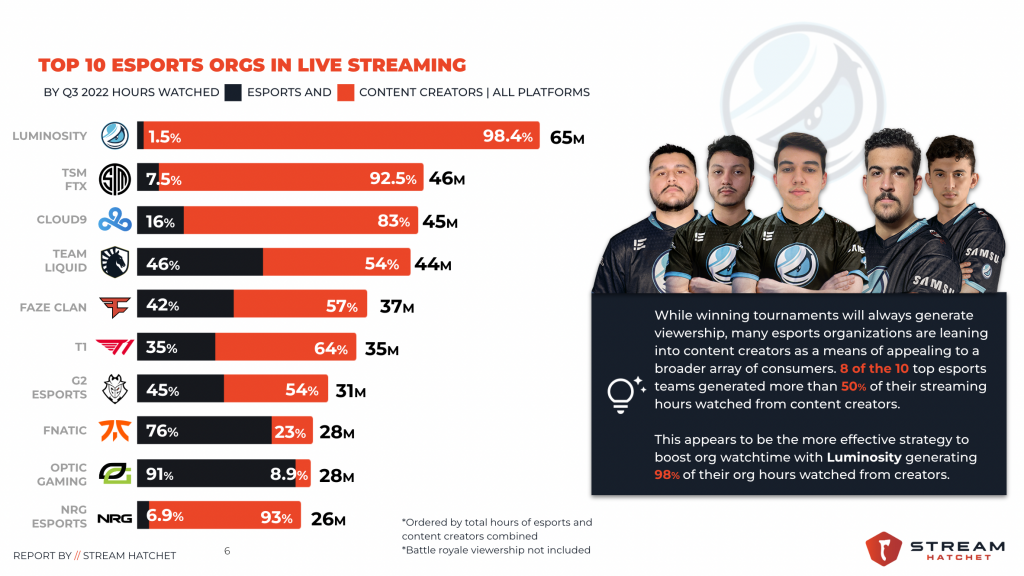 This appears to be the more effective strategy to boost org watchtime with Luminosity generating 98% of their org hours watched from creators.
Additionally, content creators help boost a team's viewership and overall brand awareness in live streaming and the esports community because they are not limited to an esports tournament schedule.
This is important for esports teams looking to work with brands, because content creators can help extend the viewership potential for the brand logos. Creators like iiTzTimmy and Kyedae from top esports org 100 Thieves, can stream whenever they want. As keyboard brand Higround's newest members of their "Board of Creators," the two will be able to consistently help promote the brand along with 100 Thieves.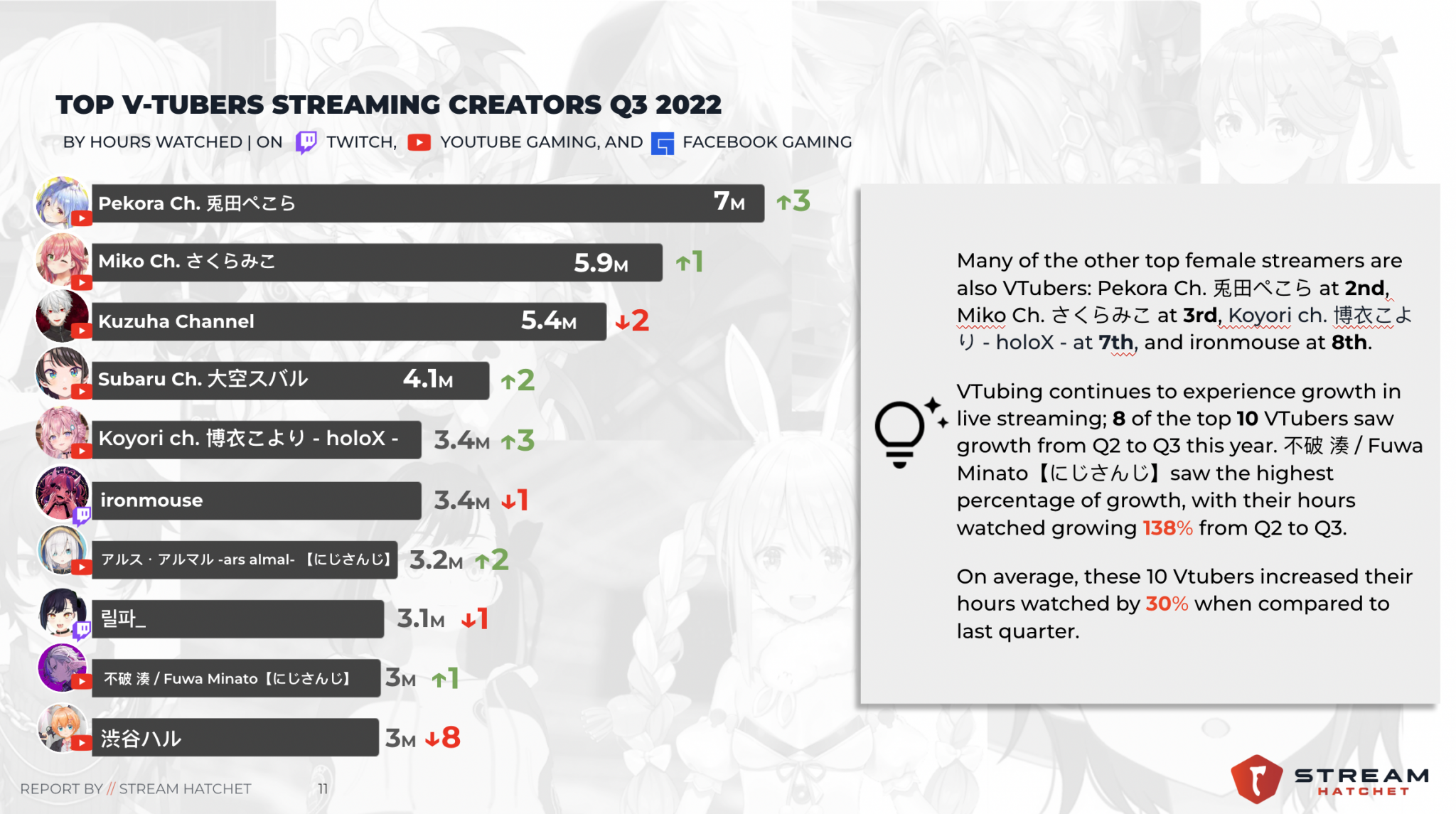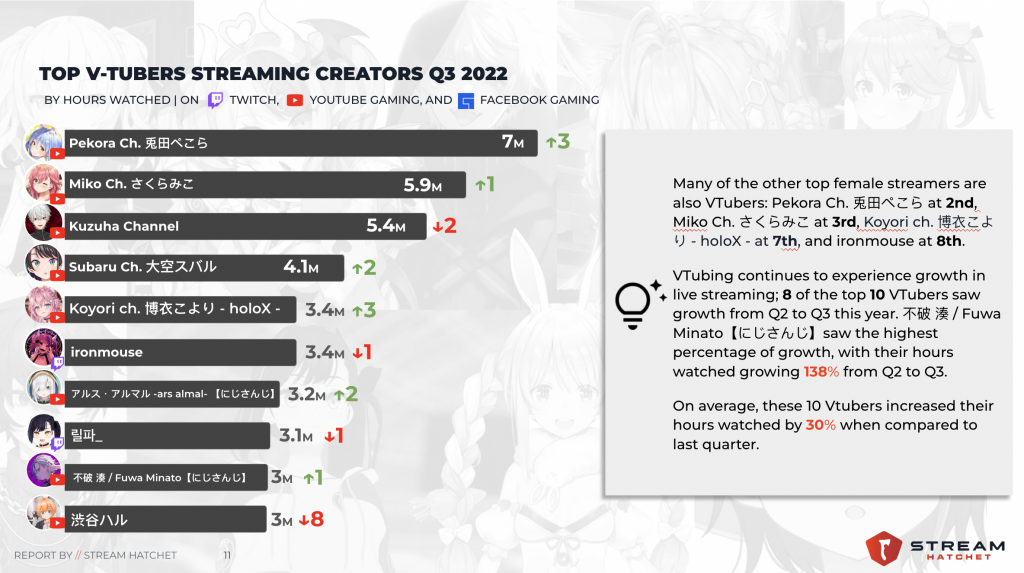 VTubers (Virtual YouTubers), a term to describe virtual avatars that stream content on platforms like YouTube and Twitch, continue to grow in live streaming, now representing 50% of the top female streaming creators in Q3. The top 10 VTubers grew an average of 30% in Q3 2022 as compared to Q2 2022.
For more insights into Q3 2022 live streaming trends, download the full report: