Square Enix released the newest game in their Final Fantasy franchise, FFXVI, over a month ago on June 22nd, with great success.
The game's shift from traditional RPG strategy elements to a focus on Action/Combat seems to have struck a chord with its fanbase. Across live-streaming platforms in the first 30 days, the game generated 19.4 million hours watched, 95% of that on Twitch alone.
In its first week, the game hit just shy of the top 10 games in live streaming, landing at number 11 with 11.7 million hours watched. Compared to other big releases this year, it was slightly higher than Honkai Star Rail and just a couple million hours watched behind Street Fighter 6's first-week performance.
The Enduring Popularity of the Final Fantasy Series
The Final Fantasy series, a world-renowned titan in the video game industry, has been captivating gamers since its inception in 1987. This long-standing franchise, born from the creative minds at Square Enix, is among the most successful video game series of all time. In 2023, we've seen noteworthy developments that not only remind us of Final Fantasy's storied past but also showcase its future.
An MMORPG Giant: Final Fantasy XIV
One of the significant successes in the franchise's recent history is the MMORPG Final Fantasy XIV. As of 2023, the game boasts an impressive base of approximately 40 million subscribed players, with over 3 million active players diving into the world of Eorzea daily. The game's vast, immersive world, coupled with its intricate gameplay and storylines, have seen it garner an astounding 3.92 million hours watched during the past 30 days across its top 10 channels splitted between 7 English, 2 Japanese, and 1 German.
One of the key factors that make Final Fantasy XIV a success in live streaming is the nature of MMORPGs themselves. These games offer vast, persistently online worlds that players inhabit and evolve in real-time. The game never truly 'ends,' and there's always new content to explore, quests to embark on, and players to interact with. This ongoing, dynamic experience is perfectly suited to the live streaming format, as it allows for endless hours of unique, engaging content.
Final Fantasy XVI: The Modern Final Fantasy
On June 22nd, 2023, the series continued its ongoing legacy with the release of Final Fantasy XVI. This new installment received high praise, hailed as a "sophisticated spectacle" and "a breath of fresh air" by The Guardian.
Reflecting current market trends, Final Fantasy XVI incorporated a shift from traditional RPG strategy elements, focusing more on Action Combat. This transition seems to have struck a chord with the community as evidenced by its 19.36 million hours watched in just the first 30 days of release, with 95% of viewers on Twitch alone.
Final Fantasy XVI offers a distinct, but more linear narrative. It delivesr a highly engaging and immersive experience, but once the story ends, the game's inherent replay value significantly decreases, leading to a decline in viewership over time.
When comparing its performance to Zelda: Tears of the Kingdom, you can see similar trends in their first week live-streaming performance. While TOTK saw higher viewership than FFXVI, the two games saw similar declines in viewership in the first week.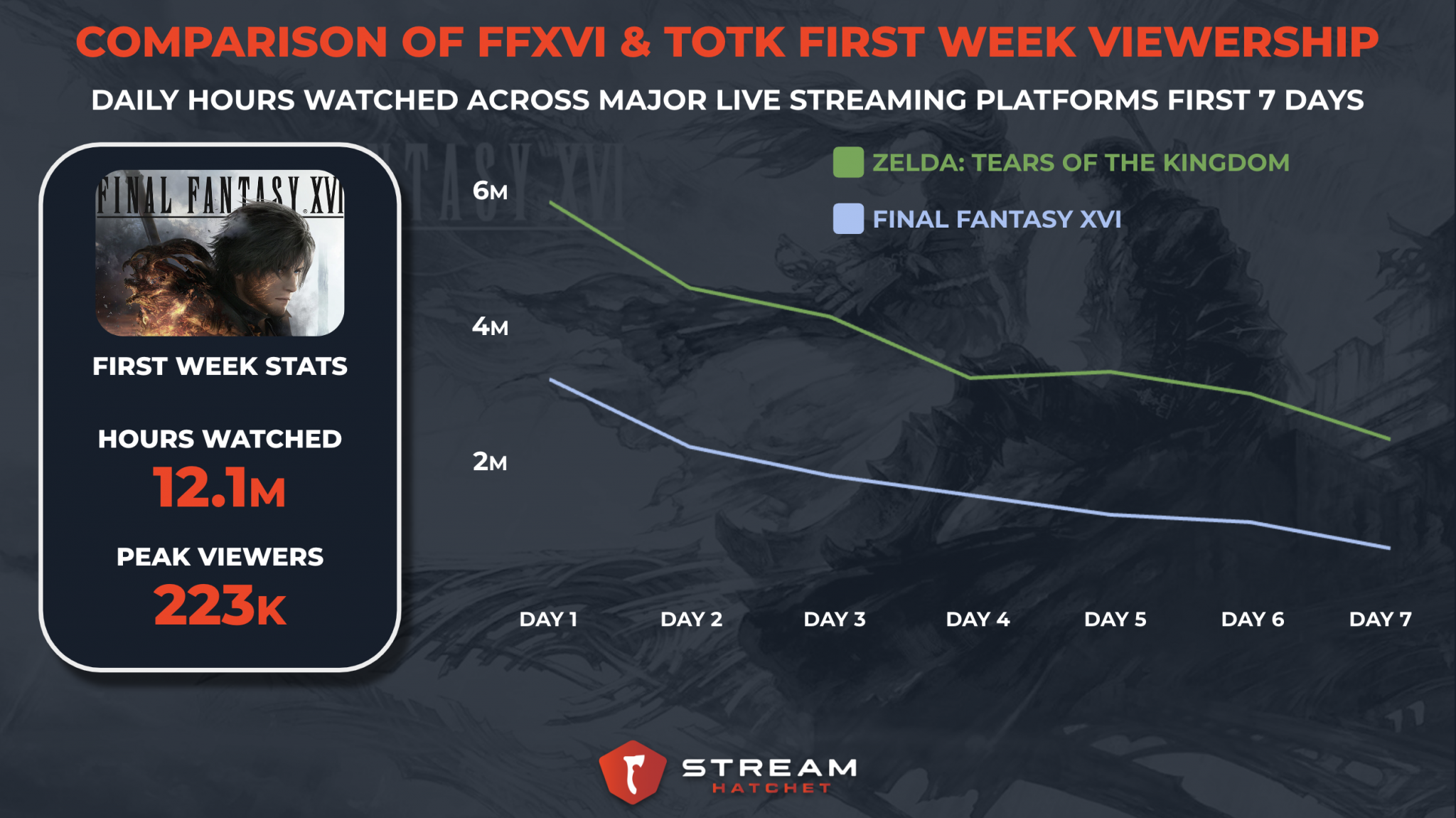 On its first day of release, FFXVI generated 3.3M hours watched, where TOTK saw 5.8M. From Day 1 to Day 7 of release, TOTK saw a 59% decrease in hours watched, whereas FFXVI saw a slightly higher figure of 76%.
Looking at the first month, FFXVI saw a 65% decrease in viewership from Day 1 to Day 30. This trend is not dissimilar to other linear games when it comes to live-streaming performance.
When looking at these statistics, it's important for video game marketers to understand that the first week on live streaming is extremely important. Even more so, the lead up and build up to the release might even be more important than the weeks after the release.
Working with live-streaming creators to play the game early on their Twitch and YouTube channels, as well as during the first week of release, can help boost hype for the game in advance. Getting the right fans engaged during that first week of release can help elongate the life of the game and boost sales.
The top 10 creators in the first week of release generated a total of 3 million hours watched. That's about one quarter of the game's 12.1M first week hours watched. It peaked at 223K concurrent viewers on the first day of release.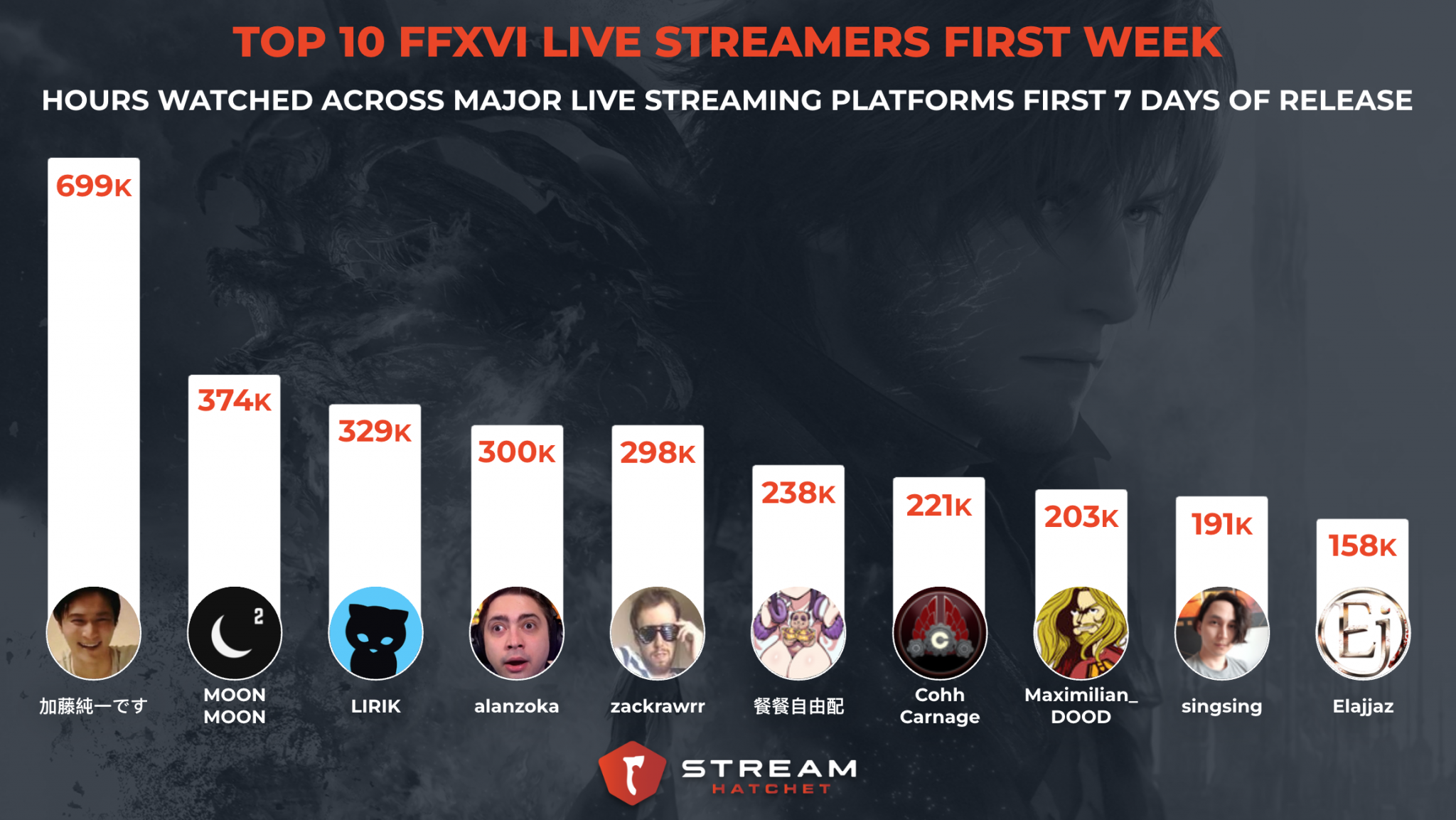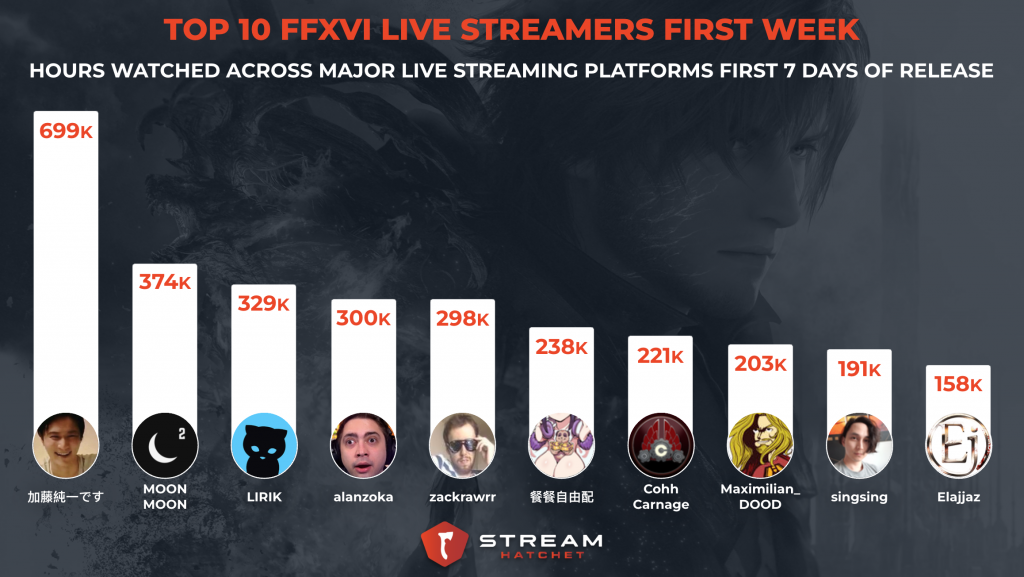 Where Are the Fans? A Shift Towards the West
Undeniably, part of Final Fantasy's longevity and success lies in its fan base's unwavering devotion, often fueled by nostalgia. Each game in the series carries its unique charm, creating lasting memories and an enduring connection with the fans.
The Final Fantasy series was predominantly popular among Asian audiences. However, over the years, the series has managed to successfully broaden its appeal, gaining significant popularity in American and Western European markets. This shift is attributable to a myriad of factors, not the least of which is the series' ability to continually reinvent itself while still maintaining the core elements that make it unique.
Reflecting the global reach of the Final Fantasy franchise, the popularity of Final Fantasy XVI can be seen across multiple channels, each representing diverse communities. Among the top ten channels ranked by hours watched, only one is Japanese, indicative of the game's roots, yet highlighting the shift in the game's appeal to international markets.
7 of the top 10 first-week streamers are English-speaking, with 1 Japanese, 1 Chinese, and 1 Portuguese-language channels rounding out the rest of the leaderboard.
The large presence of English-speaking channels and audiences reinforces the fact that Final Fantasy has significantly expanded its reach in American and Western European markets. Additionally, the presence of Portuguese and Chinese channels in this ranking underscores the game's growing popularity in other regions.
It is crucial to note that these changes don't necessarily signal a departure from the series' roots. Instead, they demonstrate the franchise's adaptive capabilities to keep pace with evolving gamer preferences and market trends. Square Enix has shown remarkable astuteness in balancing the needs of new players without entirely alienating its existing fan base.
Get more live-streaming insights delivered to your inbox every Friday: