The global gaming and esports industry saw a boom in 2020, a majority of this due to the pandemic lockdown. While understanding the global opportunity around gaming and esports, it's important for marketers to dive into regional trends to effectively tailor content to focused audiences.
India is one region that has experienced significant growth with its gaming audiences, coinciding with record-breaking smartphone shipments earlier this year. Additionally, a recent report from Niko Partners noted that Asia accounts for more than 54% of the $1 billion dollar global esports market.
Western esports organizations are taking note of India's growth potential. Team Vitality has become the third tier-one western organization to expand into India. They signed 4 content creators onto their roster in late 2020.  
Back in August 2020, India led streaming viewership on YouTube Gaming for PUBG Mobile. The Indian government's ban on PUBG Mobile back in September 2020 stalled India's esports and gaming growth for a short period. However, the industry has adapted with the creation of BATTLEGROUNDS MOBILE INDIA.
Here's a look at key insights within the gaming and esports industry for India:
Top Indian Streamers In Q2'21
YouTube Gaming is home to the most popular Indian gaming influencers. All three of the top Indian streamers are part of the top YouTube Gaming streamers overall for Q2'21.
Ujjwal
During Q2'21 YouTube Gaming streamer Ujjwal Chaurasia generated 226K peak viewers. This peak was the highest among the top Indian content creators. He also secured the #5 spot among all YouTube Gaming streamers. With over 5M subscribers currently, Ujjwal secured the 10th spot for top Minecraft streamers by peak viewers in Q2'21.
One of the youngest Indian streaming influencers, 18-year-old Ujjwal made a name for himself by primarily streaming speed runs for the hit sandbox game, Minecraft. Overall, Ujjwal experienced a 725% increase in average concurrent viewers since July 2020.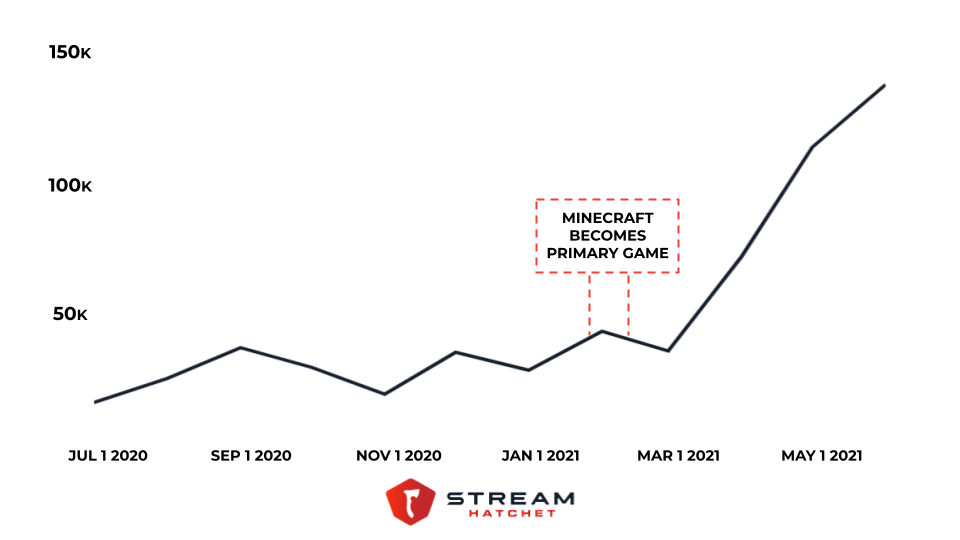 Additionally, Ujjwal has another popular channel on YouTube Gaming, Techno Gamerz with over 18M subscribers currently. While Ujjwal is more for live streaming and connecting with viewers, Techno Gamerz is a VOD channel focused more on technology and gaming 'How-Tos' in Hindi.
Dynamo Gaming
Aditya Deepak Sawant, better known as Dynamo Gaming, is currently the second most subbed Indian YouTube Gaming Channel with over 9M subs. Since 2017, Dynamo Gaming has made a name for himself within the PUBG Mobile gaming community. At one point, he was ranked among the top PUBG Mobile players in Asia at #85.
Although Dynamo Gaming's average concurrent viewers took a dive around the time of the PUBG Mobile ban in India with a 34% decrease in the last year, the release of BATTLEGROUNDS MOBILE INDIA has given way to a recent uprise trend. In the last 90 days, Dynamo has experienced a 115% increase in his average concurrent viewers.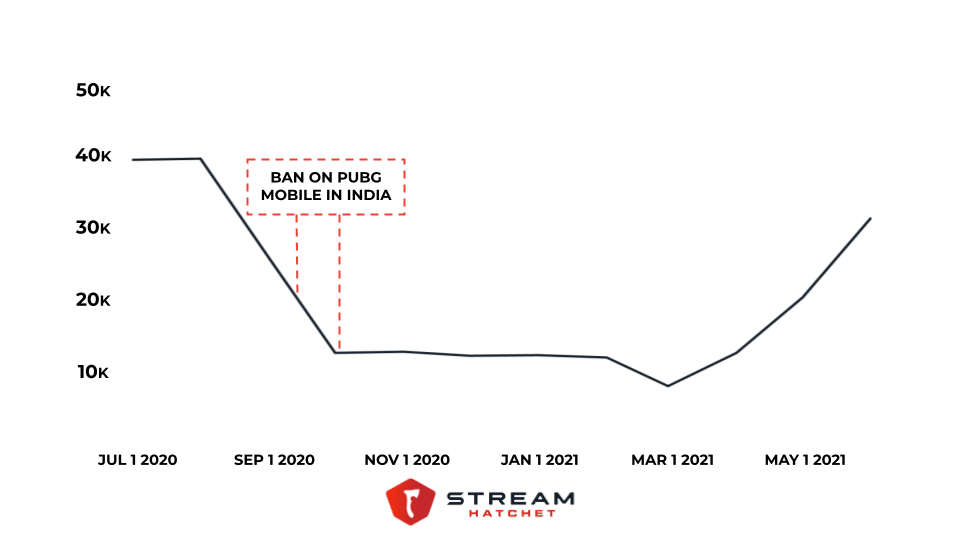 BATTLEGROUNDS MOBILE INDIA had a record-breaking launch with 34 million players within a week. On opening weekend, Dynamo Gaming experienced the 2nd highest peak viewers for the game. His uptick in average concurrent viewers will likely continue with the announcement of the first BGMI tournament hosted by Krafton. Qualifiers will begin on August 2nd.
MortaL
With over 6M subscribers on YouTube currently, Naman Mathur, AKA MortaL, is another familiar face to the PUBG Indian gaming community. For the 2020 Esports Awards, he came in third for 'Mobile Player of the Year 2020' and was a nominee for YouTube's most successful live streamers of the year.
MortaL is also the owner of Team SouL, a PUBG Mobile Indian esports team. Team SouL formed a partnership with 8bit, another well-known Indian esports organization, and created the joint S8ul Esports for BATTLEGROUNDS MOBILE INDIA esports.
Similar to Dynamo Gaming, MortaL had to find other games to focus his content creation on thanks to the PUBG Mobile India ban. For a while, streaming viewership numbers weren't like before, and he suffered a 60% decrease in average concurrent viewers. However, in the last 90 days, MortaL has experienced a 205% increase thanks to the rising popularity of BGMI.
ESSENTIAL DATA AT YOUR FINGERTIPS
Stream Hatchet's focused on connecting real time data to trends across the gaming world, with the goal of maximizing content insights across the video games and esports industry. Our new Essentials platform is robustly built with the key tools for running marketing activations on live streaming platforms.
Stream Hatchet's Essentials platform can:
Monitor the top channels across all major live streaming platforms
Pull detailed metrics from specified channels
Measure viewership in aggregate by building custom lists of channels
Ready to enhance your go-to marketing strategy with Stream Hatchet? Get started with a free trial today.