The Kings League regular season wrapped up last weekend and teams are prepping for the playoffs starting Friday, March 24th in Barcelona. The entire season was broadcast live on Twitch and YouTube and generated over 30 million hours watched and peaked at 1.7M concurrent viewers during the match between Pio FC and Porcinos FC during week 8. This match received the most attention throughout the regular season because it was pro football player Ronaldinho's debut on Ibai's team, Porcinos FC.
The league averaged almost 400K viewers each week during their matches, across the main channel and the numerous co-streamers also broadcasting the event.
Kings League Regular Season
The Kings League is a soccer (or European football) league created by popular live streamer Ibai Llanos and professional football player Gerard Piqué.
The Kings League wrapped up the regular season for their winter split on March 19th. Ultimate Móstoles finished as the top ranked team with 8 wins and 3 losses; followed by Porcinos FC, Los Troncos FC, Saiyans FC, Kunisports, XBUYER TEAM, Aniquiladores FC, and El Barrio. These 8 teams will be participating in the King's League playoffs starting Friday.
Currently, Hernández of Aniquiladores FC leads the league in MVP's while Bueno of 1K FC leads the league in both goals and assists throughout the regular season.
Ronaldinho Joins the Kings League
While the King's League was already showing an impressive live streaming performance, the anticipation for Week 8's matchday was unmatched. Leading up to the matchday, Ibai had announced the signing of legendary Brazilian football player Ronaldinho Gaúcho to his team Porcinos FC. During that matchday, the Kings League was able to generate 5.3M hours watched while averaging 700K viewers and reaching the leagues peak viewership of 1.7M.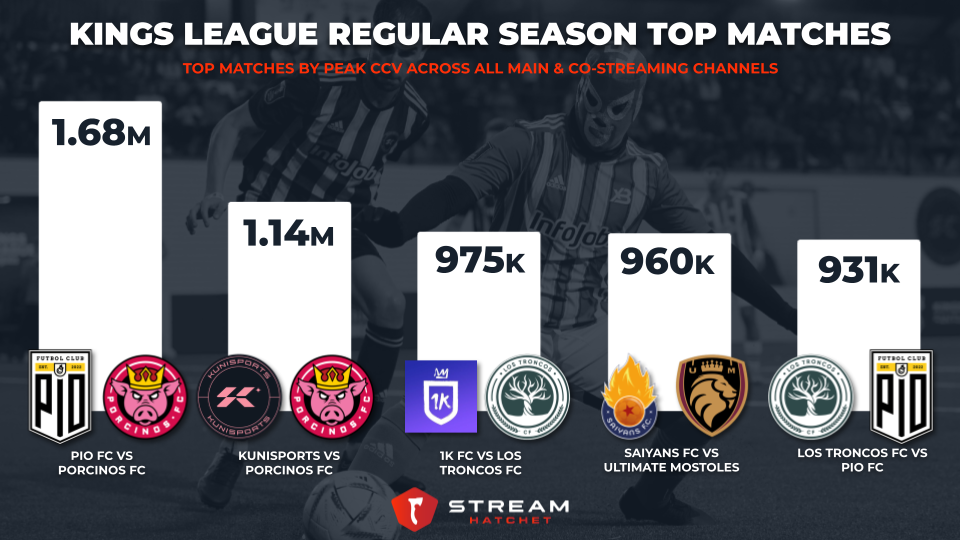 Kings League Matches with the Highest Peak Viewership
Week 8's matchup between PIO FC and Porcinos FC who acquired Ronaldinho had the highest peak viewership among the regular season matches. The matchup with the second highest viewership would also be Porcinos versus Kunisports which peaked at 1.14M concurrent viewers. The next highest peak viewership falls to 1K FC versus Troncos FC with 975K concurrent viewers. Saiyans FC versus Ultimate Mostoles peaked at 960K viewers which ranks fourth among all matches. And the fifth highest peak viewership came from the matchup between Los Troncos FC vs PIO FC.
Sports In Live streaming
Non-gaming content has been emerging in the livestreaming space over the last year. Many of the biggest moments in live streaming for 2022 have been non-gaming focused. Sports specifically occupied 4 of the top 10 largest moments in live streaming.

The sports category has increased their hours watched on Twitch by 46% in 2023 compared to the previous year. And compared to 2021 hours watched for Sports has increased by 192%. This massive increase shows signs that sporting events have continued to become popular in live streaming post pandemic.
Looking for new insights in the live streaming space each week? Subscribe to our newsletter: