Who is Kyedae
Kyedae Shymko, who goes by Kyedae on Twitch, is a popular live streamer and content creator for the esports organization 100 Thieves. Kyedae has amassed a following of 6 million across Twitch, Youtube, Instagram, Twitter, and TikTok.
Kyedae grew up in Canada for the majority of her childhood, but she lived in Japan for a few of those years at the age of 7. During her adolescence, she had access to video games, but spent more time being outdoors, playing sports, and practicing piano. It wasn't until she met Tyson "TenZ" Ngo in high school that she would learn more about PC gaming and esports.
Kyedae started streaming on October 31, 2020 while attending the University of British Columbia to pursue a degree in Biology. Kyedae would stream whenever she had free time between and after classes, and has been adamant on finishing her degree while also balancing her content creation. Despite having to balance school and streaming, Kyedae has been able to find success and became one of the top ten female streamers in Q2 2022.
Persona & Audience
While not a Pro Valorant contender, Kyedae has amassed a strong following from fans of the game. Not only does her channel consistently rank highly among the leaderboards (she was the 11th most watched Valorant streamer in Q2 2022), but it also has generated significant audience overlap with Valorant esports fans. In June 2022, 16% of Valorant main broadcast esports viewers also watched Kyedae.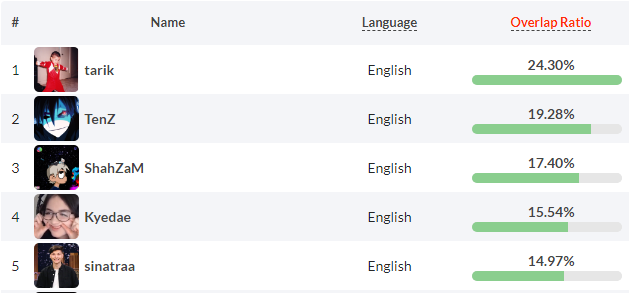 Outside of Valorant, Kyedae does "variety" streams often featuring her fiance Tyson "TenZ" Ngo, a Sentinels Valorant professional, as well as her sister Sakura. During these streams, Kyedae tends to do Q&A's, cooking, PC building, and other IRL activities. 
Kyedae has a persona that exudes comfortability of who she is and an understanding of what her strengths are and are not. She has repeatedly mentioned how she understands the impact that TenZ and his following has had on her career, as well as her skill level in Valorant compared to some of her peers. She accepts and allows these facts to keep her honest and humble. On the other end of the spectrum she's also not afraid to stick up for herself and what she believes is right within the gaming community. One of Kyedae's driving forces for content creation is to provide a voice for women in the gaming community as well as encouraging more women to join.
Joining 100 Thieves
Kyedae officially joined 100 Thieves on April 13th, 2021. She became the first Valorant creator on the team as well as the first international member of the Los Angeles-based organization. When asked what drove her towards 100 Thieves, Kyedae said that the support systems, as well as the opportunity to expand her horizons in streaming heavily influenced her decision to join the organization. 
Since joining 100 Thieves, Kyedae has experienced significant growth in her viewership. Her viewership on Twitch went from 408k hours watched in the 3 months before the announcement, to 2.3m hours watched the 3 months after. She has also collaborated with some of 100 Thieves' top female talent like Valkyrae, Neekolul, and BrookeAB on stream and in other YouTube videos. She also has started a podcast with fellow 100 Thieves member Peter Park called Boomer vs Zoomer, where the two talk about current topics and provide perspectives from two different generations.
Marketing Influence
Because of her popularity as a Valorant influencer, Riot Games has reached out to Kyedae to collaborate with them on sponsored streams in the past. Recently, Kyedae released a video of her styling outfits after one of Valorant's agents, Viper and with the Viper inspired outfits performing in a photoshoot. The video was posted on February 12, 2022 and is currently sitting at 300k views.
Kyedae has also been sponsored by 2K games to promote the release of The Quarry live on her stream. During her stream she was able to generate 56.7 thousand hours watched. The stream was also accompanied by a YouTube video that generated over 90k views.
She has also been sponsored by Amazon Prime Gaming to promote their Prime Gaming service where gamers can purchase PC games and accompanying downloadable content. During the stream Kyedae claimed a legendary Loot Box for Overwatch that she purchased on Prime Gaming. Afterwards she went on to play Overwatch and Overwatch 2 with Tenz.
Streaming Influencer Management Solutions
Looking to measure live streaming creator stats and better streamline your marketing efforts for influencer management? Try out Stream Hatchet for FREE for 7 days!