Tower of Fantasy is the sole winner of #ads of the week.
Tower of Fantasy Sweeps Live Streaming Ads
Tower of Fantasy is a shared open world MMORPG developed by Hotta Studios and published by Level Infinite. Tower of Fantasy launched a global release of their full game on August 10th 2022 and is available on both PC and mobile platforms.
From August 8th to August 14th Tower of Fantasy was the #11th most watched game based on hours watched across major live streaming platforms. During this week, Tower of Fantasy generated 11.3M hours watched and maintained an average viewership of 46.2K viewers.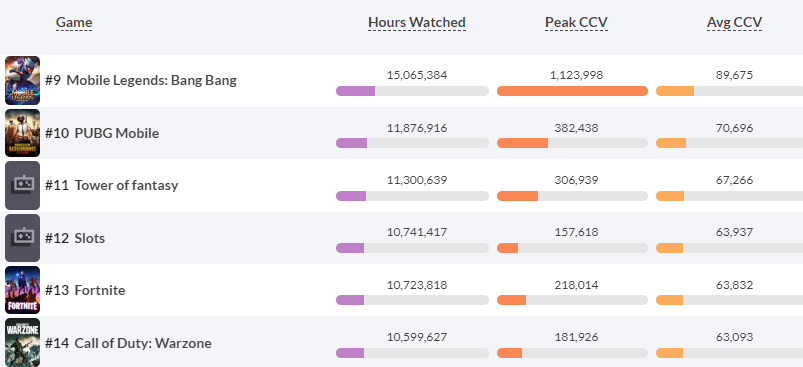 Tower of Fantasy partnered with many streamers this week, most notably three Spanish-speaking creators: TheGrefg, knekro, and Putupau. The partnership allowed streamers to activate Twitch Drops for their viewers, rewarding viewers for watching their favorite creator play the game. The activation generated 181K Hours watched for TheGrefg, 76.8K hours watched for knekro, and 56.5K hours watched for Putupau.
The use of Twitch Drops is a great method for activating the Twitch audience. Twitch Drops rewards viewers for watching a streamer play a specific game and incentivizes viewers to try the game if they haven't played it before with the promise of free in-game items.
Tower of Fantasy, often compared to popular RPG Genshin Impact, takes place on an alien planet that mankind has inhabited to mine for an energy source called Omnium. The game allows players to explore a battle with friends in a shared open world. Tower of Fantasy's open beta was released on June 21st to players in the US, Japan, Brazil, Indonesia, and Thailand for Android and PC. Beta testing ended on July 5th in preparation for its global release date of August 10th.
For more insights and in-depth analytics for planning your next video game release, sign up for a Free Trial of our Essentials Dashboard!