Nintendo fans were treated to the latest "Nintendo Direct" last week, a biannual announcement from the publisher premiering upcoming video game releases, updates, and DLC drops.
Nintendo Direct Live Streaming Stats
The 45-minute live stream generated 1.6M hours watched and peaked at just over 2M viewers across all platforms and channels. 32% of the Nintendo Direct viewership was user-generated content while ⅔ of the hours watched came from Nintendo channels across YouTube and Twitch.
To understand an audience's feedback on a game, event, sponsorship, and more, it can be really helpful to analyze the live streaming chat and pull out key insights. Stream Hatchet has taken a look at Twitch chat during the Nintendo Direct live stream to understand what games from February's showcase viewers were most excited about.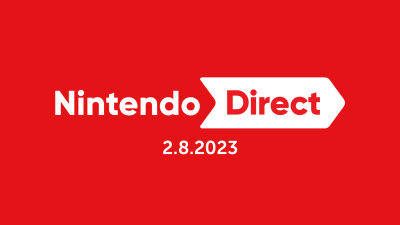 Retro games and remasters were the highlight of this February showcase. "Kirby's Return to Dream Land Deluxe" and "Metroid Prime" remasters were announced and during the broadcast "kirby" and "metroid" were mentioned 104 and 127 times, respectively.
Pikmen 4's release date was finally announced for July 21st of this year. The Pikmen franchise generated the 3rd most mentions during the Nintendo Direct at 147.
Expansions were also announced for Splatoon 3 and Mario Kart 8 Deluxe. Twitch chat mentioned "splatoon" 130 times, and "mario" 208 times making the Mario franchise the second most mentioned during the Showcase.
The game that Nintendo fans are anticipating the most is the latest installment of The Legend of Zelda franchise, Tears of the Kingdom. During the Twitch broadcast alone, "Zelda" had over 400 mentions during the broadcast, the most of any game announced. The game was the last to be announced, and "Zelda" mentions skyrocketed during the last five minutes of the broadcast.
"Residentsleeper"
In contrast, mentions of the "residentsleeper" emoticon plummeted during the last five minutes of the broadcast. The "residentsleeper" emote is one that portrays boredom and has an overall negative connotation. As mentions of the newest Zelda installment increased, the "residentsleeper" emote was used less frequently.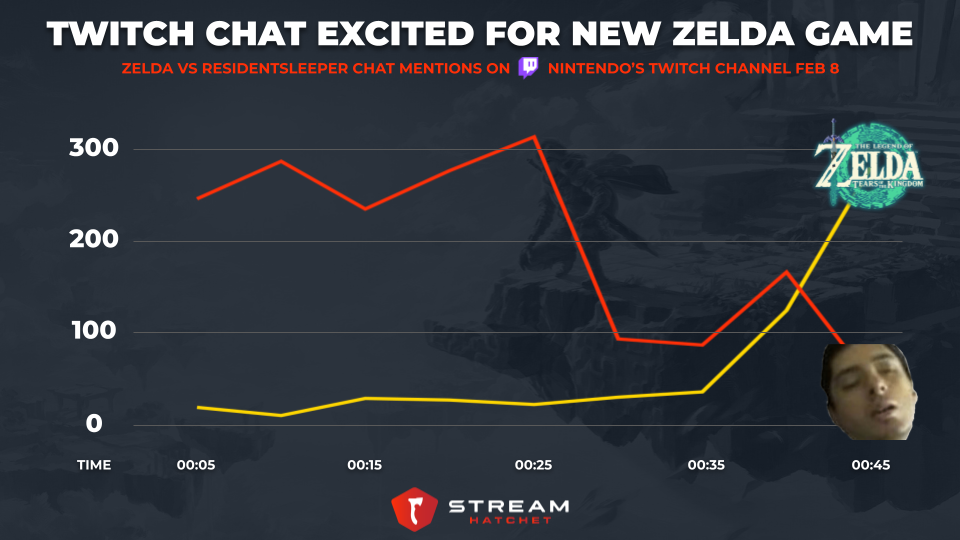 It is also interesting to note that mentions of the "residentsleeper" emote also declined during the 30-35 minute mark of the broadcast. During this time, it was announced that Gameboy Advance games were coming to the Nintendo Switch Online bundle. The Metroid Prime remaster was also featured during this section, indicating a positive sentiment towards those two announcements.
To learn more about how Stream Hatchet can help you understand your audience across live streaming, sign up for a free trial of our software: