What is Omega Strikers
Omega Strikers is a free-to-play footbrawler game developed and published by Odyssey Interactive. The action sport video game revolves around 3v3 multiplayer matches where the players try to score goals and knock their opponents out of the arena. The game's official release date was April 27th, 2023.
Beta Testing Stage
During the beta testing stage for Omega Strikers, Odyssey Interactive enabled Twitch drops for Twitch viewers to collect. By using their Twitch account and watching 6 hours of live streamers participating in the Twitch drops, viewers were able to obtain free in-game content for Omega Strikers. This resulted in Omega Strikers generating 3.9M hours watched in September, and ultimately generating 5.95M hours watched during their beta stages.
Activating Twitch Drops during the pre-release of a new game is a great way to spark initial interest for a game.
Omega Strikers Official Release
Omega Strikers had a heavily streamer focused campaign around their official release. Odyssey Interactive partnered with a variety of streamers like Ludwig, fps_shaka, Alpharad, and Asmongold to gain awareness around their game. Omega Strikers announced the Creator VS tournament to go along with the game's official release. This tournament featured teams led by partnered streamers that viewers can join in order to earn points for their favorite streamer while playing the game.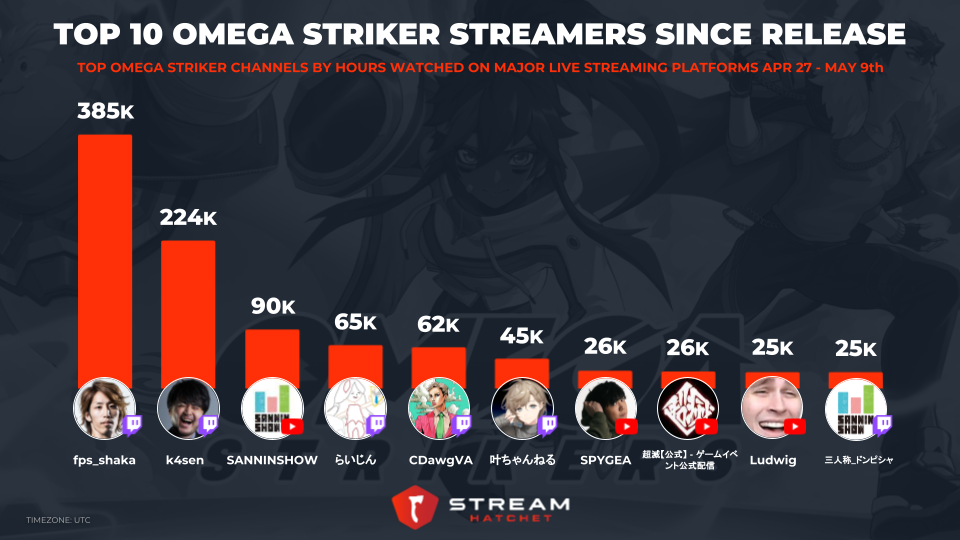 In live streaming we saw a spike in viewership for Omega strikers after the official release. From April 27th to May 9th Omega Strikers was able to generate 1.7M hours watched across major streaming platforms. Twitch streamer fps_shaka, who was the runner-up for the Creator VS event generated the most viewership with 385K hours watched since the official release. Closely following behind shaka was k4sen who generated 224K hours watched.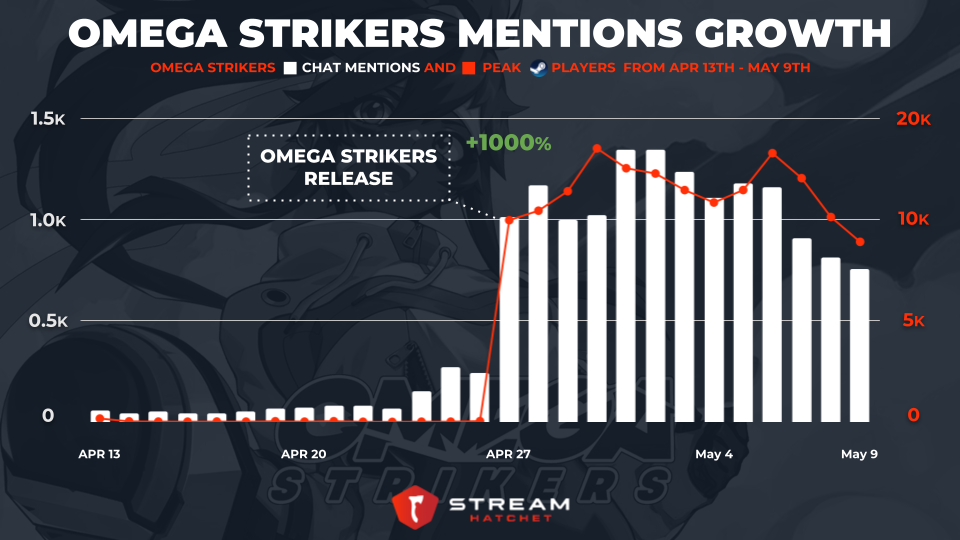 Omega Strikers was also able to generate over 14K chat messages across Twitch since the game's official release. Each day during the Creator VS campaign "Omega Strikers" chat mentions averaged around 1.1K messages which was 11 times greater than the average mentions generated the 2 weeks prior.
Twitch streamers Alapharad and CDawgVA generated the most chat mentions garnering 410 and 498 "Omega Striker" mentions respectively, also placing top 5 in the Creator VS tournament.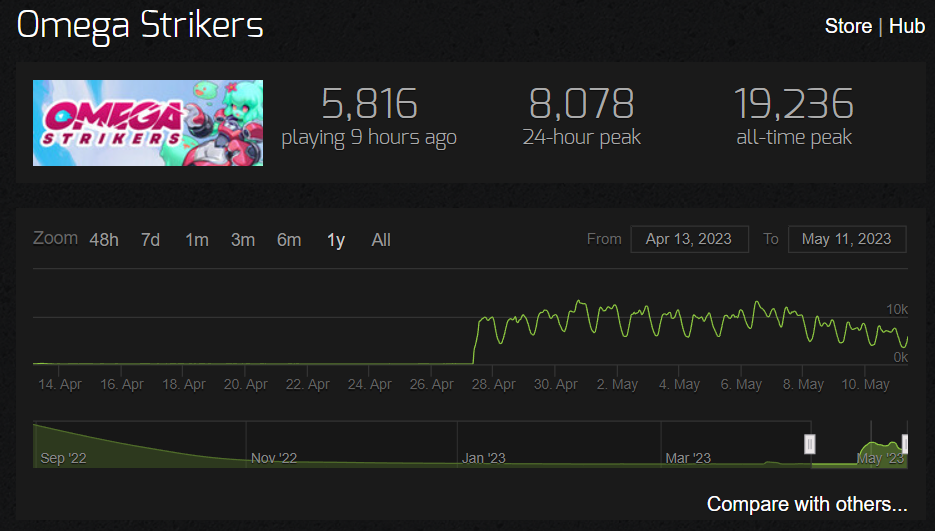 This helped the game on Steam to go from an average of 34 peak players from April 13th – 26th to an average of 11.4K peak players on Steam from April 27th – May 9th. According to Steam Charts.
Looking to level up the marketing plan around your next game release?