tldr; Platform war streamers who switch from Twitch to YouTube Gaming tend to see short-term dropoff in peak viewership, but after a few years, gains are significant
In a highly anticipated announcement Tuesday, Pokimane assured her fans that she would be staying on Twitch. Amidst the current platform war between Twitch, YouTube Gaming, and Facebook Gaming, fans and others speculated that she might change her contract. In recent years, YouTube Gaming has enticed big streamers like Valkyrae, CouRage, TimTheTatman, and others to leave Twitch. Stream Hatchet has taken a look at the data and here are some insights into the current platform war and why Pokimane might have chosen to stay on Twitch:
Valkyrae has had the highest percent increase in viewership since switching to YouTube Gaming; she has hit a peak CCV of 154,000, a 350% increase from her time on Twitch.
CouRage had a similar increase in viewership, with an 81% increase since switching to YouTube Gaming.
Both of these streamers have been on YouTube for at least two years, giving them time to rebuild their audiences and brands on the platform.
DrLupo, TimTheTatman, and Ludwig have all seen a decrease in their peak CCV since switching to YouTube Gaming. However, they have only been on the platform for five months or less. It might take streamers a while to rebuild their audience after switching to a new platform.
Pokimane's peak CCV was 138,000 in 2021, putting her just below Valkyrae's viewership. Pokimane has seen her peak CCV increase year after year while on Twitch. She might be partial to staying loyal to the platform to keep her numbers high. However, if she did switch to YouTube Gaming, her numbers might dip for a while, but increase like Valkyrae and CouRage after a few years.
A Look At Average Concurrent Viewers in the Platform War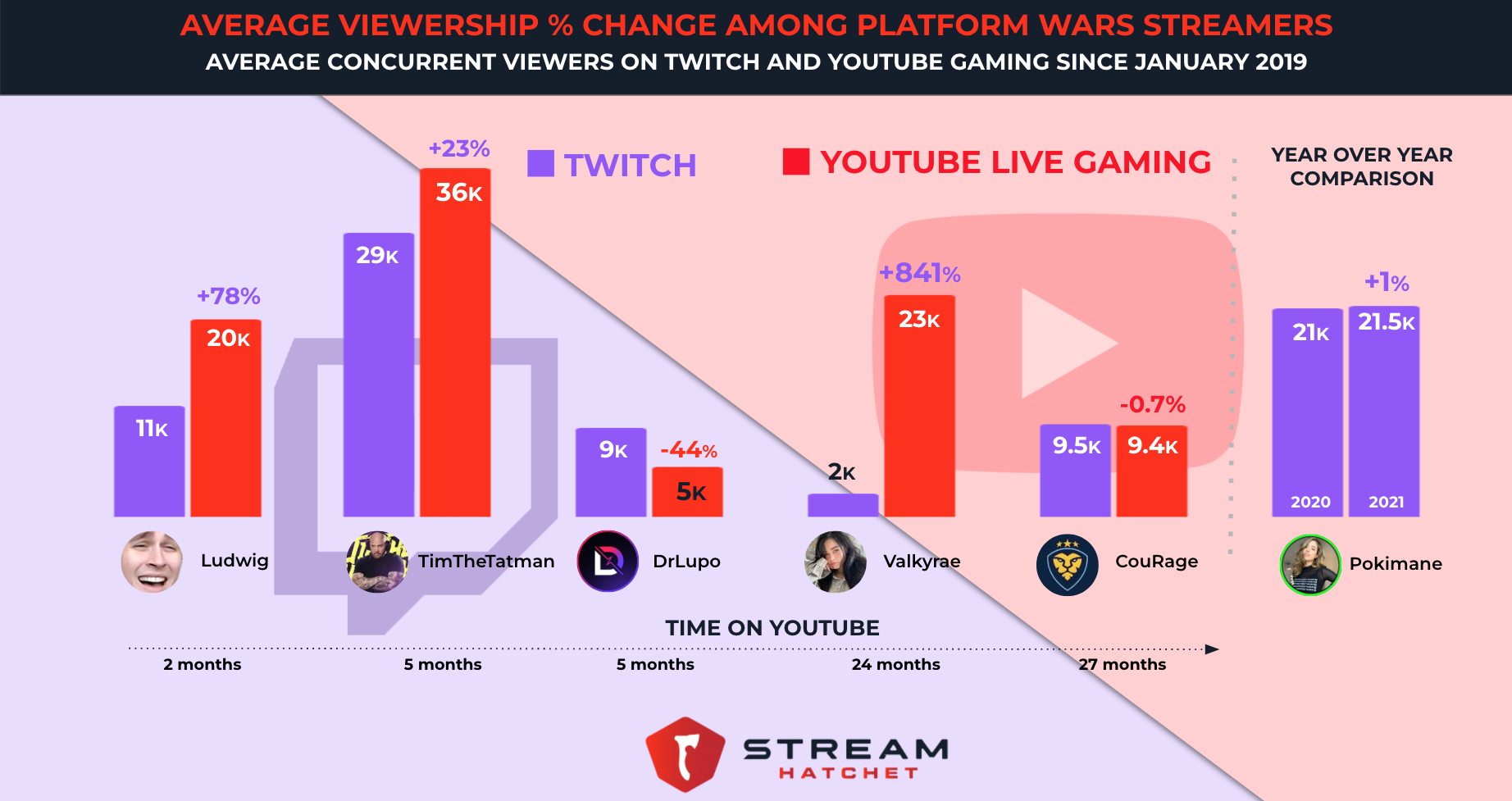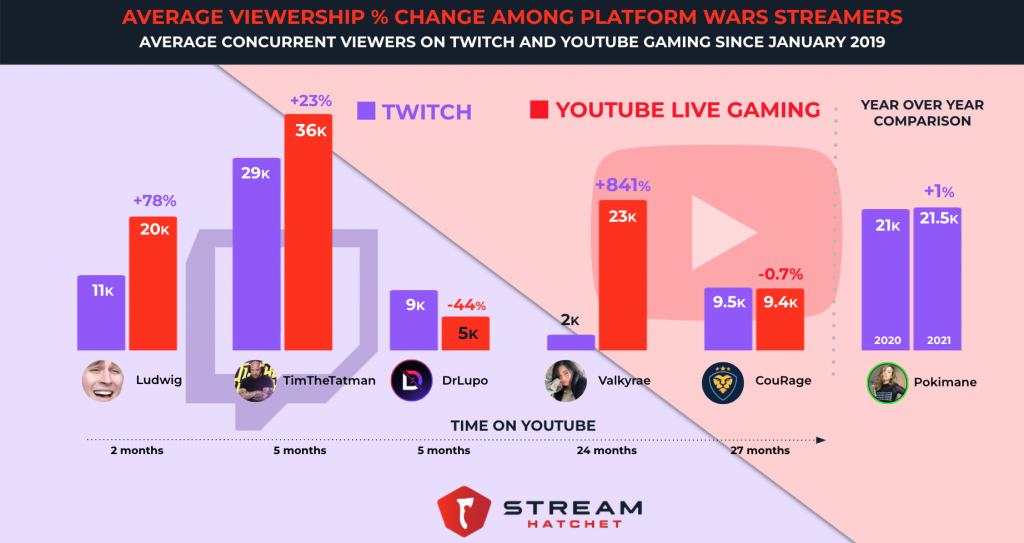 By taking an alternate look at the data and focusing on average concurrent viewership, we can see some changes. Valkyrae still garnered the highest percent change in viewership, but Ludwig and TimTheTatman's average viewership have both increased since their switch to YouTube Gaming.
It's hard to say whether Pokimane would have increased her viewership if she had switched to YouTube Gaming. However, for some streamers, the switch was a no-brainer. It will be interesting to track the performance of channels newer to the platform over time.
For more insights delivered directly to your inbox weekly, subscribe to the Stream Hatchet newsletter or visit our blog page.