Stream Hatchet is pleased to release our latest, "Q2 2021 Live Streaming" report. Although the rate of growth in live streaming viewership is beginning to decline, the industry as a whole has increased by an average of 49% in 2021 compared to last year. Additionally, all three major live streaming platforms, YouTube Gaming, Facebook Gaming, and Twitch saw an increase in weekly hours watched with a combined total of 9B hours watched in Q2.
Stream Hatchet's full report highlights some growing live streaming trends seen this past quarter, and how they impact the live streaming industry going forward.
Is Twitch The New Radio?
One of the biggest growing trends this past quarter was music live streaming. When the global shutdown put a pause on live events, music was one of the industries that utilized live streaming platforms to adapt to virtual audiences. It was so successful that Twitch created a "Music" category. The communal, interactive nature of live streaming provides the audience with real time engagement, like listening parties.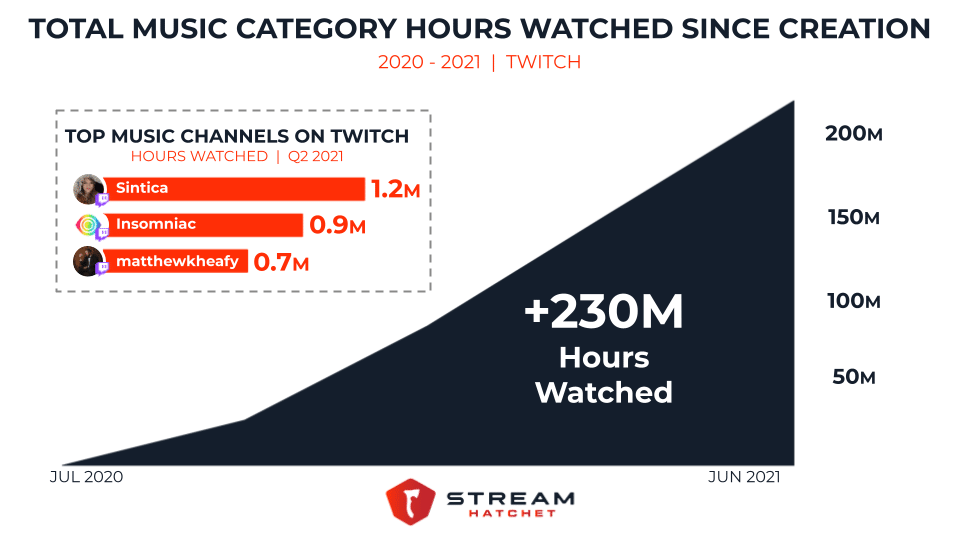 Since the creation of the "Music" category on Twitch, channels have generated a total of over 230M watch hours.
The top Twitch music channel of Q2 2021, Sintica, generated 1.2M hours watched.
Some of the most popular Twitch music channels, like Monstercat, are 24/7 radio stations that help promote small artists of a certain genre.
The Future Home For Traditional Sports
Twitch is quickly becoming a viable place where viewers can tune in to watch their favorite sports leagues. Twitch's partnerships team has been hard at work to bring major sports leagues to the platform, helping to increase the "Sports" category hours watched by 82% from Q1 2021.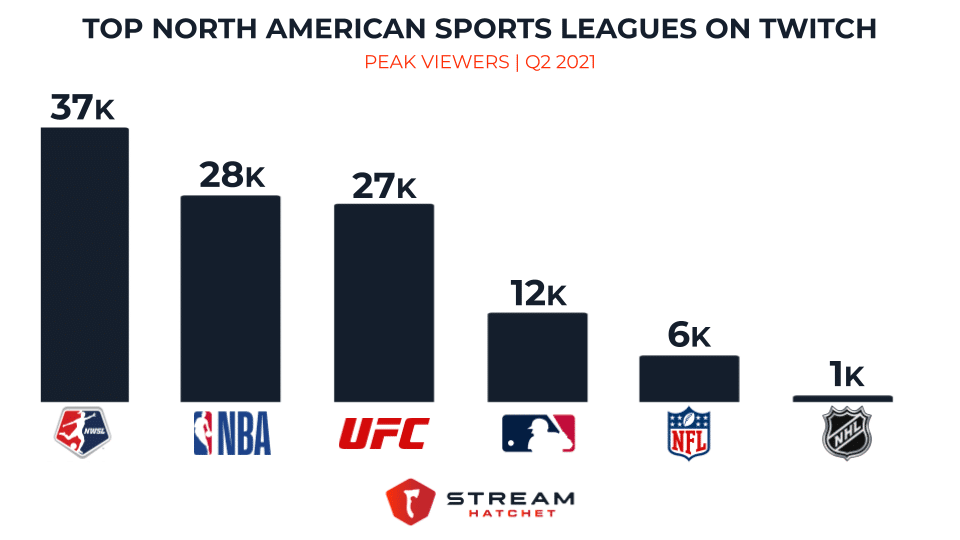 The top league by peak viewers in Q2 2021 was the National Women's Soccer League reaching 37K peak viewers during the North Carolina vs Louisville matchup.
The NBA placed a close 2nd by utilizing co-streaming tactics. They have been broadcasting playoff games on Twitch in partnership with Brazilian streamer Gaules.
While the NFL placed 5th in Q2, the return of Thursday Night Football could see the league pull ahead. Previously the NFL has co-streamed in partnership with NICKMERCS and TimTheTatman.
Co-Streaming: Trend or Staple?
Similar to traditional sports leagues, esports leagues have recently been testing the use of co-streams. Co-streams are the authorized rebroadcasting of an event while providing live commentary, offering new and exciting perspectives on live competition.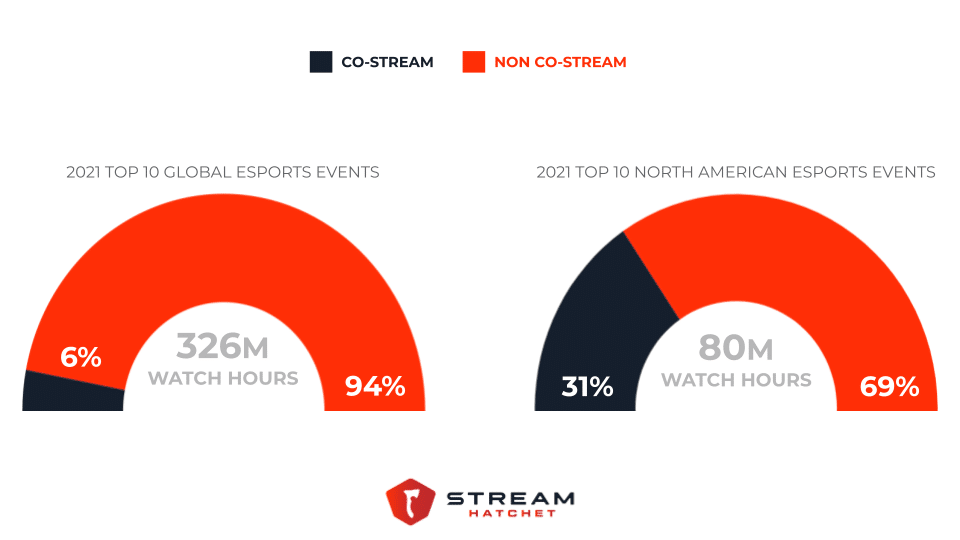 About 31% of the hours watched of the top 10 Q2 North American esports events came from co-streaming channels.
Year-over-year, co-streaming watch hours have increased by 5 percentage points.
Download Stream Hatchet's "Q2 2021 Live Streaming" report, to get a more in-depth look at more growing live streaming trends.