Tony the Tiger, the 70-year-old mascot for Kellogg's Frosted Flakes, got a facelift this month when he was transformed into a VTuber.
On Friday, August 19th, Tony made his VTuber, or Virtual YouTuber, debut on Twitch in the "Cereal Bowl of Gr-r-eatness." He was joined by Twitch streamers Brennon 'GoldGlove' O'Neill, Chrissy Costanza, Jakeem 'BigCheese' Johnson, and Khleo Thomas, and the group competed in friendly rounds of Fall Guys during the 2-hour stream. They interspersed the gameplay with discussions around Kellogg's new Frosted Flakes flavors, even digging into a few bowls of cereal on stream for an "ASMR ad break."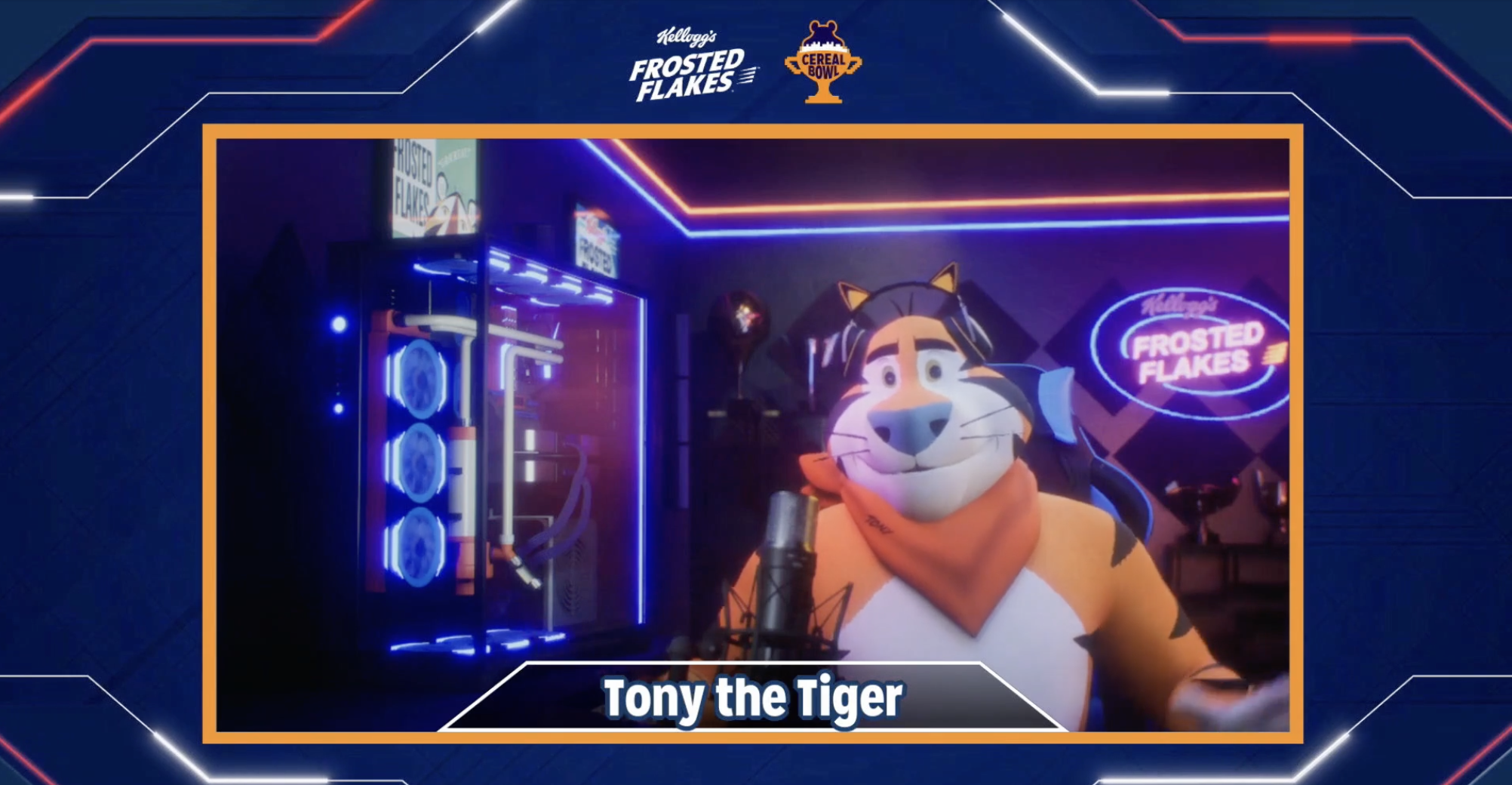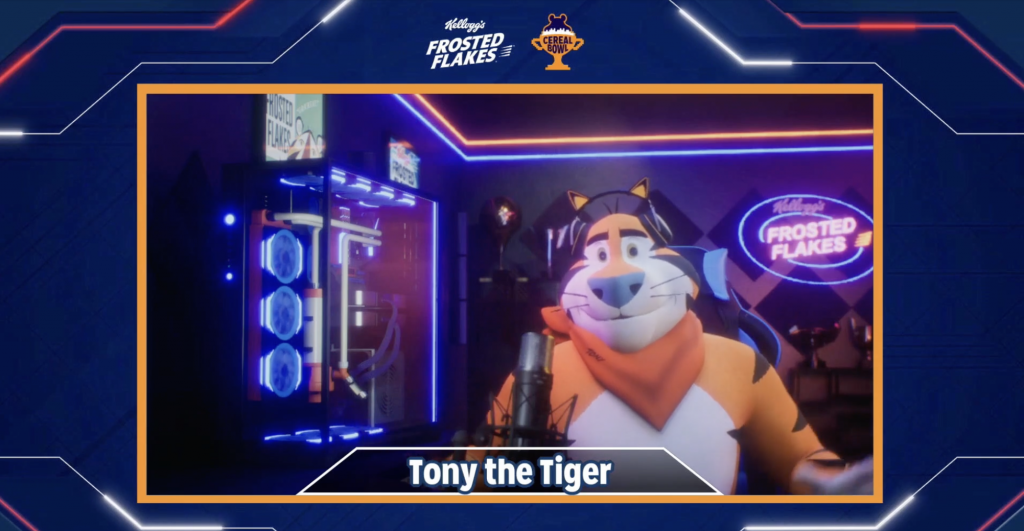 Tony the Tiger's Stream Performance
After his first live stream, Tony the Tiger has just under 7k followers on Twitch. During his debut stream, Tony garnered 17.7k hours watched and hit a peak of 14.5k viewers. Additionally, his viewers were engaged with the stream, sending over 10k chat messages. The stream's chat engagement rate was above average, at just under 20%. The average chat engagement rate for the top 1000 Twitch channels in Q2 of this year was just 16%.
The four live streamers who joined Tony during the Cereal Bowl stream all ate different flavors of Frosted Flakes, and helped boost chat engagement by running polls and a competition during the stream. Viewers who participated in these polls were entered to win boxes of cereal.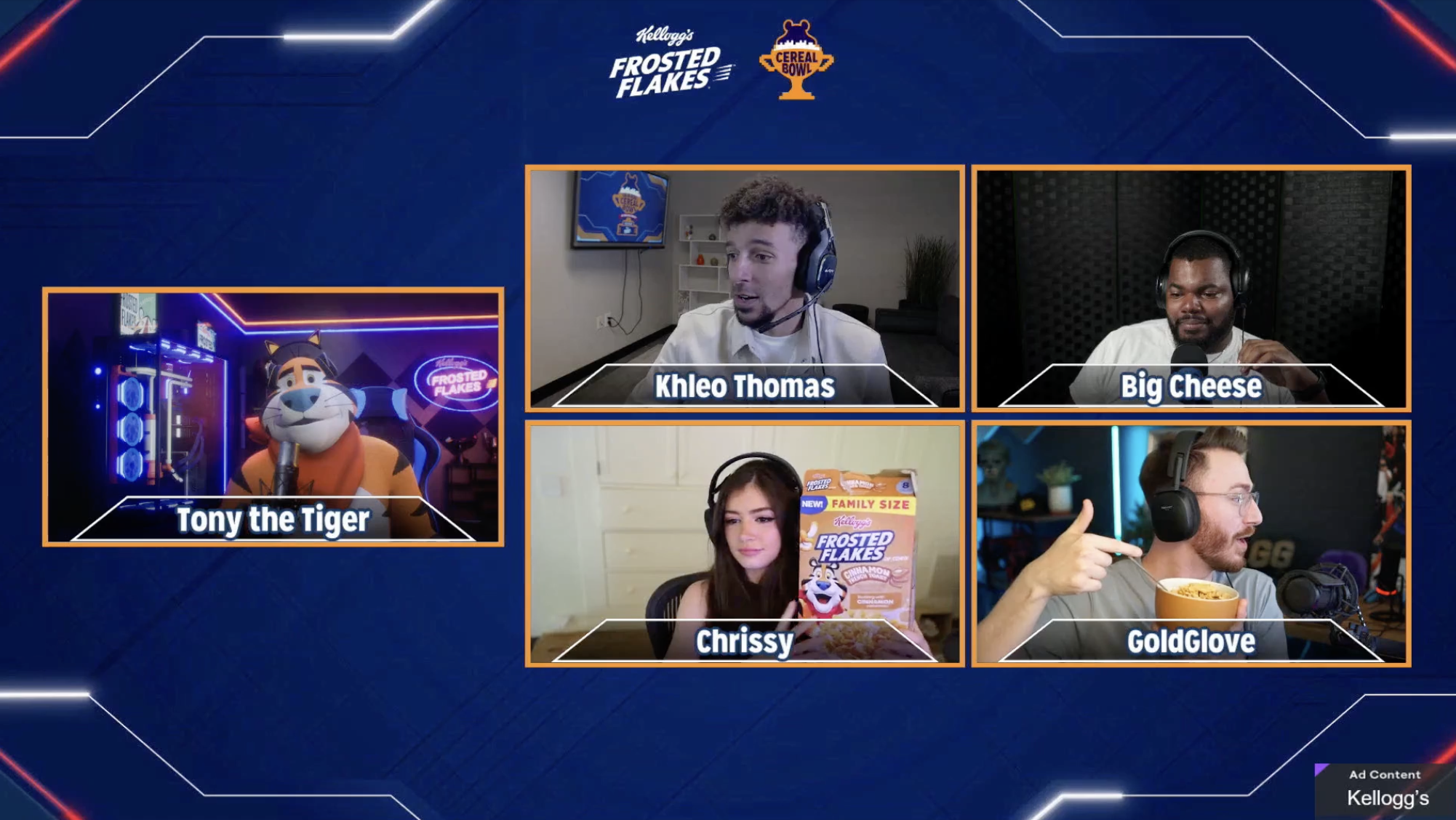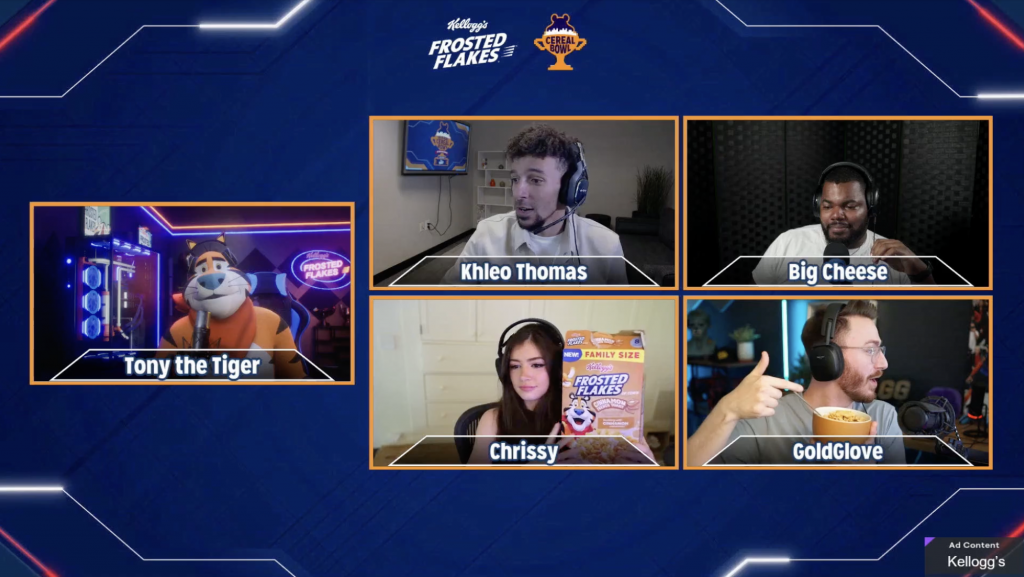 It makes sense that a brand as large as Kellogg's would want to step into VTubing. The trend is growing rapidly and attracting more streamers and live streaming viewers. In 2021, hours watched for the top 15 VTubers grew 113% from 2020.
Branded VTubers Are Popping Up
Kellogg's is also not the first brand to get its own VTuber; Crunchyroll, MSI, AirAsia, Sanrio, and SEGA all have their own virtual characters streaming and promoting their brands on YouTube. All of these VTubers made their debut in 2021. However, all of these companies are based in Asia, where VTubing and anime originated and already have a base following. Netflix has its own VTuber, N-Ko, however she only streams on Netflix's Anime YouTube channel and caters to an audience that is most likely already familiar with VTubing.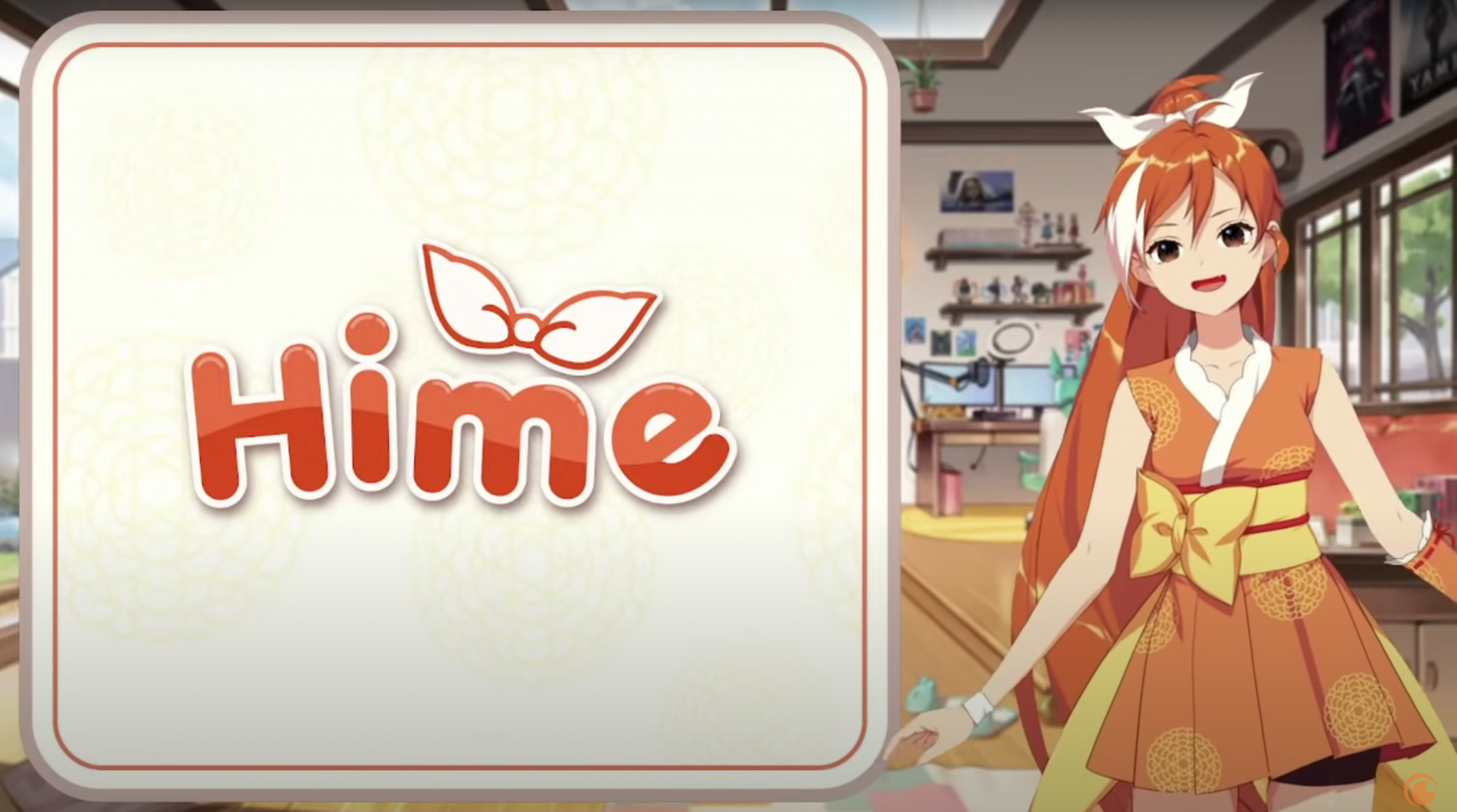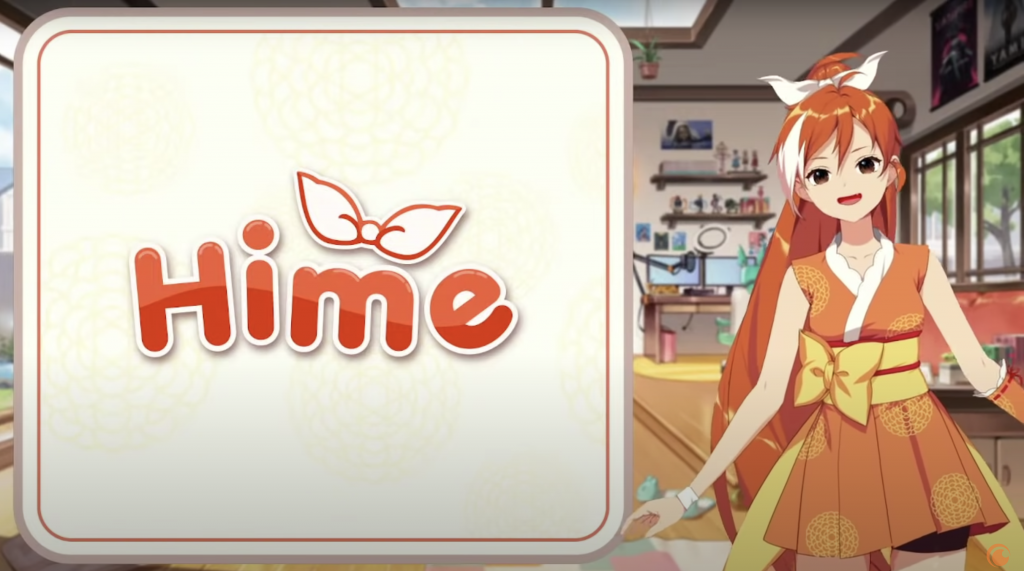 Kellogg's might have been one of the first Western brands to attempt VTubing, and they saw some pretty good success. 20% of unique registered viewers chatting during the August 19th live stream shows that fans were engaged in the content and interested in chatting with the streamer. During the stream, Tony asked chat questions and responded to theirs, giving shoutouts with his famous "Grrrrr-reat" tagline.
Will More Brands Head to VTubing and the Metaverse?
As Tony prepares for his next stream, it will be interesting to watch how Twitch fans respond. Will more people tune in to watch the newest VTuber? And will other brands look to copy Kellogg's and create their own unique virtual character to stream their own content? Tony's entrance into the virtual streaming world hints at a blending of live streaming and the metaverse, and shows the potential for branded opportunities in the virtual world.
As other brands look to VTubing and the metaverse, it's also key to look at the importance of content creators and influencers for promoting your product. Bringing in other popular Twitch streamers to participate in a live event or compete in a small tournament is a great way to bring in their viewers and expand your brand's network. It also gives the brand's VTuber someone to bounce off of and engage with, helping to make the activation more authentic.
Interested in putting together a team of influencers to promote your brand? Want to measure the impact of your VTuber in live streaming? Try out Stream Hatchet's Essentials Dashboard free for 7 days!