Online gambling has seen a considerable rise in popularity in the last few years on live streaming platforms, drawing in huge audiences. Slots and poker are the two most popular types of gambling live streamed on Twitch.
At the beginning of the pandemic, people stuck in their homes started turning online for entertainment. Subsequently, live streaming hours watched increased considerably over the course of 2020 and 2021, rising 82% from 2019 to 2020 and another 21% from 2020 to 2021.
Gambling live streams also increased over the course of the pandemic. In 2020, total slots and poker hours watched sat around 224 million hours watched. In 2021, that number increased 57% to 352 million hours watched.
That number continues to rise into 2022 even as consumers have started resuming pre-pandemic habits. In the first two quarters of 2022, Twitch viewers have watched 244 million hours of online gambling streams, more than all of 2020.
In Q2 of this year, slots was the 14th most popular streaming category across all live streaming platforms with 113 million hours watched. Poker was #65 with 14.7 million hours watched.
Even as live streaming hours watched has started to settle, content creators have tapped into the addictive qualities of gambling and push the genre on live streaming.
Gambling Companies Partner With Streamers
As online gambling has continued to reach more and more consumers, some gambling companies such as Stake and PokerStars have extended their reach on Twitch. Stake has partnered with some of the biggest streamers including xQc, AdinRoss, and TrainwrecksTv to further push gambling content. PokerStars also often hosts online gambling tournaments which streamers host and commentate on.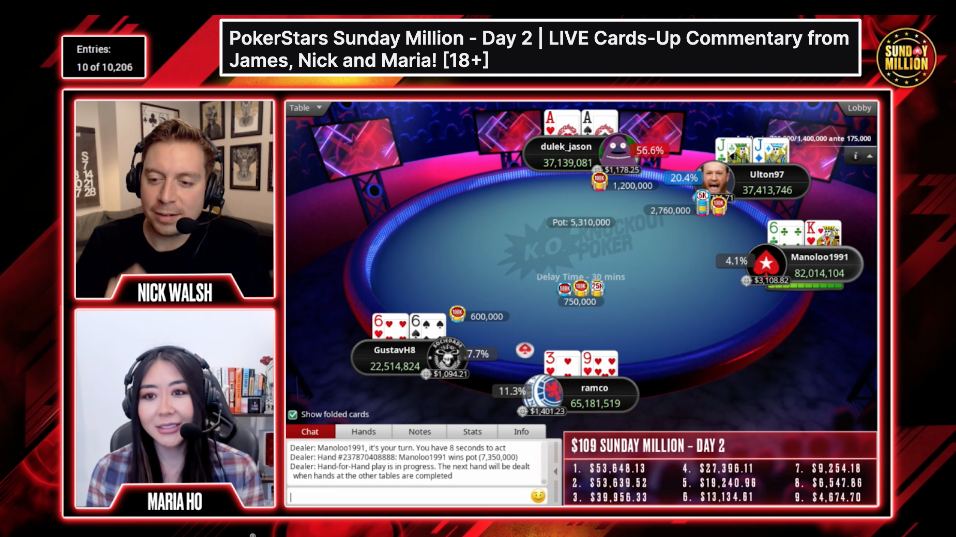 These content creators spend thousands of dollars on slot machines and other games to entertain their fans, and get a ton of viewership doing it.
Trainwreckstv Leads Slots Leaderboards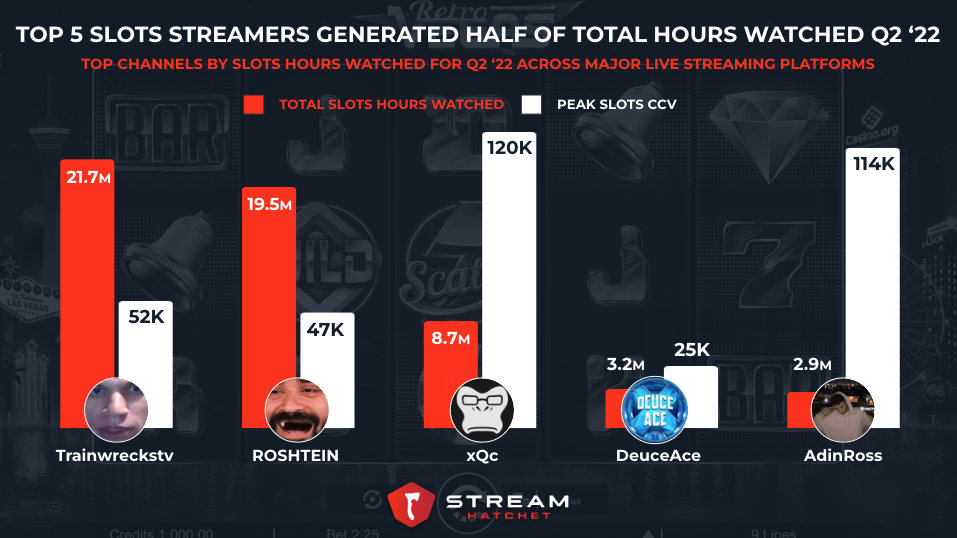 Trainwreckstv is currently the biggest slots streamer on Twitch and had 21.7 million hours watched for Q2 2022. He consistently does partnership streams with Stake playing slots online. While his peak viewership isn't near the top with 51.5k peak viewers in 2022, his long, consistent streams continue to entertain and bring back fans.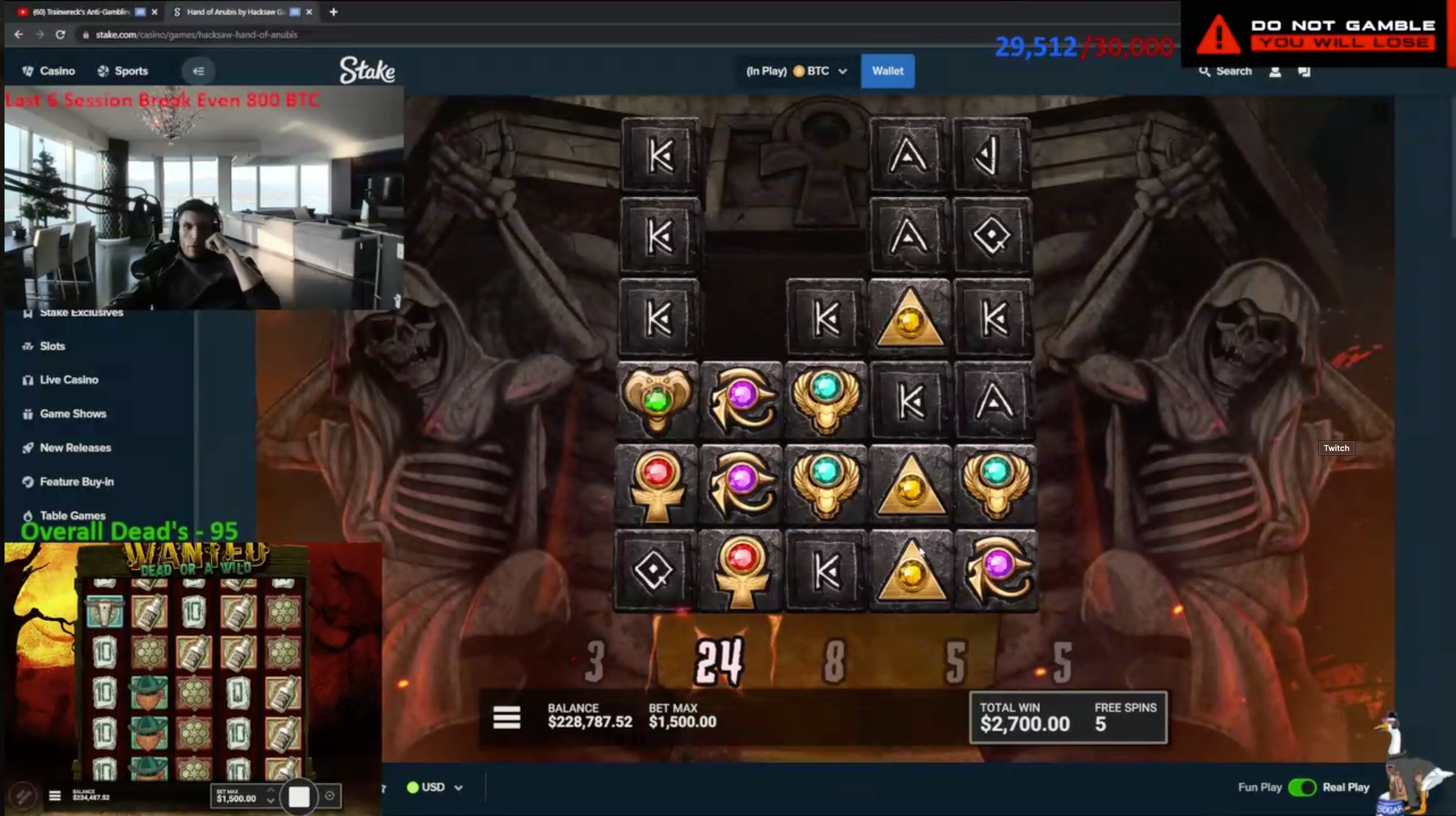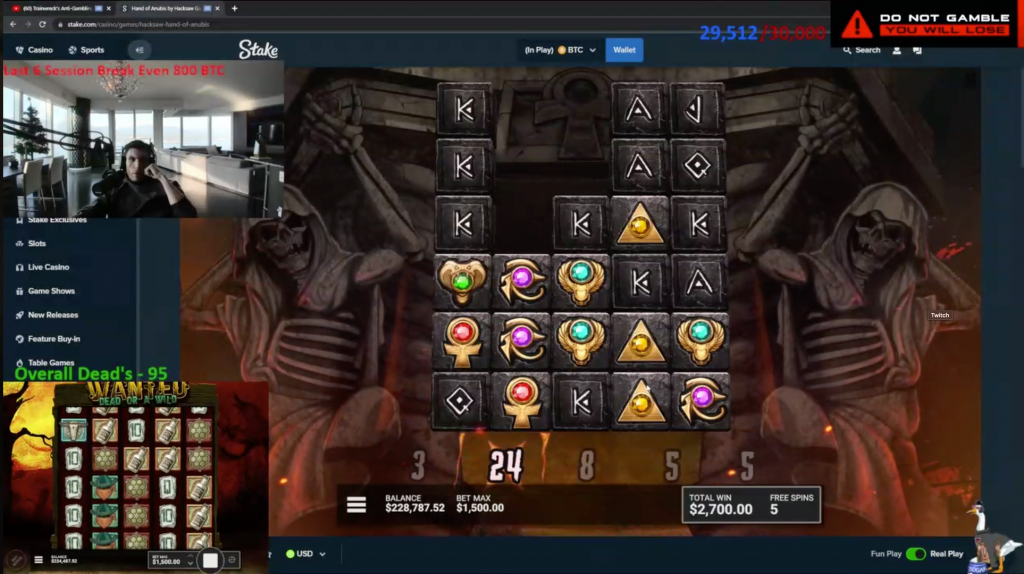 Roshtein, a Swedish slots streamer, has been active in the online gambling community since 2016. He had the second highest hours watched last quarter at just under 20 million hours. 
While xQc didn't have the highest hours watched last quarter, his slots streams hit the highest peak concurrent viewers at 120k. xQc is currently one of the biggest Twitch streamers with over 11 million followers and is able to bring a large audience to any of his streams. Slots was his second-longest streamed category in Q2 with 115 hours aired. 
DeuceAce and AdinRoss had 3.2 and 2.9 million hours watched, respectively, of slots in Q2 as well.
Online gambling companies partner with live streamers to reach thousands of potential new customers, offering sign-up incentives for viewers. The increase in sponsorship over the last few years has helped to boost online gambling's presence in live streaming and it hasn't shown signs of stopping yet.
---
Learn how you can get live streaming insights like these using Stream Hatchet's Essentials platform. Get a free trial here: