GTA V has sold over 185 million copies worldwide since its release in 2013 and made 7.7 billion dollars, but how well does this success translate to live-streaming? Since Q2 2016, Grand Theft Auto V (GTA V) has accumulated almost 8.1 billion hours watched across Twitch, Youtube Gaming, Facebook Live, AfreecaTV, Rooter, Trovo, Mildom and Nonolive. On September 17th, 2023, the action-role playing game will turn 10 years old; Amazingly, it has remained relevant and cemented its position as one of the top offerings in the live-streaming industry, placing third in the most recent quarter of Q2 2023.
What has been the success behind GTA V and Rockstar?
Twitch has been around since 2011, and YouTube for longer than that, so as soon as the game was released on most consoles, content on GTA V started being uploaded to the internet. With its amazing open-world, and gigantic map, creators had ultimate freedom to record or stream endless hours of GTA V's gameplay. And this is before even trying GTA Online, which is the main reason for the game's success over the years, with Rockstar releasing content for online players to enjoy every now and then.
According to Stream Hatchet's data, since 2016, the game's viewership has grown quickly and in Q2 2021, the game's viewership peaked at 874 million hours watched. The record was set for highest hours watched, and hasn't been broken for any game across the three primary live-streaming platforms and dethroned Just Chatting from the top spot. From that point on, the game remained in second place behind the Non-Gaming category for 6 straight quarters, becoming the most watched game on live streaming for almost 2 years.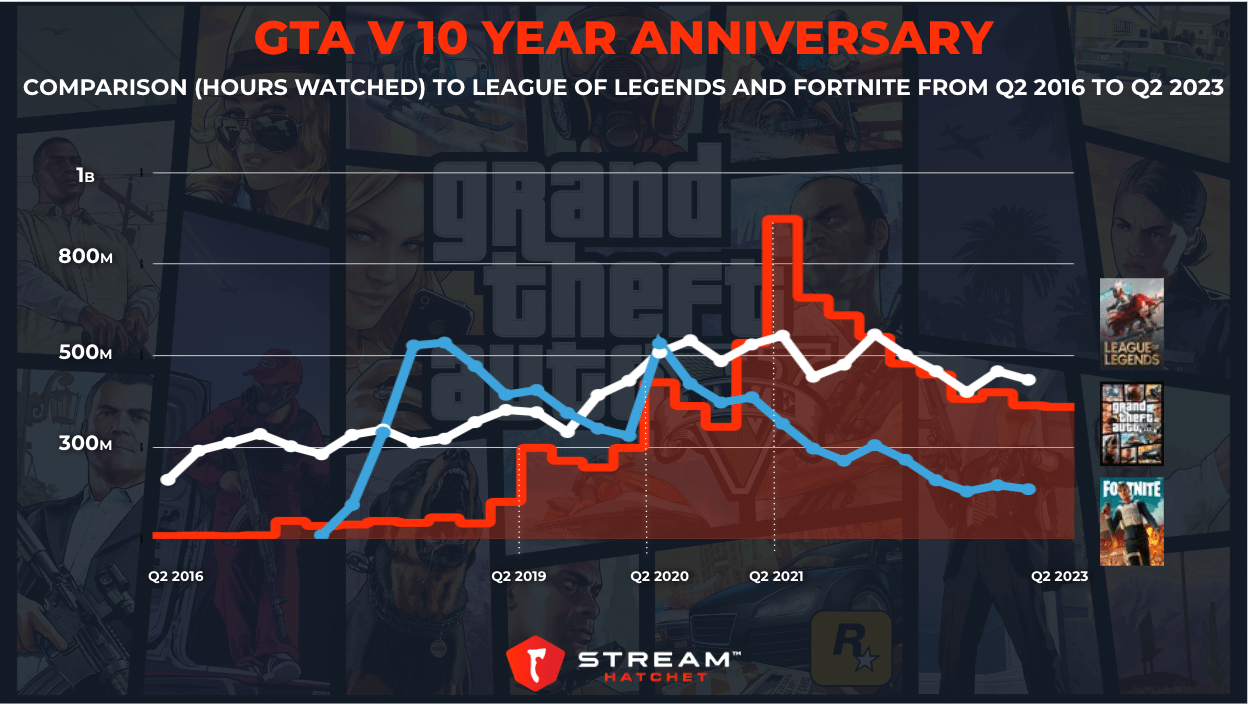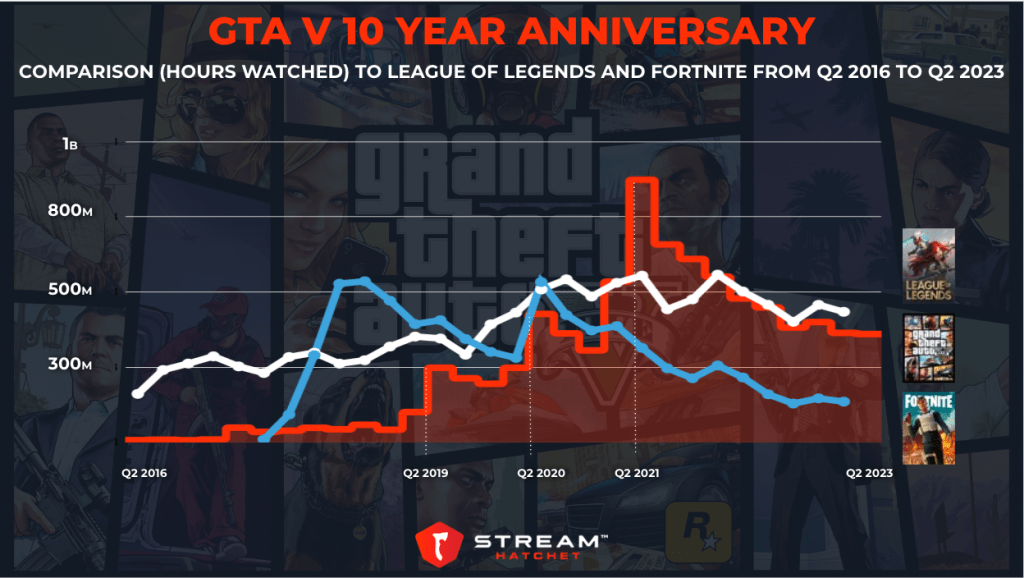 When the game was at its most popular in Q2 2021, many well-known streamers dedicated time to it, and xQc produced 7% of the game share in that quarter. Also during this quarter, the private server series Marbella Vice brought the Spanish community together to role play.
Since then, the live-streamed airtime of the game has remained constant, with the game's top streamers serving as influencers. For instance, the game's top creators of 2023 include the gamers such as fps_shaka and loud_coringa, who both ranked among the top 10 overall creators for the second quarter of 2023.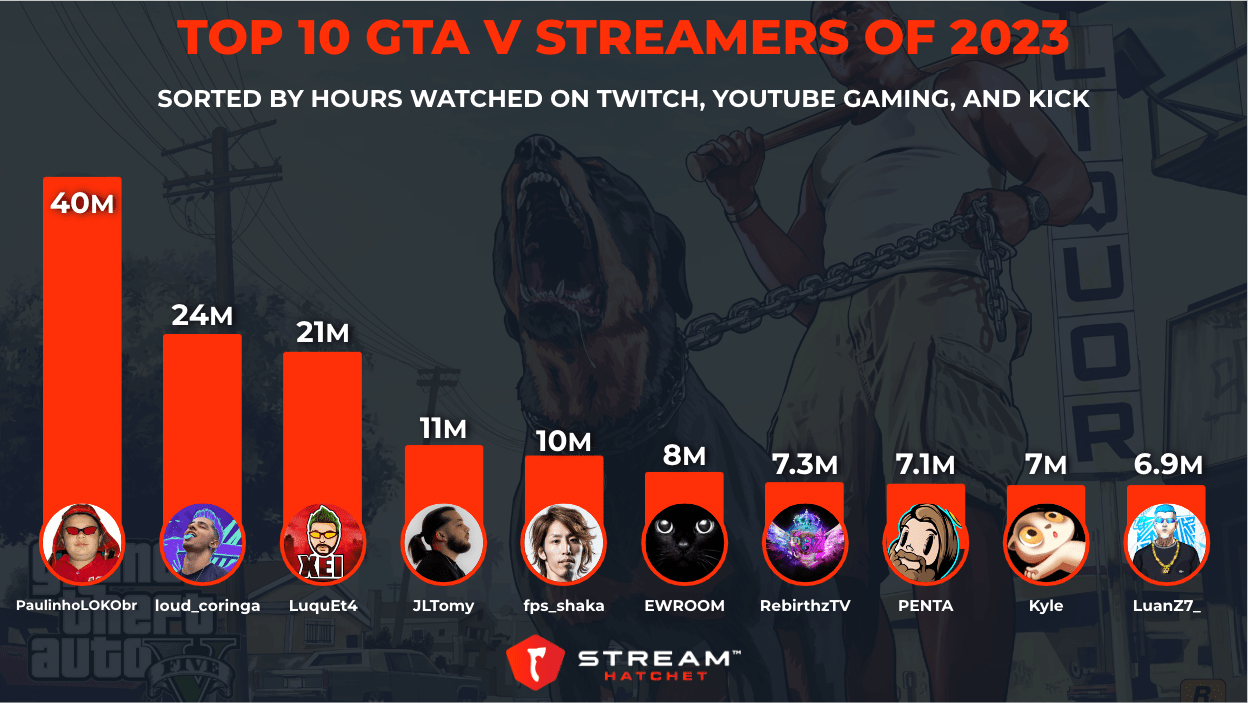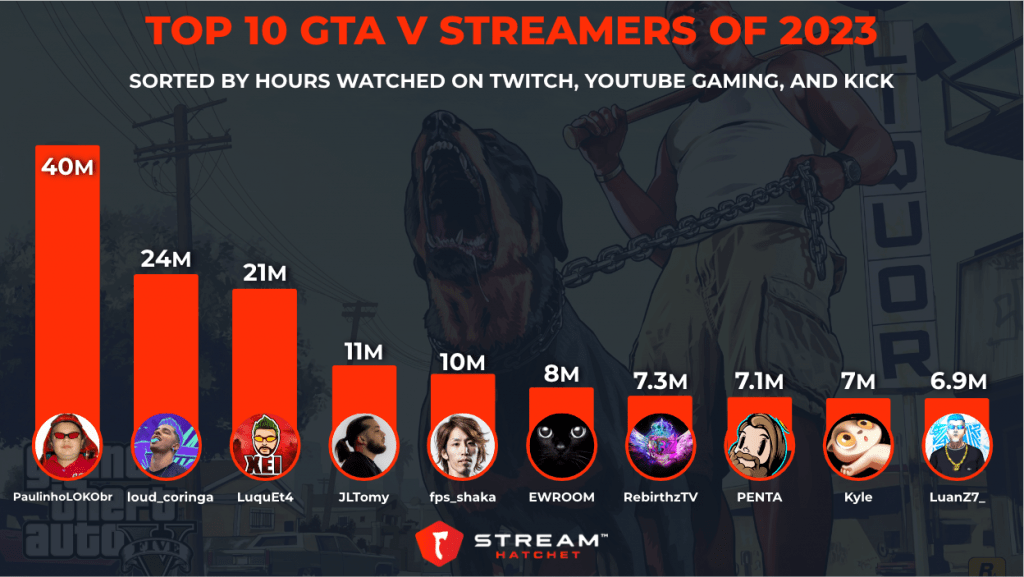 Role playing and private servers are the heart and soul of GTA V in 2023, helping many creators increase their audience. PaulinhoLOKObr, for instance, saw over 39 million and so nearly 96% of their hours watched come from role playing. GTA V's role-playing functionality offers streamers and viewers countless hours of entertainment. fps _shaka has been one of the top streamers for GTA V this year, mostly due to his participation in the popular Japanese VCR server.
Despite a decline in overall viewership, the percentage of hours watched through role play streams, which was 14.5% in Q1 2022, has steadily increased and stabilized. More than 85 million hours were spent watching these role playing streams in the most recent quarter of Q2 2023, accounting for 23.4% of the game's market share on Twitch, YouTube-Gaming, Facebook Live and Kick. 
In 2023, a viewer of GTA V on Twitch spends a monthly average of almost 14 hours watching the game, which is 1.5 hours greater than a viewer of League of Legends and 6 hours greater than those watching Just Chatting.
Despite viewership falling by 17% compared to Q2 2021, which is a trend seen across live-streaming in general (-22.6%), the game will not be going anywhere soon. The lengthy viewership of dedicated fans, combined with limitless possibilities of the role playing servers and streams of the most popular streamers in the industry, the game will still continue to dominate the market.
Here at Stream Hatchet, we are wondering if the rumours for GTA VI are true or not, and if the game will have an impact similar to GTA V. What is Rockstar preparing for us data-driven gamers?
Wanna keep up to date with all the live streaming analytics when the surprise for GTA VI comes?
Then sign up here to receive free data with a Stream Hatchet Account: