The newest live-streaming platform on the market, Kick, has been gaining traction among creators with their desirable 95/5 revenue split. Recently signing Twitch top creators, xQc and Amouranth, to non-exclusive deals has helped the platform gain considerable attention in recent weeks.
So far in his first 11 days post-Kick deal, xQc has streamed 10 of those days, both on Twitch and Kick. His average viewership on Twitch was 62.4K viewers, but in the same time period on Kick, his numbers were slightly depressed at 48.1K, a drop of 23%. His peak viewership hovered around the same metrics, with 88.2K on Twitch and 86.6K on Kick.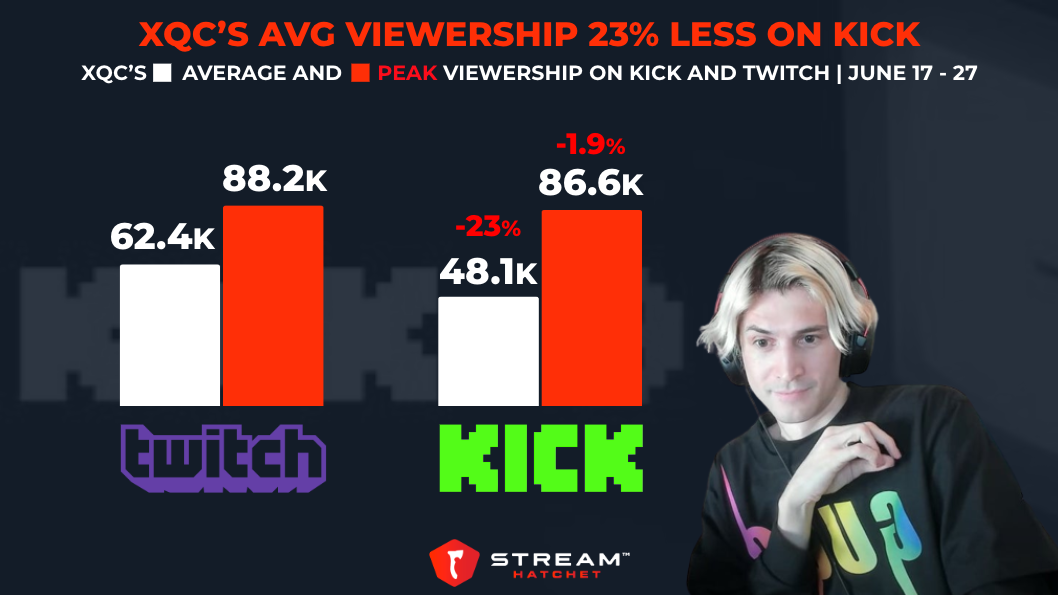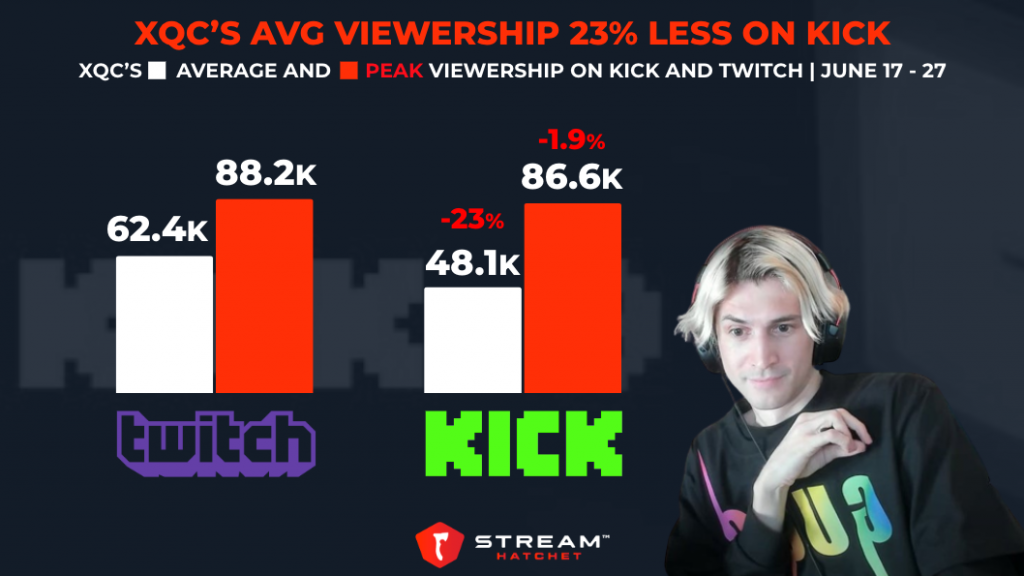 Despite this decrease in average viewers, it must be noted that this was only his first 10 days of streaming on the new platform. Monitoring his performance in the coming weeks and months will be interesting to see where viewers go to watch xQc and other creators, to see if they can attract more viewers to the Kick site.
xQc's hours watched on Kick have been more than Twitch, however the creator has been streaming much more on Kick since his deal was signed. His average Kick stream across those 10 days came in at 346 minutes, while his average Twitch stream only lasted 177 minutes, or about half the time.
This difference resulted in an average of 280K hours watched per Kick stream, while his Twitch streams averaged at 178K hours watched.
Kick's Performance March – June
Despite having fewer average viewers in his streams on Kick, xQc's move to the platform may have helped boost Kick's popularity among creators. In the week xQc's deal was announced, Kick's number of unique channels streaming on the platform grew 52% to 224K channels.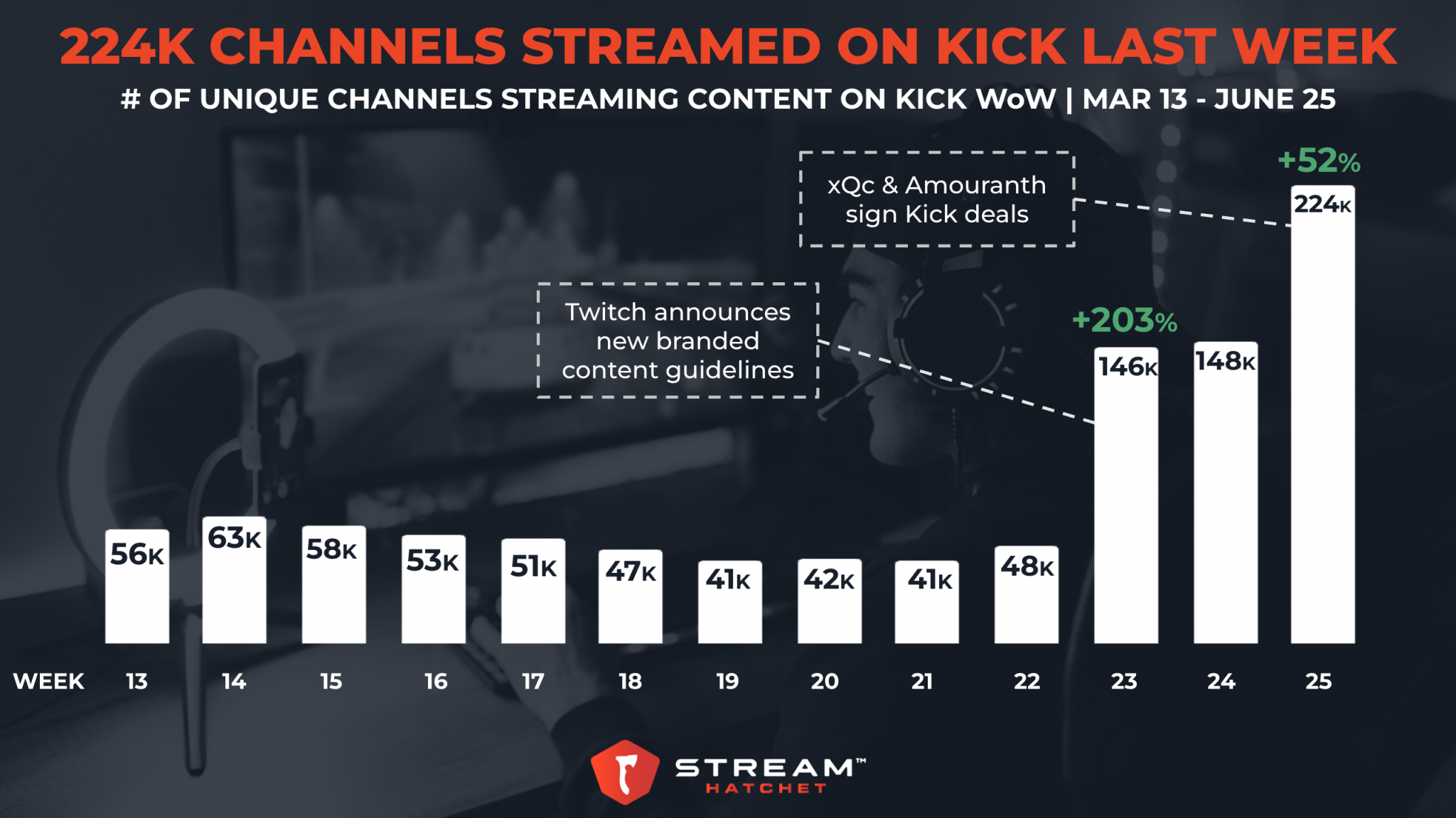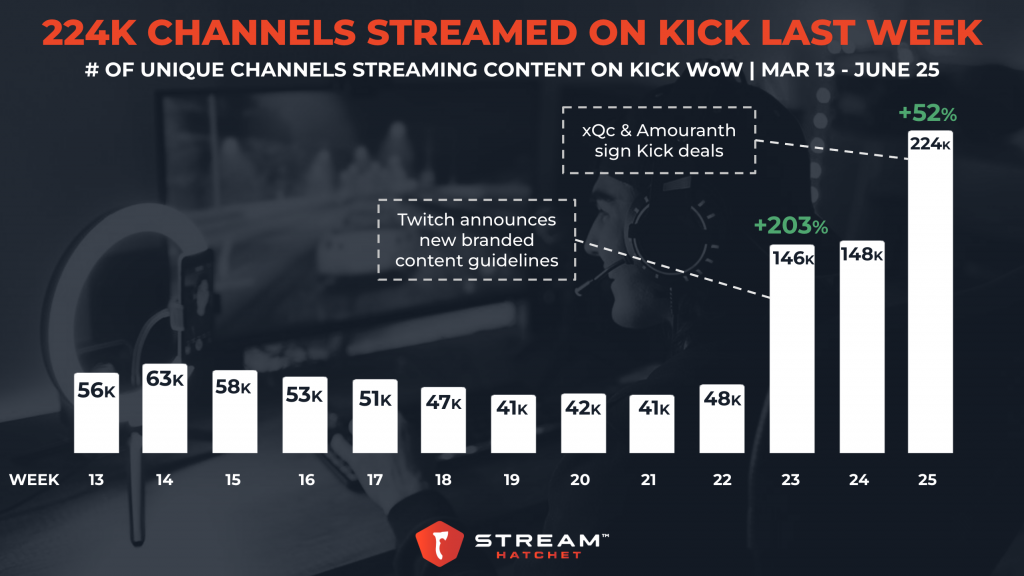 2 weeks prior, that number had grown over 200% from 48K to 146K unique channels. This was the same week that Twitch announced its new guidelines around branded content, which were reversed the following day.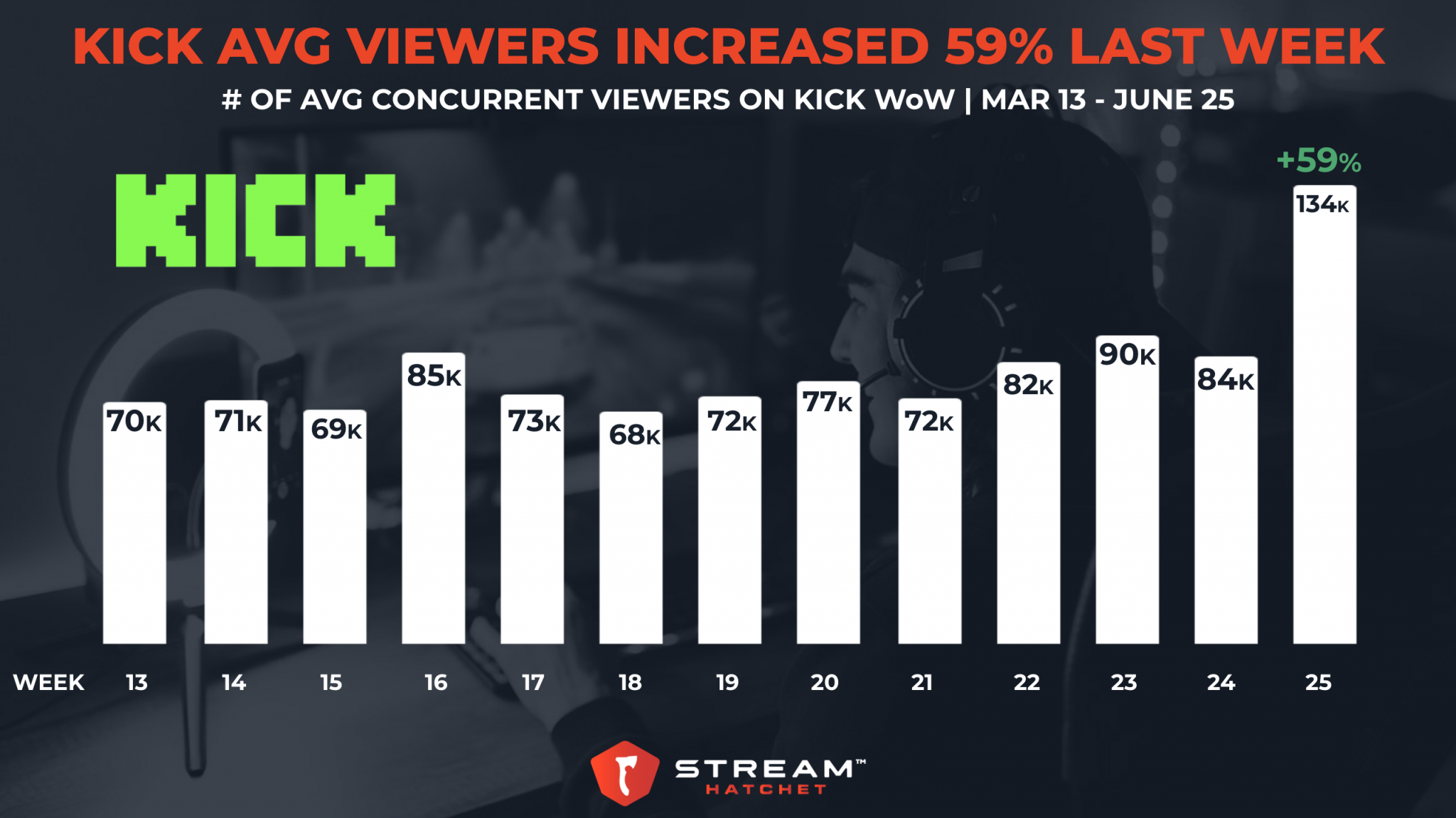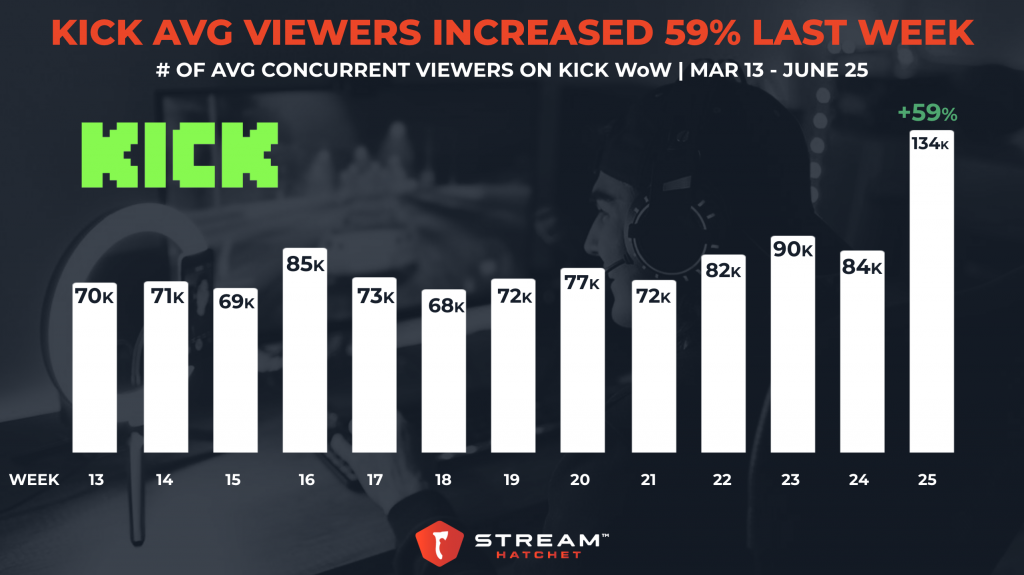 The number of average viewers last week also saw an increase of 59%, jumping from 84K to 134K. Two weeks prior, when Twitch announced the new branded content guidelines, the platform didn't see much of a bump in average viewers. This recent jump in viewership could be tied to the platform's new additions of xQc and Amouranth, among others.
For context, Twitch's average daily viewership last week was 2.47M viewers and YouTube Gaming's was 528K.
The new live streaming platform has secured its place among the top 5 platforms for the month of June (1-28) with 63.3M hours watched generated by Kick streamers. In the coming months, will it be able to attract enough viewers and creators to break into the top 3 and become a contender with YouTube Gaming and Twitch?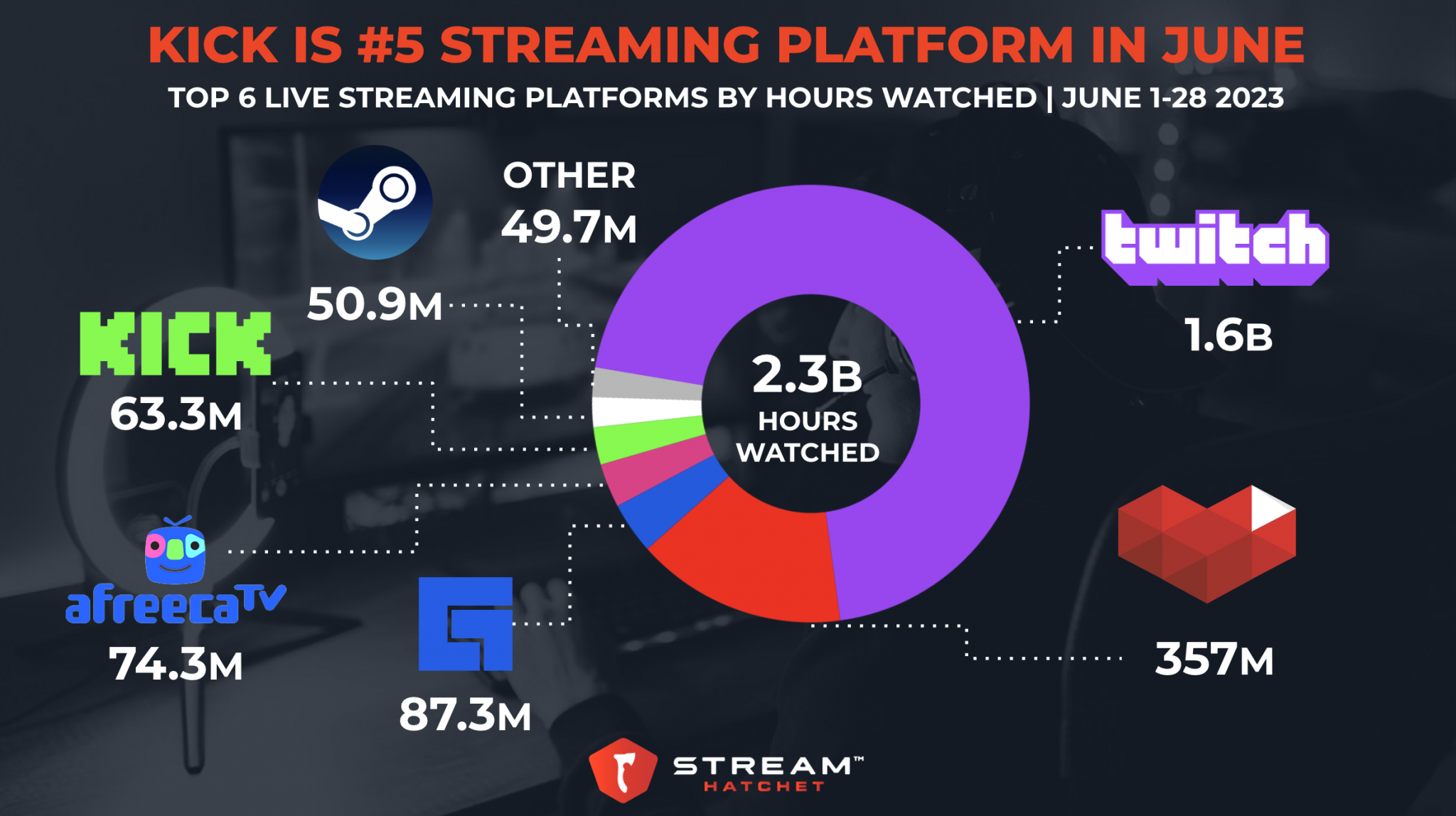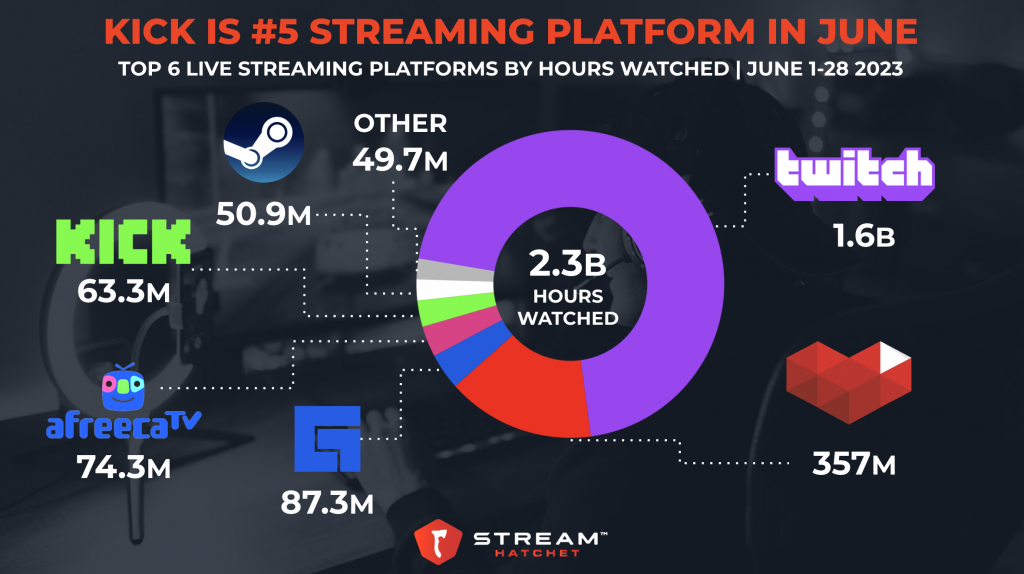 Learn how you can utilize Stream Hatchet's unparalleled data analytics platform for more insights to power your live streaming marketing strategy.