February started out strong with the insane amount of sponsored streams from EA that dominated the market. Of the top #ad streams, 17 of them were #SponsoredbyEA. Below we are going to go into the top 3 streams and contextualize the success of these campaigns.

The most ruthless competitor in the online gaming community has taken the top spot sitting at over 158k hours watched in just a 6 hour segment. DrDisrespect is no amateur when it comes to successful campaigns and if you are a brand, you will most likely seek out high production value streams, and DrDisrespect is at the top when it comes to it. EA has been known to spend a lot of money for streamers and content creators to play Apex Legends in the past so it makes sense for them to spend a good amount for their campaign around season 4. It is no surprise that DrDisrespect coming back to play Apex Legends generates a high amount of hours watched. Overall, EA struck the motherlode and dominated Twitch with their sponsored campaigns with DrDisrespect leading the charge.
Second, we have CohhCarnage sitting at 82k hours watched. This is the first time CohhCarnage has been in the top three, but the shocking factor is he was the only one who wasn't sponsored by EA for his segment or playing Apex Legends. For the week of the 2nd, Cohh's sponsored segment was the second highest stream segment for hour watched with his first stream sitting at only 508 more hours watched. On top of that, this segment was pretty popular and it was actually the top sponsored segment on February 8th. CohhCarnage is known to have success with sponsored segments and always does well with them, so expect to continue to see his name in the top sponsored streams.
Lastly, we have sodapoppin sitting at 74k hours watched. Sodapoppin usually is a variety streamer streaming upwards of 10+ games in one day. For this sponsored segment, Apex Legends was the only game sodapoppin played where he queued with other top streamers, xQC, and Lirik. Overall, EA dominated this week, and the top streamers brought in a lot of views for the new Apex Legends.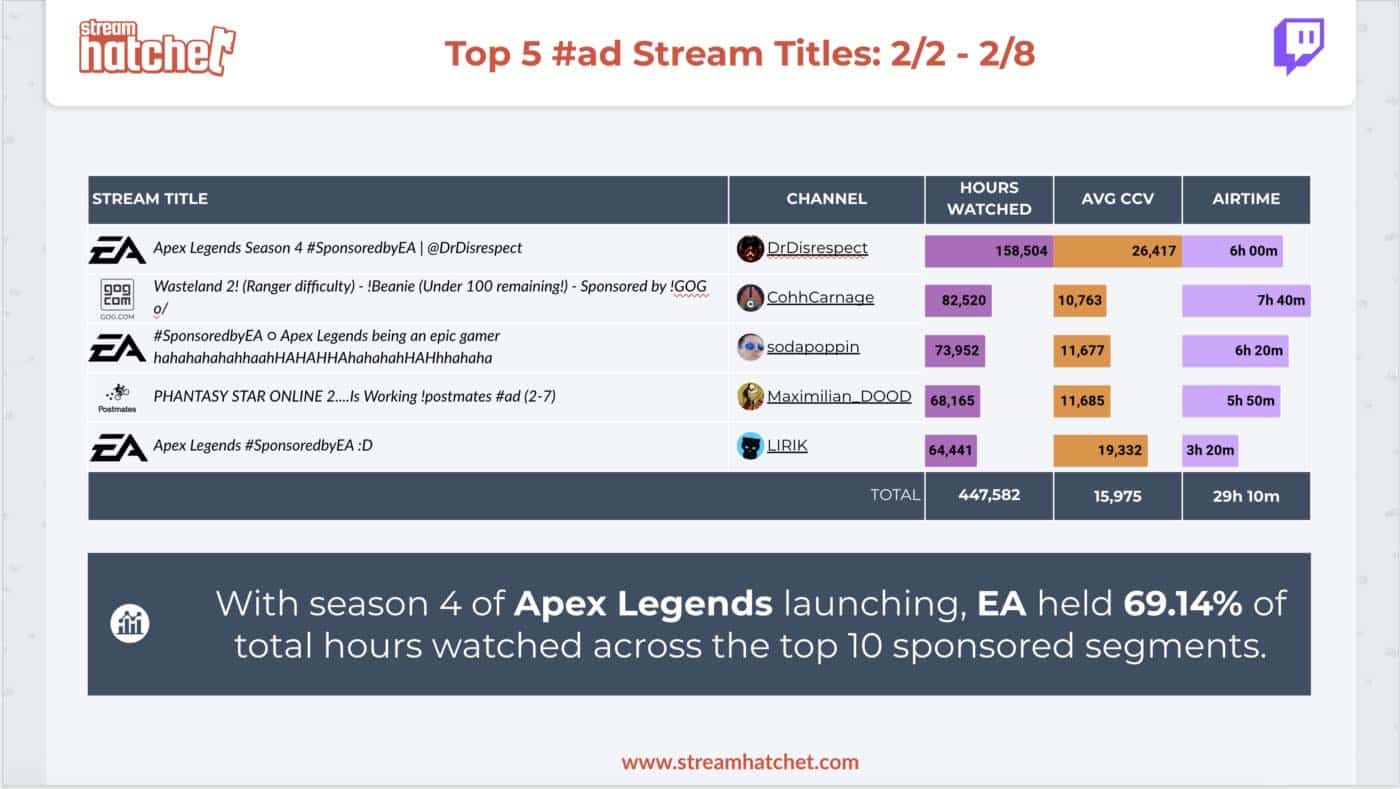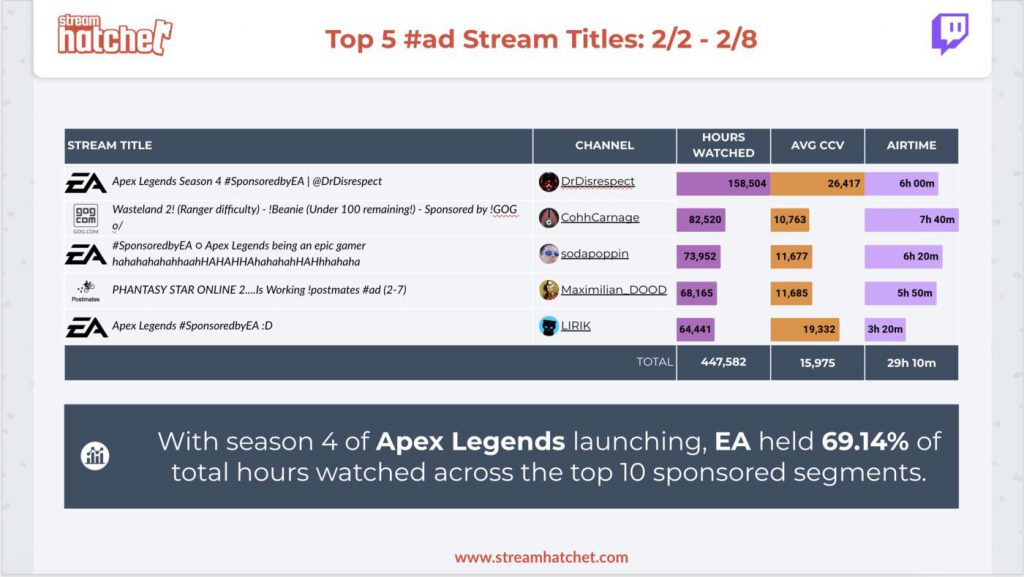 Each weekend of CDL action this season has eclipsed the 1M hours watched mark on YouTube, despite having few viewing options compared to last year.
While CWL Las Vegas in December of 2018 had by far the best viewership of any of the events this year, the 2020 season has had more consistent viewership with averages.
The second week of this season in London had a slightly lower average viewership than week one in Minnesota. However, Atlanta Faze's success in their home city attracted higher viewership averages than the opening weekend, showing improvement for the league as the season progresses.
Honorable mentions:
EA had 17 sponsored streams across the top 25 sponsored streams across all streaming platforms sitting at 652k hours watched out of 1mil.
Shroud was the only Mixer streamer in the top 25 with 48k hours watched.