Lost Ark, Amazon Game's newest MMORPG, has been breaking records across the board since its release last week. In just 24 hours after the free release, it reached the number 2 spot on Steam's top games by peak concurrent players with over 1.32 million players.
On the live streaming side, a similar story can be told. On the early release day of the Lost Ark paid content, peak live stream viewership across all platforms hit 1.34 million viewers. While viewership declined slightly after that first day, it picked back up over the weekend. Viewership hit over a million concurrent viewers on Friday, the Steam release of the free game. That viewership remained high throughout the weekend, hitting just under a million peak concurrents the next day as well. 
Lost Ark is Amazon Game's second entry into the MMO market. Their first release, New World, came out in 2021 and also saw great success for both players and live stream viewers. Currently, it sits at #5 peak players on Steam, and on its first day of release it hit just over a million concurrent viewers across Twitch, YouTube Gaming, and Facebook Gaming. However, Lost Ark has outperformed New World in both player counts and live streaming viewership in its first week. Amazon Games is proving to be a worthy competitor in the MMORPG market.
Asmongold Dominates Lost Ark Viewership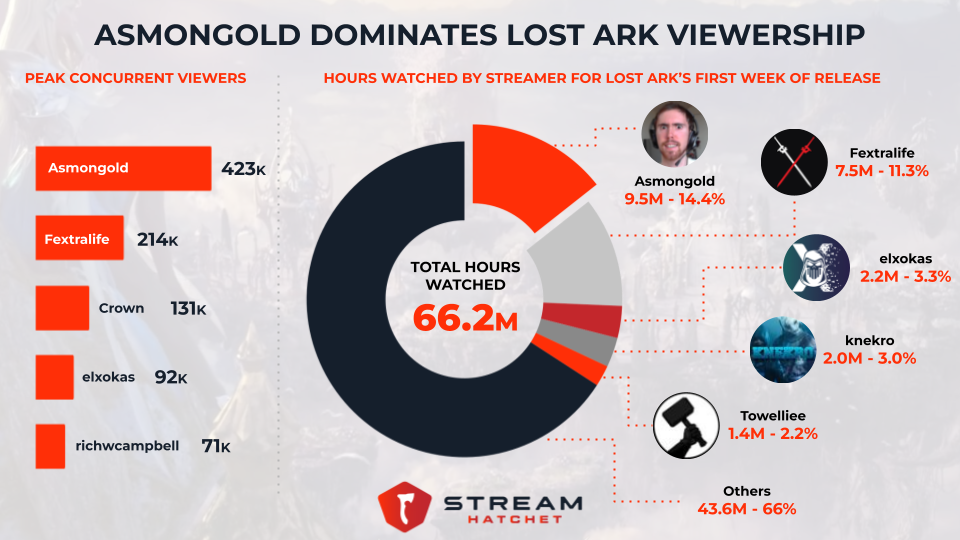 Asmongold was the top live streamer for last week's release of Lost Ark. He had 9.5 million hours watched, or 14.4% of the total hours watched from last week. Close behind was Fextralife with 7.5 million hours watched. Elxokas, knekro, and Towelliee are the next top streamers of Amazon's newest MMORPG with 2.2, 2.0, and 1.4 million hours watched, respectively.
Asmongold also broke his own record for peak concurrent viewers last week, with 423,000 viewers. That number is almost double his previous record, set back in June of last year. Fans were obviously excited for Asmongold's return to Twitch after about a 4 month break to take care of his mother.
Lost Ark got an extremely positive response from the Steam charts and live streaming data from the first week of release. Will Amazon Studios continue to focus on the MMORPG category in the future? Has Lost Ark set a new standard for MMOs?
For more insights in your inbox, sign up for our weekly newsletter.