On April 25th the closed beta for Ubisoft's latest arena shooter XDefiant concluded after generating 7.3M hours watched across major live streaming platforms.
What is XDefiant
XDefiant is a free-to-play first-person shooter that was developed and published by Ubisoft. Ubisoft was able to leverage some of its most popular games (Far Cry, Watch Dogs 2, Splinter Cell, Ghost Recon, and The Division) to create Factions in the game assuming the appearance of some of Ubisoft's most iconic characters.
The game entered its closed beta testing on April 13th and after a 2-day extension, concluded the beta on April 25th. During the Beta testing, Twitch Drops were also enabled allowing viewers to gain access to play the beta after watching a creator play for 30 minutes on Twitch.
Closed beta testing is a crucial step in launching a video game, as it allows developers to fine-tune the gaming experience before sending it out to a wider audience. Developers can gather feedback from trusted players to help resolve issues with mechanics, gameplay, performance, and potential bugs.
Integrating closed beta testing with live streaming platforms further amplifies its importance, as it provides an opportunity for video game developers to gauge real-time reactions and engage with both testers and viewers. Allowing players to live-stream their closed beta play builds excitement and anticipation for the game while simultaneously promoting it to potential players through organic marketing.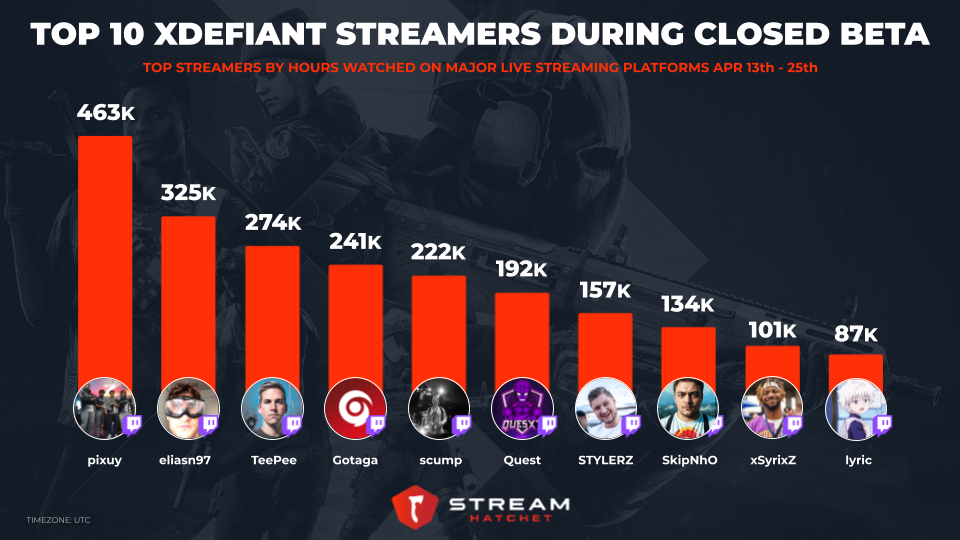 Top XDefiant Streamers During Closed Beta
Pixuy was the most watched streamer during the Closed Beta generating 463K hours watched while playing XDefiant. eliasn97 got the second spot generating 325K hours, followed by TeePee, Gotaga, and scump who generated 274K, 241K, and 222K hours watched respectively.
Choosing live-streaming influencers to work with for your closed beta test is an important step in the marketing process as well. While creators with large followings can get a ton of eyes on your game, they can be costly. Choosing creators that fit your budget, have the desired reach, and whose fans match the demographics of your targeted audience is important for live-streaming marketing on Twitch, YouTube, and other platforms. Learn more about live-streaming influencer discovery with Stream Hatchet here: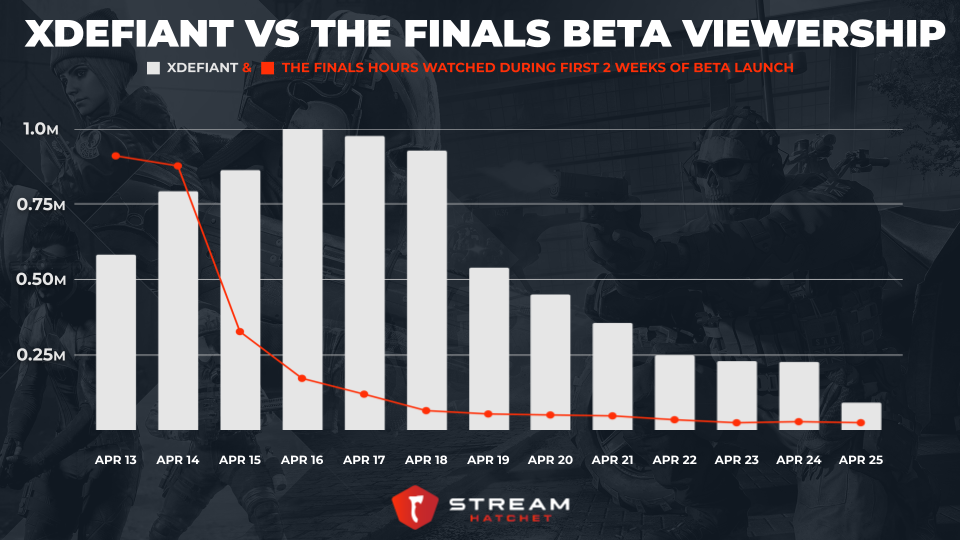 The Finals Comparison
When comparing XDefiant to another FPS game that entered beta testing this year, The Finals, two different viewership trends can be seen during their beta launches. While The Finals had a strong first day of 910K hours watched, the viewership on day 3 dropped -64% to 327K hours watched. XDefiant had a slower start, generating 583K hours watched on the first day. However, on day 3 the game saw a +48% increase in viewership generating 862K hours watched, and reached a peak on day 4 of just under 1 million hours watched.
Understanding your competitors and positioning your game properly is a very important tactic for increasing the hype for your game. Partnering with the right influencers who have already cultivated communities around a certain game or genre is a quick way to test your offering and establish a connection with potential players.
Another great tactic to see growth over a time period for your game's viewership is through programs like Twitch drops. Rewarding the audience for supporting your game and their favorite creators is a great way to build rapport with a fan base and reach people who might not have initially been interested in your game.