Stream Hatchet has released the 2022 Brands in Gaming and Esports Report, covering the state of advertising and brand sponsorship in live streaming. We dive into types of activations, sponsored placements and assets on Twitch, and how to measure those effectively for reporting. We also look at several case studies of brands currently activating in the industry and how others can follow their lead.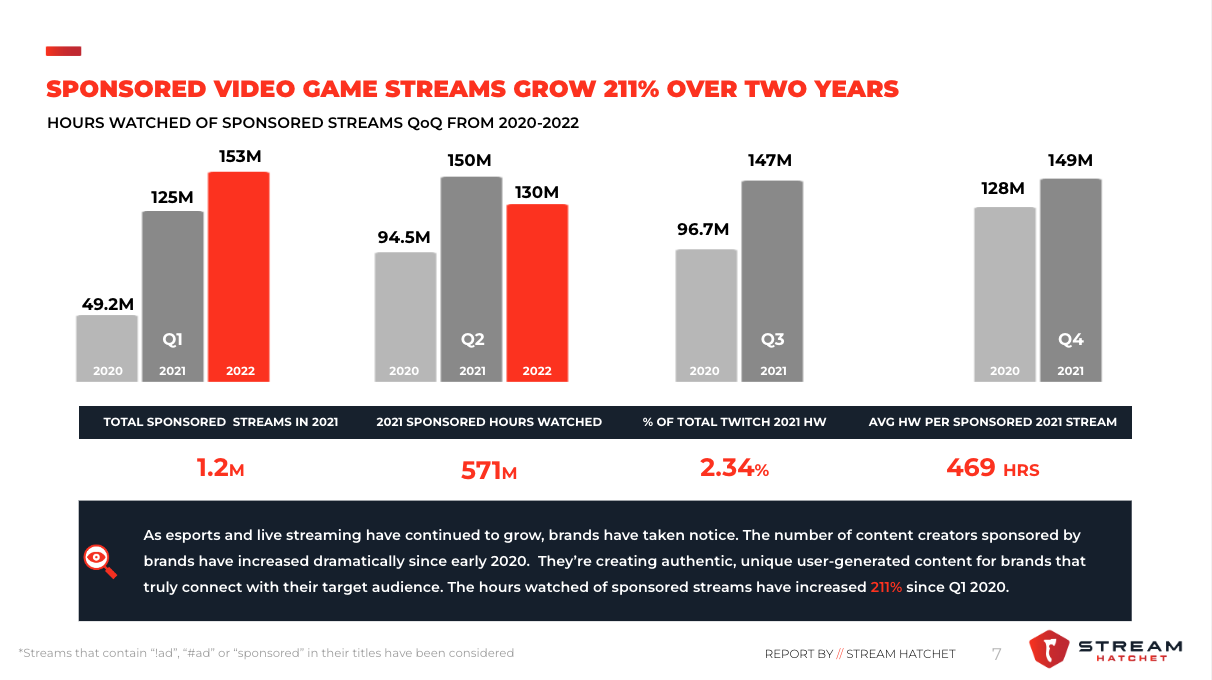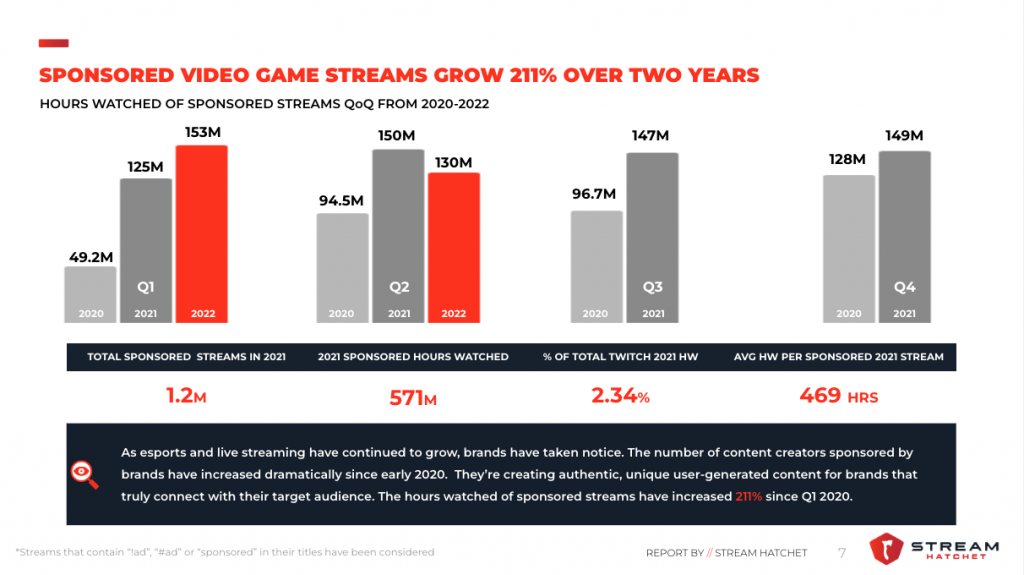 Sponsored activations in live streaming gaming and esports are rapidly growing. Sponsored streams hours watched have increased 211% since Q1 2020. The number of sponsored streams on Twitch peaked in Q1 2021 at 385k, which garnered a total of 125 million hours watched. The number of sponsored activations in Q1 of 2022 was much less, at 217k unique streams, but garnered the most hours watched at 153 million hours. Brands are becoming more efficient with their sponsored content and are reaping the benefits.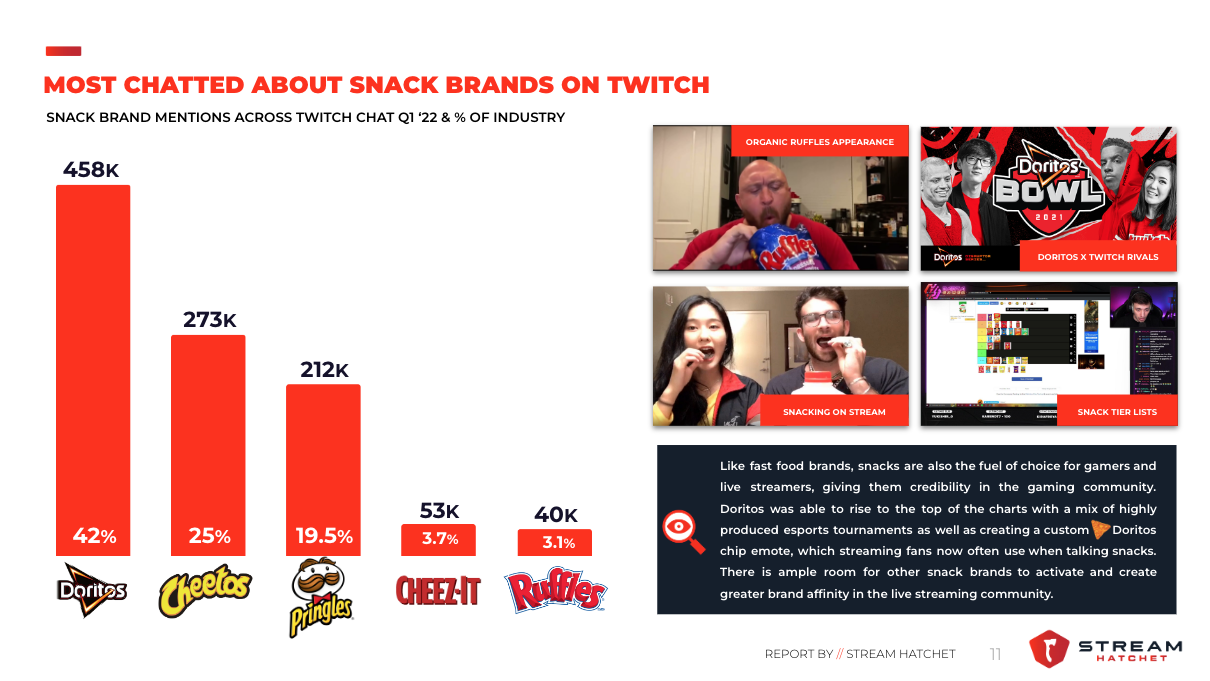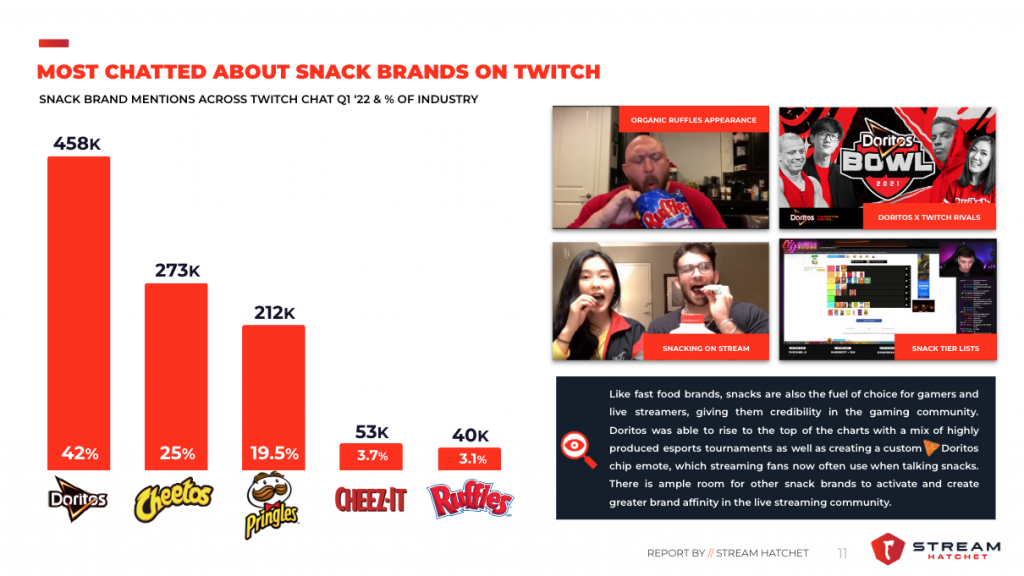 One way brands can assess their effectiveness on live streaming is by measuring chat engagement. Streaming fans and gamers love their snacks, and the industry has a ton of room for sponsorship with streamers. Doritos takes up the lion's share of chat mentions with 42% of total snack brand mentions across Twitch in Q1 of this year. Doritos is an active player in the live streaming industry and sponsors several streaming events, including the Doritos Bowl, a Twitch Rivals event which brings together top streamers to compete in a variety of games. Their most effective piece of marketing, however, is their custom Doritos chip emote, which is now utilized by streaming fans as a ubiquitous symbol for snacks.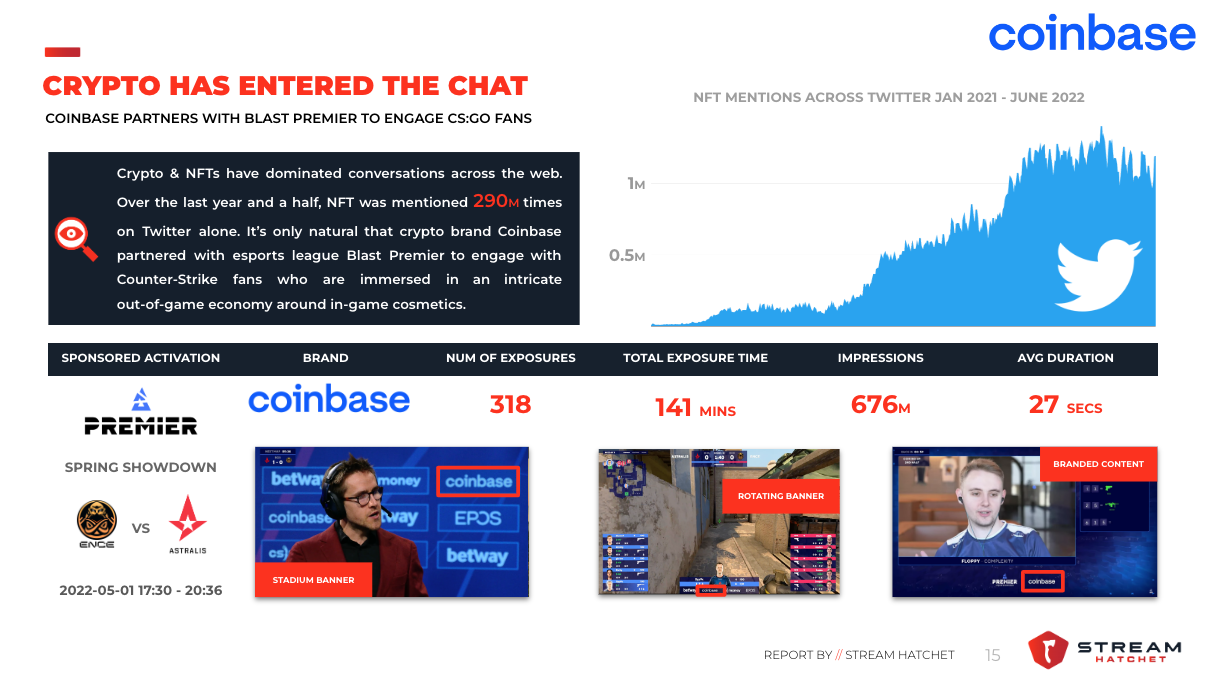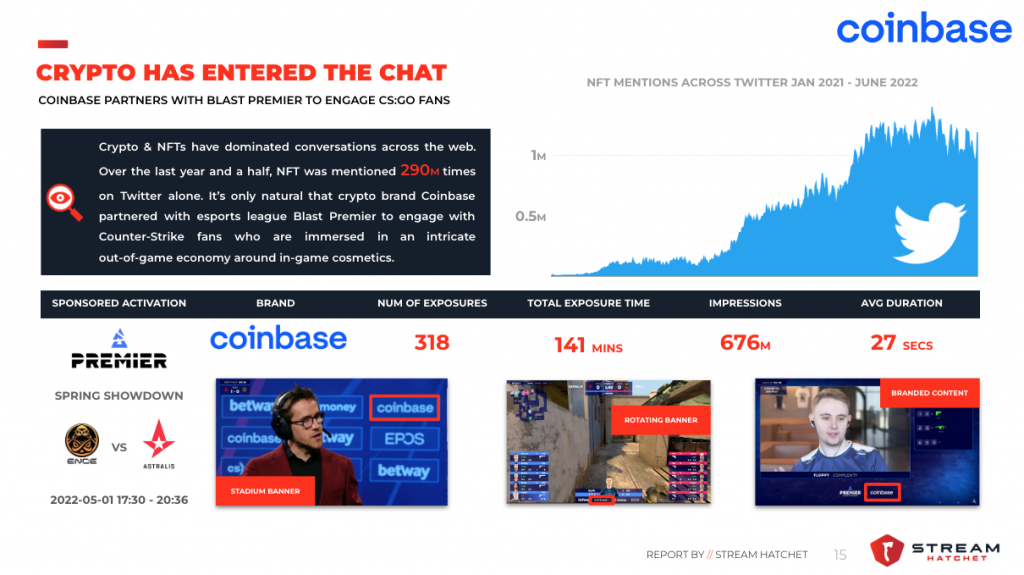 Crypto brands and NFTs have taken the internet by storm over the last few years; NFT was mentioned on Twitter 290 million times from Jan 2021 – June 2022. It's only natural that crypto brand Coinbase partnered with esports league Blast Premier to engage with Counter-Strike fans who are immersed in an intricate out-of-game economy around in-game cosmetics. 
During one Blast Premier match between ENCE and Astralis in May, Coinbase saw a total of 318 logo exposures, from physical stadium banners, digital rotating banners, and branded content during the live stream. This garnered them 676 million impressions from the fans watching the event online. Having a combination of sponsorship assets is important for brands looking to increase their awareness in live streaming and esports, and can help boost brand impressions and overall earned media value. 
It's also important for a brand to understand their audience. For CS:GO players who purchase a ton of in-game items, a crypto brand like Coinbase is a perfect advertiser, as players might be interested in using crypto to fund their CS:GO purchases. Listening to streaming audiences, who tend to also play the same games they watch, is crucial for brands to understand who they are marketing to.
To learn more about brand activations in live streaming gaming and esports, download our full report free here.